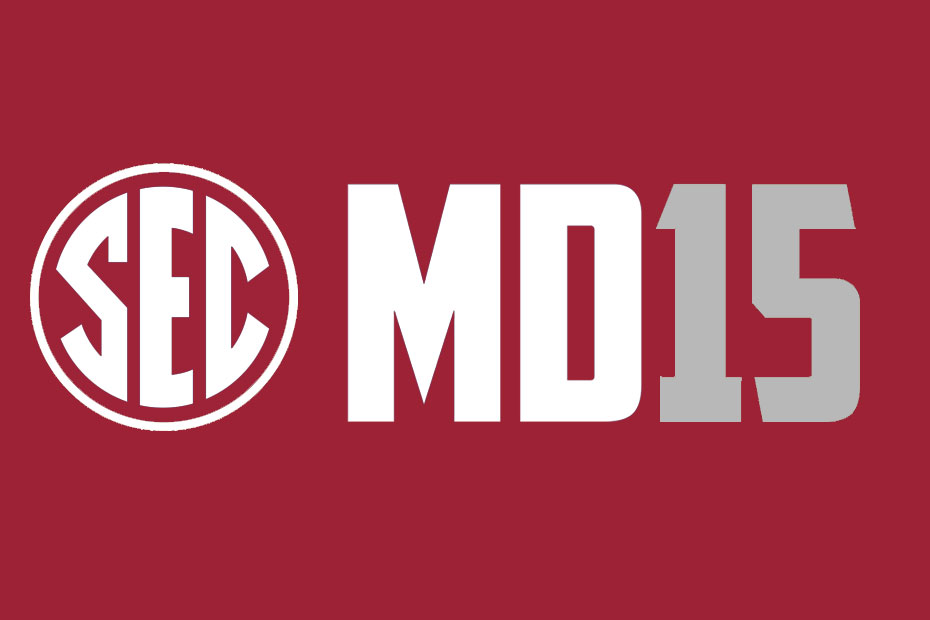 From the Podium: 2015 SEC Football Media Days
While the official transition took place early this summer, the figurative passing of the Southeastern Conference torch happened on Monday in a hotel ballroom just outside Birmingham, Ala. In fact, even as new SEC Commissioner Greg Sankey stepped to the microphone for the first time at SEC Football Media Days, he noted that it was the first time since 1990 that the leadoff speaker of the event was neither named Slive or Kramer.
Sankey assumed presumably the most influential position in all of intercollegiate athletics on the heels of two legends Roy Kramer and Mike Slive. Kramer was the father of the SEC Football Championship Game, Slive the patriarch to the SEC Network. What legacy will Sankey have in the most competitive conference in America is yet to be determined, but one thing is for sure – the commissioner search committee, led by University of Arkansas chancellor Dave Gearhart, undoubtedly got it right with Sankey.
Sankey's recipe of leadership is a classic blend that fits the league and its moment in time perfectly. One part of understanding and appreciation of the legacy of all that has uniquely positioned the SEC without a peer combined with a healthy dose of what is required to not only elevate the league further but better position intercollegiate athletics as a whole. So while the new commissioner did mention some of the litany of nearly endless accomplishments of SEC programs, student-athletes and coaches, he invested most of his remarks on Monday outlining a much far ranging principle guiding agenda that entails a culture of student-athlete opportunity and university responsibility that will help shape the SEC and its institutions in the years to come.
But just moments after he outlines all the platitudes of intercollegiate athletics in a succinct way, Sankey pauses to drop in a plug for his recent Twitter migration to @gregsankey, including a profile photo of him lifting a tractor tire. That is what intercollegiate athletics needs – someone to lead a serious conversation about the issues that face us followed by reminding us of the simplistic joy and unmatchable passion generated by the competition of student-athletes representing their institutions, states and thousands of alumni and fans around the world.
In the question and answer session following his keynote, a reporter asked Commissioner Sankey what it said that Commissioner Slive had previously referenced Winston Churchill and Dwight Eisenhower in his opening address and he had just quoted Bob Dylan. Sankey thoughtfully responded that it as just a matter of choosing to approach things in a different way. "Obviously, it is a different day," Sankey said. "Times are changing, and that seemed an appropriate both song title and lyric, one that I've heard many a time, by the way."
And so it has been for the SEC as well – from Kramer to Slive and now on to the new man in charge of the most fascinating, entertaining and innovative intercollegiate athletics conference in the country.
CEREMONIAL FIRST PITCH
As a proud owner of a minor in history from the University of Arkansas and a continued observer of presidential history, I was struck by the irony of today's initial question in the first coach's media session of the day with Auburn head coach Gus Malzahn.
Much like the late Helen Thomas, the long-time UPI correspondent, was often given the opportunity to ask the first question of Presidents of the United States for decades in formal White House news conferences, Malzahn paid homage to a SEC Football Media Days staple. While most coaches complete their opening statement and then pause to let me identify the first questioner, Malzahn made an audible and extended that offer to someone he knew would be waiting and ready for the opportunity.
"At this time, I'd like to open it up to any questions," Malzahn said. "Personally, I'd like to give (longtime Arkansas Democrat-Gazette reporter) Bob Holt an opportunity to be the first. I think he's earned that over the years."
McELWAIN EMBRACES "HEAD BALL COACH"
Give new Florida head coach Jim McElwain credit. When you take the head job in Gainesville, you are unquestionably going to be asked and compared to former Gators' quarterback and legendary coach Steve Spurrier. While some coaches flee from that conversation, McElwain almost invited that line of questioning in his opening statement. McElwain said he was humbled to be the head ball coach at the University of Florida, a phrase closely associated with Spurrier.
When asked later about Spurrier, McElwain paid homage to his time at Florida and his contributions to college football. But it was his description of his everyday interaction with Spurrier's legacy that was memorable. "I drive by work every day and pass his statue," McElwain said. "That's pretty cool. There's a Heisman Trophy winner right there. I look forward to someday being really able to sit down and pick his brain because he's one of the true guys offensively that knows how to get it done."
THIRD GENERATION
Among the nine student-athletes who visited the main media room on Monday was Vernon Hargreaves III. If that name sounds familiar to you as a Razorback fan, it is because he is the son of Arkansas first year linebackers coach Vernon Hargreaves. Long before the younger Hargreaves made it to his assigned table, reporters were waiting to quiz the junior defensive back. Among the questions posed was the origin of his practice of making his teammates do push-ups.
"That is something I learned when I was younger, watching my Dad coach at Miami," Hargreaves said. "The first time I told them to do push-ups, they kind of looked at me like, "Are you serious? Yes I'm serious." They understood where I was coming from. They know I wasn't trying to an arrogant leader and I do my fair share of push-ups. I think they respected me enough to do them."
On Tap for Tuesday (All Times Central)
8:30 – 9 a.m. – SEC Coordinator of Officials Steve Shaw
9 a.m. – 12:20 p.m. – South Carolina (Head Coach Steve Spurrier, PK Elliott Fry, WR Pharoh Cooper, LB Skai Moore)
9 a.m. – 12:20 p.m. – Texas A&M (Head Coach Kevin Sumlin, C Mike Matthews, OT Germain Ifedi, DL Julien Obioha)
1 – 4 p.m. – Mississippi State (Head Coach Dan Mullen, QB Dak Prescott, Taveze Calhoun, Ryan Brown)
1 – 4 p.m. – Tennessee (Head Coach Butch Jones, QB Joshua Dobbs, LB/DL Curt Maggitt, DB Cameron Sutton)
TV Coverage:
SEC Network – SEC Now: 2015 SEC Football Media Days Special (9 a.m. – 3 p.m.)
SEC Network – Paul Finebaum Show (3 – 6 p.m.)
ESPN – College Football Live (1-1:30 p.m.)
ESPNU – Studio Coverage of SEC Football Media Days (Noon-3 p.m.)
For the fifth consecutive year, University of Arkansas Associate Athletic Director for Public Relations Kevin Trainor is serving as the press conference moderator in the main print media room at SEC Football Media Days in Hoover, Ala. Throughout the week, Trainor will share some highlights and observations from this year's event.