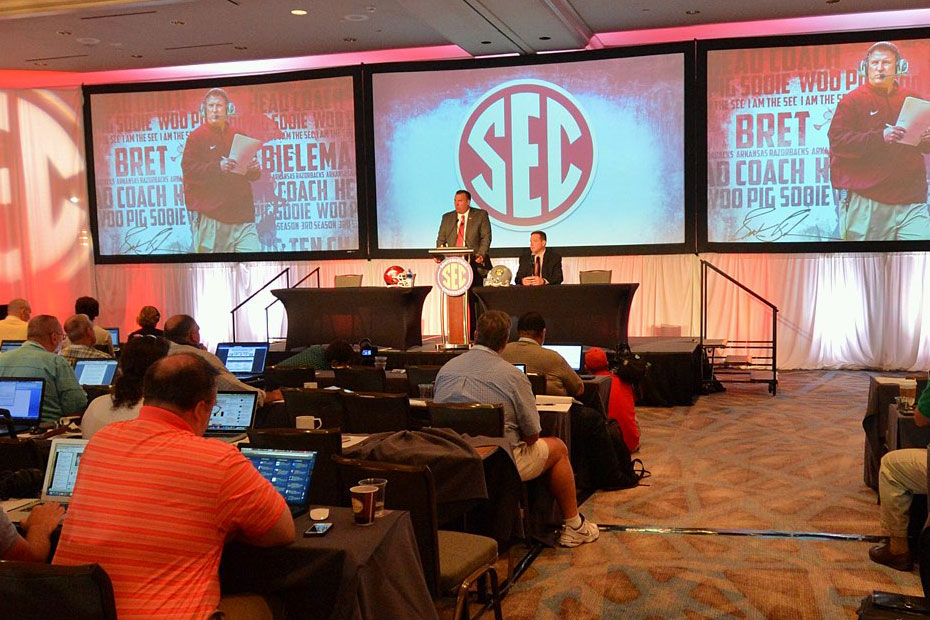 From the Podium: 2015 SEC Football Media Days
When it comes to SEC Football Media Days, it sometimes can feel more like a marathon than a sprint. The event that once was spread over a three-day period, was extended to an extra day just a few years ago to help alleviate the logjam of coaches and student-athletes descending on Hoover at a given day and time. So as day three of the extravaganza commenced on Wednesday, half of the league coaches had made their way to the main stage.
It was Wednesday where things started to heat up, not just outside in the 100 degree summer heat, but also inside when Alabama made its short trip over from Tuscaloosa for their time in front of the media. For a half day every summer, the modest sized lobby of the Hyatt Regency Wynfrey Hotel becomes a mosh pit of Bama faithful anxiously waiting for a glimpse of Coach Nick Saban or one of the Crimson Tide players. The guy with the hat resembling a national championship ring was back this year, but the talk of the lobby was the Paul "Bear" Bryant look alike who was posing with all comers and making the rounds on social media. In fact, he even paused to take a photo with the Broyles Award, on display in radio row this week with its founder and radio show co-host David Bazzel.
But later Wednesday afternoon, after the Tide and the wake of its fanatical fan base had receded from the soft furniture and molded furnishings of the lobby, it was another coach of a U of A that turned in the best performance of the day. Arkansas head coach Bret Bielema has always been entertaining at the microphone at SEC Football Media Days. But in 2015, Bielema blended his candor and infectious humor into an effective and engaging outline of his core beliefs as a coach and his road map of building up young men and a winning football program at Arkansas.
For the first time in the three trips the Arkansas head coach has made to this pre-season event, media members got a full view of the passion, sincerity and commitment Bielema has for his players and the Razorback program. Bielema got plenty of laughs and he even got choked up in the opening statement when talking about the three seniors (Brandon Allen, Jonathan Williams and Keon Hatcher) he selected to represent the program.
Moments later, Bielema was explaining to the more than 200 onlookers that the sparkly new Nike shoes he was wearing was in reaction to the special Adidas shoes Mississippi State head coach Dan Mullen had worn on Tuesday. But even before the laughter waned from his fancy shoe reveal and commentary, Bielema took the opportunity to outline the recruiting advantages of Nike and how much it helps the Razorbacks recruit players.
Bielema even adeptly demonstrated how best to respond to a perceived Steve Spurrier jab. When asked about Spurrier's comments on Tuesday about the excitement generated by 7-6 seasons for both Arkansas and Tennessee, Bielema outlined how n ice Spurrier has been to him. He then deadpanned that he was taught he should always respect his elders at all points.
In all, Bielema's 30-minute session was the most compelling press conference of the day. A coach confident in his approach, personally invested in his student-athletes and entrenched in what it is to be a Razorback. Officially the SEC Network doesn't schedule infomercials, but Coach Bielema's press conference performance on Wednesday may have the next class of recruitable student-athletes picking up the phone soon to Call the Hogs.
Representing the Razorbacks
Coach Bret Bielema selected seniors Brandon Allen, Jonathan Williams and Keon Hatcher as the Razorbacks' student-athlete representatives for 2015 SEC Football Media Days. All three players chosen to participate in this year's event are from the Razorback offense.
It is the first time since Arkansas joined the SEC, that all participants played on one side of the ball. Bielema explained to the assembled media that he has always viewed a trip to media days as a reward for seniors and those who meet the fifth edge of the Razorback program – earn everything. In this case, the trio just happened to all come from the offensive huddle.
Since Arkansas entered the league in 1992, the Razorbacks have selected football student-athletes to participate. From 1992 to 2009, two student-athletes were part of the program. Beginning in 2010, three student-athletes were included. Below is a list of the Razorback football student-athletes who have participated.
1992 – E.D. Jackson, Owen Kelly
1993 – Kirk Botkin, Darwin Ireland
1994 – Dean Peevy, Vernon Wade
1995 – Steven Conley, Earl Scott
1996 – Oscar Malone, Mark Smith
1997 – Geno Bell, Anthony Eubanks
1998 – Ryan Hale, Anthony Lucas
1999 – Kenoy Kennedy, Clint Stoerner
2000 – Quinton Caver, Cedric Cobbs
2001 – Carlos Hall, Kenny Sandlin
2002 – Jermaine Brooks, George Wilson
2003 – Tony Bua, George Wilson
2004 – Jeb Huckeba, Matt Jones
2005 – Kyle Roper, Vickiel Vaughn
2006 – Marcus Monk, Sam Olajubutu
2007 – Weston Dacus, Darren McFadden
2008 – Elston Forte, Jonathan Luigs
2009 – Malcolm Sheppard, D.J. Williams
2010 – Jake Bequette, Ryan Mallett, D.J. Williams
2011 – Knile Davis, Jarius Wright, Tenarius Wright
2012 – Knile Davis, Tyler Wilson, Tenarius Wright
2013 – Chris Smith, Kiero Small, Travis Swanson
2014 – Brey Cook, Trey Flowers, Alan Turner
2015 – Brandon Allen, Keon Hatcher, Jonathan Williams
MAZE RUNNERS
So how do all those SEC coaches and student-athletes make it to the right place for the various interviews during Media Days?
Well, it takes a small army of volunteers to help keep things running on time. Each participant is assigned an SEC staff member who assists a representative from the school in shuttling them to various rooms surrounding the second floor ballroom.
A spreadsheet schedule is developed to help coordinate the 10-minute sessions. The only exception is the primary print media room where coaches spend 30 minutes on the stage for a live national television audience and student-athletes spend 20 minutes visiting with a group of print media members in a roundtable format.
This year's schedule included 12 official stops and at least 5-6 other pre-arranged interview opportunities for live shows on the SEC Network, ESPN or a host of other outlets. In addition to the main media room, there are rooms for TV stations, Radio/Internet, SEC Video, Sirius/XM as well as rooms for SEC broadcast rights holders ESPN, SEC Network and CBS.
For those who dare to venture off the schedule grid, there are more than 30 live radio shows on Radio Row on the first floor of the hotel where you can be heard everywhere from Lexington, Ky, to Gainesville, Fla., and everywhere in between. Several Arkansas radio shows made the trip to Hoover and have been covering all the teams this week.
SEC Football Media Days can be a bit of a grind for those participating. But the good news is that once their media days obligations are complete, college football is one step closer to kicking off another memorable season.
On Tap for Thursday (All Times Central)
9 a.m. – 1:30 p.m. – Georgia (Head Coach Mark Richt, WR Malcolm Mitchell, OT John Theus, OLB Jordan Jenkins)
9 a.m. – 1:30 p.m. – Ole Miss (Head Coach Hugh Freeze, TE Evan Engram, DB Mike Hilton, DE C.J. Johnson)
9 a.m. – 1:30 p.m. – LSU (Head Coach Les Miles, RB Leonard Fournette, OT Vadal Alexander, LB Kendell Beckwith)
TV Coverage:
SEC Network – SEC Now: 2015 SEC Football Media Days Special (9 a.m. – Noon)
SEC Network – Paul Finebaum Show (2 – 6 p.m.)
ESPN2 – College Football Live (1-1:30 p.m.)
ESPNU – Studio Coverage of SEC Football Media Days (Noon-3 p.m.)
For the fifth consecutive year, University of Arkansas Associate Athletic Director for Public Relations Kevin Trainor is serving as the press conference moderator in the main print media room at SEC Football Media Days in Hoover, Ala. Throughout the week, Trainor will share some highlights and observations from this year's event.