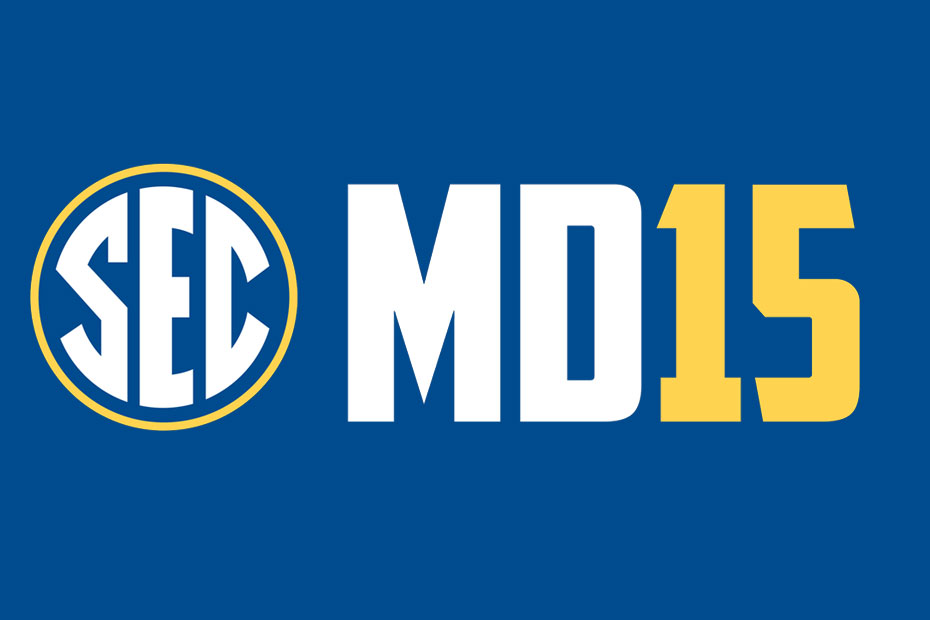 From the Podium: 2015 SEC Football Media Days
Even as the embers of fireworks wane at the end of a July 4th weekend, a different sort of flicker permeates the southern part of the country. Family vacations are still in full bloom and kids begin the realization that endless break from school they imagined not long ago is starting to dwindle. But even as the hot sun blazes on this American summer, the college football flame ignites.
I have worked in college athletics for more than 25 years and the refrain this time of year is always the same. "I can't wait until football season,' fans say with reckless abandon. That is when you know it is getting closer and the time is here.
The truth is we are still nearly two full months from the first games of the 2015 season, but beckoning out of the wilderness for all of us college football diehards is Southeastern Conference Football Media Days. Deep in the heart of SEC country, more than 1,100 journalists crowd into a never ending string of hotel ballrooms to listen intently to what 14 coaches, 42 student-athletes and others have to say about the upcoming season. It is also doubtful that the Hyatt Regency Wynfrey in Hoover, Ala., has any other comparable conventions held on site televised live on the ESPN Family of Networks.
Then again, there is nothing quite like SEC Football Media Days anywhere. Other leagues have them in varying formats. Some include golf outings, some include luncheons or other signature events. But make no mistake, the SEC version is in a league of its own.
This year's event will have a different feel right from the beginning. After all, the SEC has a new commissioner and the first time presence its own network launched last August. New Commissioner Greg Sankey will kick things off shortly after 11:30 a.m. CT on Monday. It will be the first major address by the new head of the SEC. Sankey, of course is not new to the league, but is squarely in the spotlight now after taking over for retired commissioner Mike Slive. The room will be packed for his opening address and you can watch blanket coverage of the entire four-day event on the SEC Network, ESPN and ESPNU.
Joining Sankey on the stage on Monday will be Auburn head coach Gus Malzahn, Florida head coach Jim McElwain and Vanderbilt head coach Derek Mason.
By my count, this is at least the 22nd time I have experienced this glorious media circus and this will be the fifth time I have observed from the stage as the press conference moderator of the main media room. I'm honored to have the opportunity to represent the University of Arkansas and have a front row seat for four of what truly are the most fascinating days in SEC sports talk. As history has shown, you never know what is going to happen.
But it does mean one thing college Football is here!
On Tap for Monday (All Times Central)
11:30 a.m. –2:20 p.m. – SEC Commissioner Greg Sankey
11:30-2:20 p.m. – Auburn (Head Coach Gus Malzahn, QB Jeremy Johnson, DB Jonathan Jones, LB Kris Frost)
2:30-5:30 p.m. – Florida (Head Coach Jim McElwain, DE Jonathan Bullard, WR Brandon Powell, DB Vernon Heargraves III)
2:30-5:30 p.m. – Vanderbilt (Head Coach Derek Mason, RB Ralph Webb, LB Nigel Bowden, C Spencer Pulley)
TV Coverage:
SEC Network – SEC Now: 2015 SEC Football Media Days Special (11:30a.m. – 4:30 p.m.)
SEC Network – Paul Finebaum Show (4:30 – 6 p.m.)
ESPN – College Football Live (1-1:30 p.m.)
ESPNU – Studio Coverage of SEC Football Media Days (2-5 p.m.)
For the fifth consecutive year, University of Arkansas Associate Athletic Director for Public Relations Kevin Trainor is serving as the press conference moderator in the main print media room at SEC Football Media Days in Hoover, Ala. Throughout the week, Trainor will share some highlights and observations from this year's event.