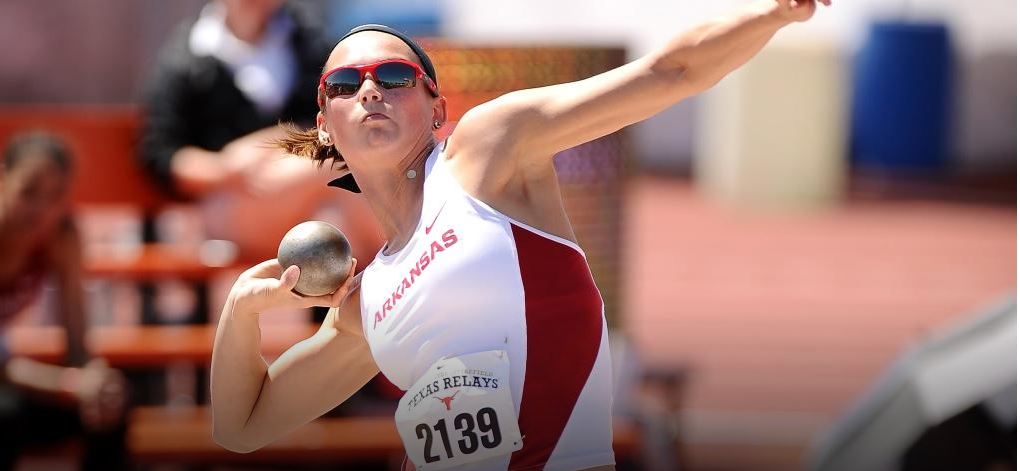 Gochenour, McKnight Recognized for #TXRelays15 Performances
FAYETTEVILLE, Ark. – On the heels of a personal-best performance to win the heptathlon at the 88th Clyde Littlefield Texas Relays, junior Alex Gochenour has been named USTFCCCA National Athlete of the Week. She and senior Sparkle McKnight have also garnered conference honors as the SEC Co-Field Athlete of the Week and Runner of the Week, respectively.
Gochenour opened her outdoor season with a career-best and NCAA-leading 6,027 points to win the heptathlon at the Texas Relays. She is just the second Razorback in program history to eclipse the 6,000-point barrier and now trails only school-record holder Makeba Alcide (6,050) in the Arkansas records book. During the two-day, seven-event competition, Gochenour registered three personal bests and two more all-conditions bests.
The Missouri Valley, Iowa, native added more than 500 points to her previous high score of 5,522 points that she scored at last year's Texas Relays. She is the second Razorback to win the heptathlon at the Texas Relays, and the first to do so since former standout DeeDee Brown won the event in 2002. Gochenour is the third Razorback to receive USTFCCCA national accolades this season, joining Dominique Scott and Sandi Morris who were recognized during the cross country and indoor seasons, respectively.
McKnight opened her outdoor campaign with a victory in the 400-meter hurdles at the Texas Relays. Having qualified with the fasted time in the prelims, the Chaguanas, Trinidad and Tobago, native won the title with an SEC-leading and No. 2 NCAA time of 56.70 in the final. The win capped McKnight's return to the event after redshirting in 2014 and marked the Razorbacks' first-ever Texas Relays title in the event. McKnight also ran a leg on the third-place 4×400-meter relay.
At the season-opening event, the Razorback women tied the program high with four Texas Relays titles. In addition to the win for Gochenour and McKnight, Sandi Morris in the pole vault and the sprint-medley relay of Taylor Ellis-Watson, Daina Harper, Brianna Swinton and Chrishuna Williams. Arkansas is back in action April 3-4 with the Stanford Invitational in Palo Alto, Calif.
To purchase tickets for home meets, call 800-982-HOGS (4647), visit the Razorback Ticket Center on Stadium Drive or email raztk@uark.edu. The Razorbacks' remaining home schedule includes the John McDonnell Invitational (April 10-11) and Arkansas Twilight (May 1).
For more information on Arkansas track and field including in-meet updates, follow @RazorbackTF on Twitter.