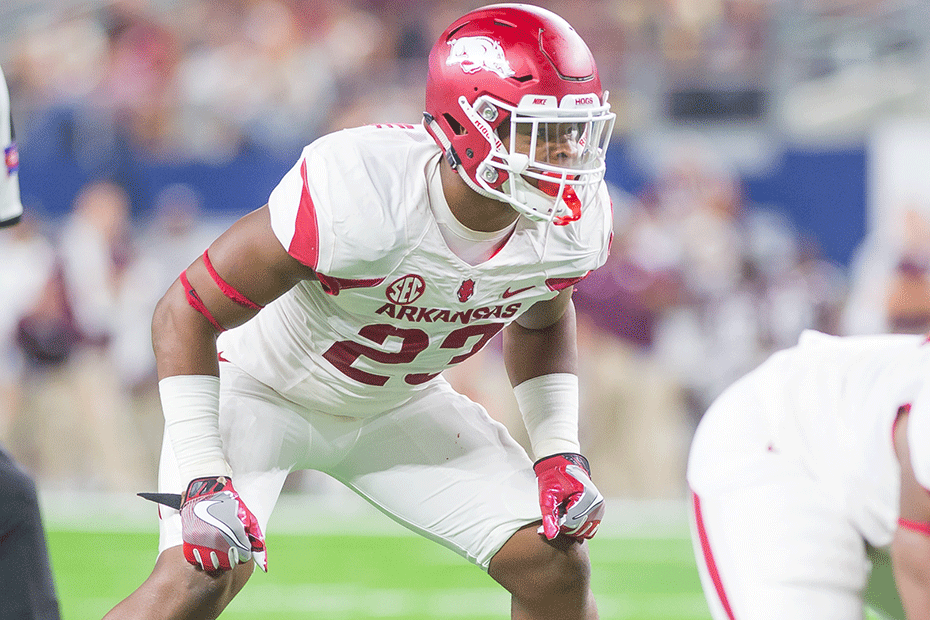 Greenlaw, Richardson Next At Thursday Radio Show
FAYETTEVILLE, Ark. – "On the Air with Bret Bielema," Coach Bielema's weekly radio show presented by Lindsey and Westrock Coffee, returns Thursday night starting at 7 p.m. at the Catfish Hole in Fayetteville. With just two shows left, Thursday's show leading into Saturday's game at Mississippi State will feature junior defensive back Kevin Richardson and sophomore linebacker Dre Greenlaw.
Chuck Barrett, the voice of the Razorbacks, will host head coach Bret Bielema while fans can make reservations to attend the show by calling the Catfish Hole at 479-521-7008. Tickets are $25 and include all you can eat dinner buffet with catfish, shrimp and chicken.
Key contributors on defense, both Richardson and Greenlaw have missed significant time this season due to injury. Richardson turned in a strong sophomore campaign in 2015, totaling 44 tackles, highlighted by a team-best 10 at Ole Miss in the first start of his career. He suffered a season-ending injury in Arkansas' season opener against Louisiana Tech. He had seven tackles against the Bulldogs before the injury.
A Freshman All-American a year ago, Greenlaw led Arkansas with 35 tackles through the first five games before sustaining a foot injury in the first quarter against No. 1 Alabama. Currently working to come back this season, Greenlaw led Arkansas in tackles twice in the first four games. In 2015 he ranked fifth nationally among FBS freshmen with 95 tackles and was the only player to win SEC Freshman of the Week twice.
The show is carried throughout the state of Arkansas on the Razorback Sports Network and locally in Fayetteville on 92.1 FM, 99.5 FM and 93.3 FM. Each show can be heard live on www.ArkansasRazorbacks.com.
2016 "On The Air With Bret Bielema" Schedule
Thursday, November 17
Wednesday, November 23