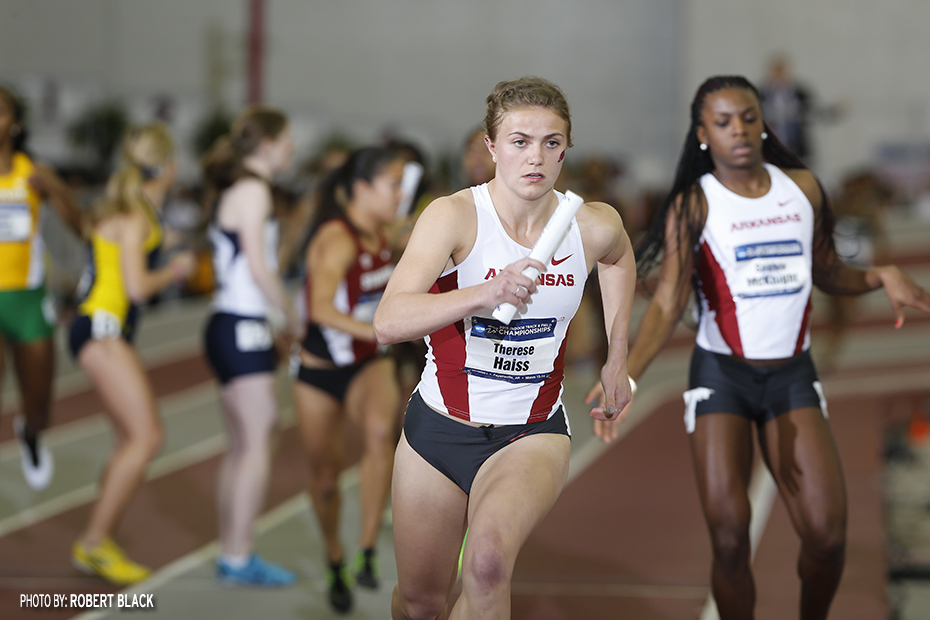 Haiss, Hankenson and Schrader Named to SEC First-Year Honor Roll
FAYETTEVILLE, Ark. – NCAA DMR champion Therese Haiss was one of three student-athletes from the University of Arkansas women's track and field program to be named to the SEC First-Year Academic Honor Roll announced on Wednesday.
Qualification for the honor roll is based on grades from the 2014-15 academic year. The three Razorbacks named to the list all posted a cumulative GPA of 3.00 or greater.
A chemistry/biochemistry major, Haiss excelled in the classroom and on the track specializing in the mile and 1,500-meter run. In her first season with the Razorbacks, the Arkansas sophomore joined a team of Jessica Kamilos, Sparkle McKnight, and Dominique Scott to claim a national title in the DMR with the second best performance in NCAA history. She completed her season at the 2015 NCAA West prelims with an 11th place finish in heat two of the 1,500-meter semifinals.
Holly Hankenson and Kelsey Schrader, two Arkansas freshman garnered honors for their performance in the classroom during the 2014-2015 academic year.
Hankenson who majors in English finished in fourth place in the 800-meter run at the Arkansas Open in a season best time of 2:13.06. The Decatur, Ind. native ran to two more top five finishes as part of the 4×400-meter relay team at the Razorback Invitational and Arkansas Open.
World Junior Cross Country Championships participant Kelsey Schrader was one of the top young performers at the SEC Cross Country Championships securing SEC All-Freshman honors during the 2014 season. Schrader majors in sport and recreation management.
For more information on Arkansas track and field including in-meet updates, follow @RazorbackTF on Twitter.