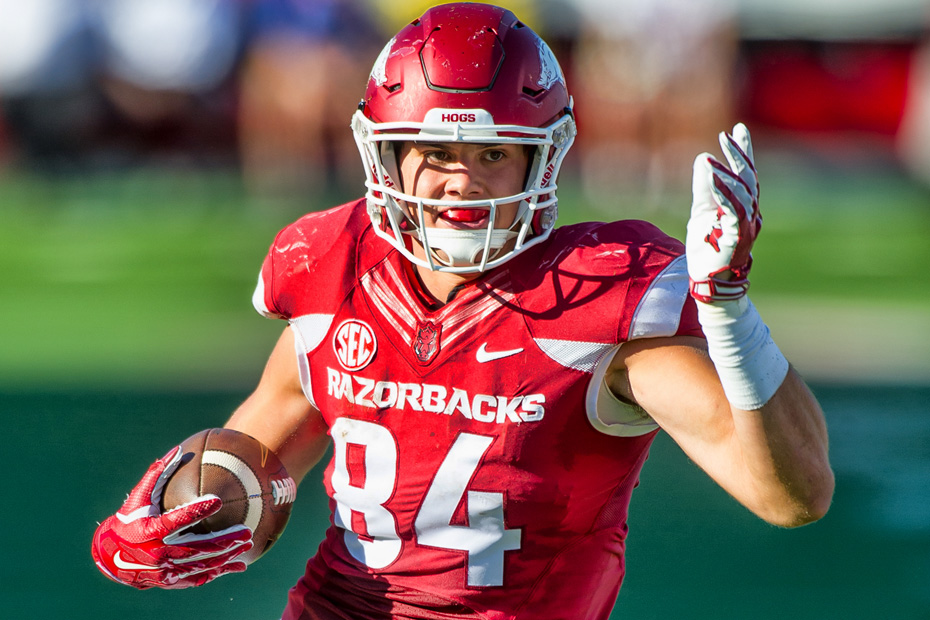 Henry Adds To Impressive List
WACO, Texas – Adding to his already impressive list of postseason honors, Arkansas junior tight end Hunter Henry has been named to the American Football Coaches Association All-America team, the AFCA announced Wednesday.
Henry totaled 46 receptions for an FBS-leading 647 yards among tight ends and three touchdowns this season. In addition, he also led all FBS tight ends with 32 first down catches and 19 plays of 15-plus yards. His two 100-yard receiving games led the SEC and were tied for second most nationally among tight ends and helped him equal D.J. Williams' program record of four career 100-yard receiving games by a tight end.
The Little Rock, Arkansas product enters Arkansas' Liberty Bowl appearance not having dropped a pass through 12 games this season and has a reception in 22 straight games, which is the longest active streak among SEC tight ends and fourth longest among FBS tight ends. Henry's receptions in 2015 have resulted in a first down or a touchdown 76 percent of the time, making him senior quarterback Brandon Allen's most reliable target. For his career, 89 of his 111 receptions have produced a first down or touchdown, for a conversion rate of 80 percent.
Since 2013, Henry has led all SEC tight ends in receptions and receiving yards with 111 and 1,569 respectively. He is one of just eight tight ends in league history to reach the triple-digit mark in receptions while playing in the SEC. Of the eight, he is one of four to tally more than 1,500 receiving yards. In addition, he is one of just three Arkansas tight ends to eclipse the 1,000-yard plateau, joining Williams (1,855 yards from 2007-10) and Chris Gragg (1,003 yards from 2008-12).
A week ago, Henry was honored with the John Mackey Award, given annually to the nation's most outstanding tight end. The Little Rock, Arkansas native joined 2010 recipient D.J. Williams as the only two Razorbacks to win the award which made Arkansas the only program to produce multiple winners.
HENRY'S 2015 POSTSEASON HONORS:
– USA Today First Team All-American (Dec. 8)
– Coaches First Team All-SEC (Dec. 8)
– USA Today All-SEC Team (Dec. 9)
– John Mackey Award Winner (Dec. 9)
– ESPN.com All-SEC Team (Dec. 9)
– Walter Camp First Team All-American (Dec. 10)
– Sports Illustrated Second Team All-American (Dec. 10)
– Associated Press First Team All-American (Dec. 13)
– ESPN.com All-American Team (Dec. 14)
– Associated Press First Team All-SEC (Dec. 14)
– Athlon All-SEC First Team (Dec. 14)
– American Football Coaches Association All-America Team (Dec. 16)