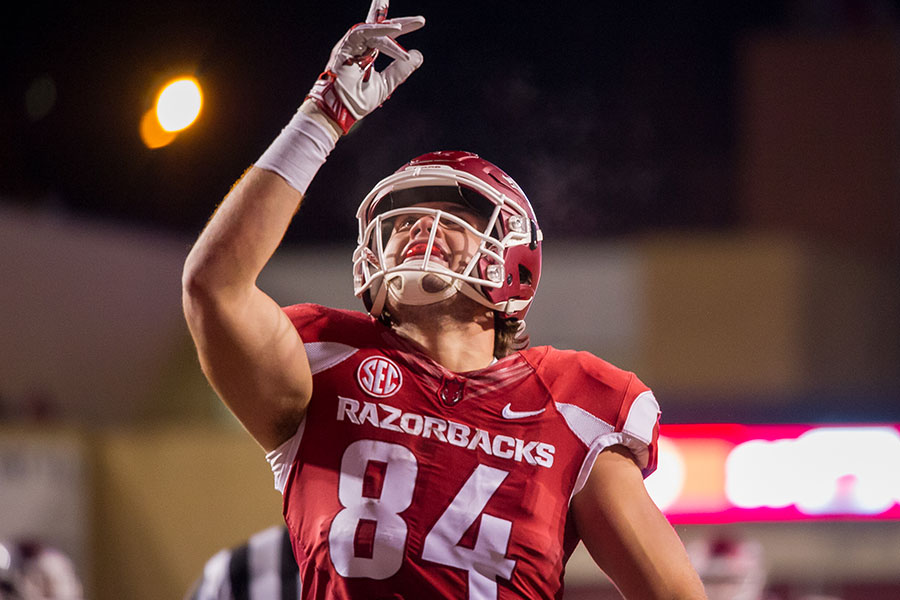 Henry Headed To The NFL
FAYETTEVILLE, Ark. – A consensus All-American and the 2015 John Mackey Award winner, Arkansas junior tight end Hunter Henry announced on Monday that he will enter the 2016 NFL Draft, just two days after the Razorbacks defeated Kansas State, 45-23, in the 57th AutoZone Liberty Bowl.
"As I move on to pursue my dream of playing in the NFL, I want to express my deepest thanks first and foremost to God for blessing me with the incredible opportunity to play football at the University of Arkansas. I have grown so much as a person and player these past three years at the University of Arkansas. I have enjoyed my experience more than I could have ever imagined.
I also want to thank Jeff Long and the entire athletic department, Coach Bielema, Coach Enos, Coach Lunney, my incredible teammates, my high school coach Kevin Kelley, and last but certainly not least, the entire Razorback Nation for giving this Little Rock native the experience of a lifetime."
Since the preseason, college football's top coaches, NFL Draft analysts, national media members and fans across the country have called him "the best tight end in the nation." On Dec. 9th that notion proved to be true, as Henry became the second player in program history to win the John Mackey Award as the nation's most outstanding collegiate tight end.
With just one game remaining in the college football season, Henry's 739 receiving yards on 51 receptions will more than likely lead all FBS tight ends. The most impressive part of the Little Rock product's 51-catch season is that he did it without dropping a single pass.
Henry earned first team All-America nods from four of the five outlets used to determine which players receive consensus status – American Football Coaches Association, Associated Press, Sporting News and Walter Camp Foundation. The Football Writers Association of America was the only outlet to not name Henry first team All-America as the organization did not name a tight end to either of its teams.
For his career, Henry hauled in 116 passes for 1,661 yards and nine touchdowns. He is one of just eight tight ends in SEC history to reach the triple-digit mark in receptions while playing in the SEC. Of the eight, he is one of four to tally more than 1,500 receiving yards. In addition, his 1,661 career receiving yards rank second in program history among tight ends, only trailing 2010 John Mackey Award winner and fellow Little Rock native D.J. Williams (1,855, 2007-10).