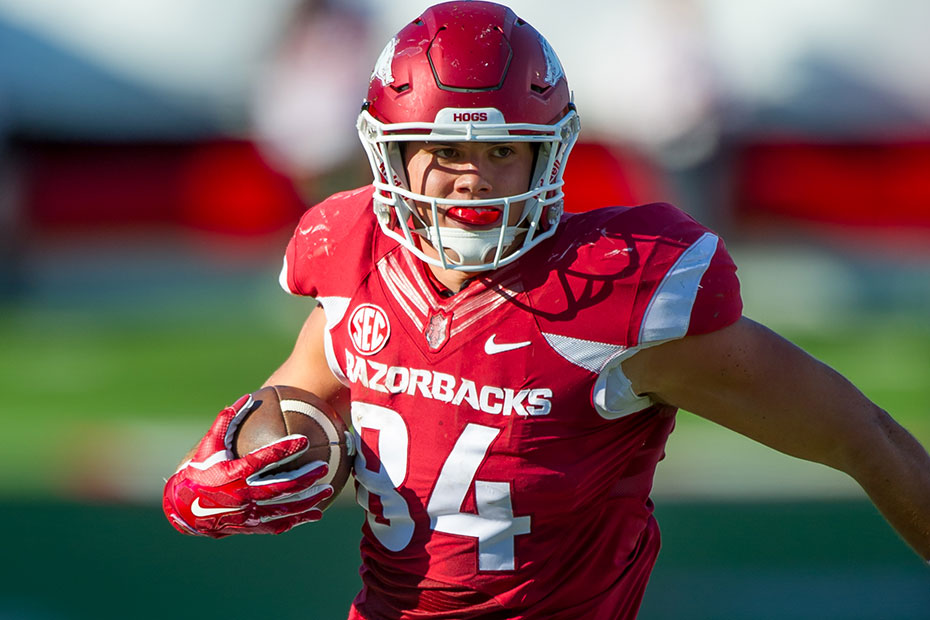 Henry Recognized By John Mackey Award
NEW YORK, N.Y. – The focal point of Arkansas' 4th and 25 conversion in overtime at No. 19 Ole Miss, Arkansas junior tight end Hunter Henry has been named honorable mention for this week's John Mackey Tight End of the Week, announced on Wednesday.
A preseason All-American by multiple national media outlets, Henry leads SEC tight ends in receptions (34) and receiving yards (469) which also ranks ninth and third nationally, respectively.
In fact, since 2013, no SEC tight end has been as dominant as Henry. His 1,391 yards and 99 receptions during that span are tops in the conference.
Through nine games this season, Henry has garnered 23 receptions that resulted in either a first down or touchdown, which leads SEC tight ends. For his career, his receptions result in a first down or touchdown 78.7 percent of the time.
Complemented with his big-play ability, Henry has been one of Arkansas' most reliable targets. He hasn't dropped a single pass this season, and he's showcased his strong hands throughout his career, dropping just six of his 165 targets. Of his 165 targets, he's reeled in 99 passes for 1,391 yards, good for 60 percent and 8.43 yards per target. This season, the junior is hauling in 67 percent of his looks, averaging 9.2 yards per target, which leads all SEC tight ends and ranks fourth among FBS tight ends (minimum 25 receptions).
The Little Rock native is also just one reception shy of 100 for his career. He would become just the 13th tight end in SEC history to reach the triple-digit mark.
Given annually to the most outstanding collegiate tight end, the award recipient is selected by vote of the John Mackey Award Selection Committee. The 2015 John Mackey recipient will be announced on Dec. 9 and then presented live on Dec. 10 at The Home Depot College Football Awards Red Carpet Show on ESPNU. Other key dates include the announcement of the 2015 Mackey Semi-finalists on Nov. 16 and the 2015 Mackey Finalists on Nov. 24.