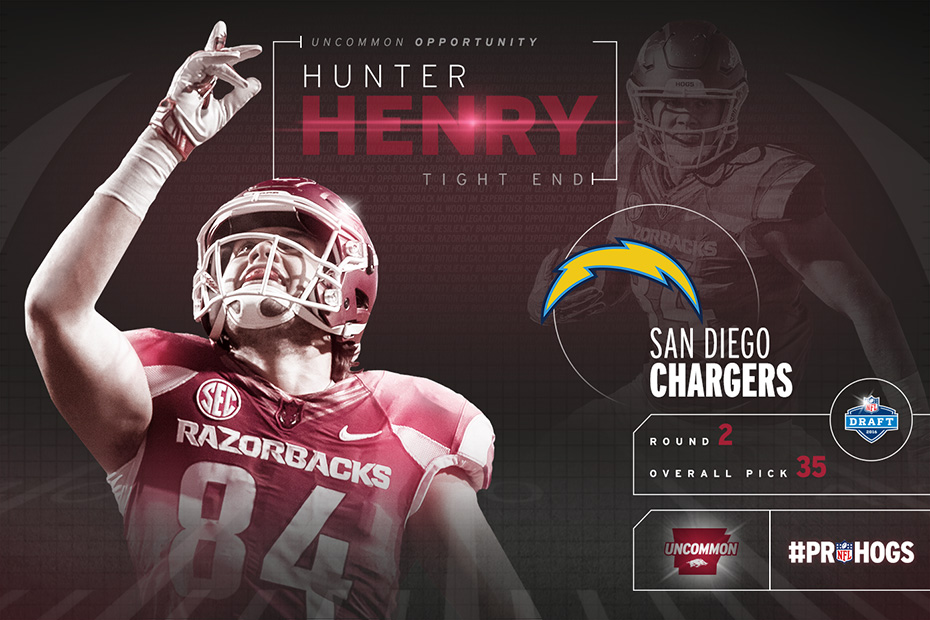 Henry Selected by San Diego in Second Round
CHICAGO – Arkansas consensus All-American tight end and 2015 John Mackey Award winner Hunter Henry was selected in the second round of the NFL Draft when he was taken with the 35th overall pick by the San Diego Chargers Friday night at the Auditorium Theatre in Chicago live on ESPN and the NFL Network.
Not only is Henry the highest-drafted tight end in program history, but with the selection Arkansas joins Notre Dame as the only two programs with four tight end selections in the NFL Draft since 2011.
A native of Little Rock, Arkansas, Henry led all Football Bowl Subdivision (FBS) tight ends with 739 receiving yards on 51 receptions – each career highs – and hauled in three touchdown passes during the 2015 season. His 51 receptions were the most by a Southeastern Conference (SEC) tight end since former Razorback and 2010 John Mackey Award winner D.J. Williams' 54 in 2010. The most impressive part of his 51-catch season was that he did it without dropping a single pass.
In addition to winning the 2015 John Mackey Award, Henry earned first team All-America nods from four of the five outlets used to determine which players receive consensus status – American Football Coaches Association (AFCA), Associated Press (AP), Sporting News and the Walter Camp Football Foundation (WCFF). The Football Writers Association of America (FWAA) was the only outlet to not name Henry first team All-America as the organization did not name a tight end to either of its teams.
One of senior quarterback Brandon Allen's most reliable targets and go-to playmakers, Henry caught at least one pass in 23-straight contests, which was the longest active streak among SEC tight ends and fourth-longest among FBS tight ends. Henry led all FBS tight ends with 36 first down catches – topping SEC tight ends in that category for the third-straight season – and 21 plays of 15-plus yards. His receptions resulted in a first down or a touchdown 73 percent of the time. Henry's ball-catching ability helped him tally two 100-yard receiving games, which led SEC tight ends and tied for second most nationally among tight ends, helping him equal Williams' program record of four career 100-yard receiving games by a tight end.
A three-year letter winner, Henry hauled in 116 passes for 1,661 yards and nine touchdowns during his career. He is one of just eight tight ends in SEC history to reach the triple-digit mark in receptions while playing in the conference. Of the eight, he is one of four to tally more than 1,500 receiving yards. In addition, his 1,661 career receiving yards rank second in program history among tight ends, only trailing Williams (1,855, 2007-10). His 116 receptions and 1,661 receiving yards through the past three seasons were both tops in the SEC among tight ends. Henry was targeted 188 times during his career, reeling in 62 percent of those for an average of 8.8 yards per look.
Henry was especially dominant on third down during his three seasons. Of his 1,661 career receiving yards, 635 (39 catches) came on third down – more than any other down. His receptions on third down passing plays resulted in a first down or touchdown 97.4 percent of the time (36 first downs, two touchdowns).
Many more Razorbacks hope to hear their names called as the 2016 NFL Draft continues Friday with the remainder of the second round along with the third round and concludes Saturday with rounds 4-7.