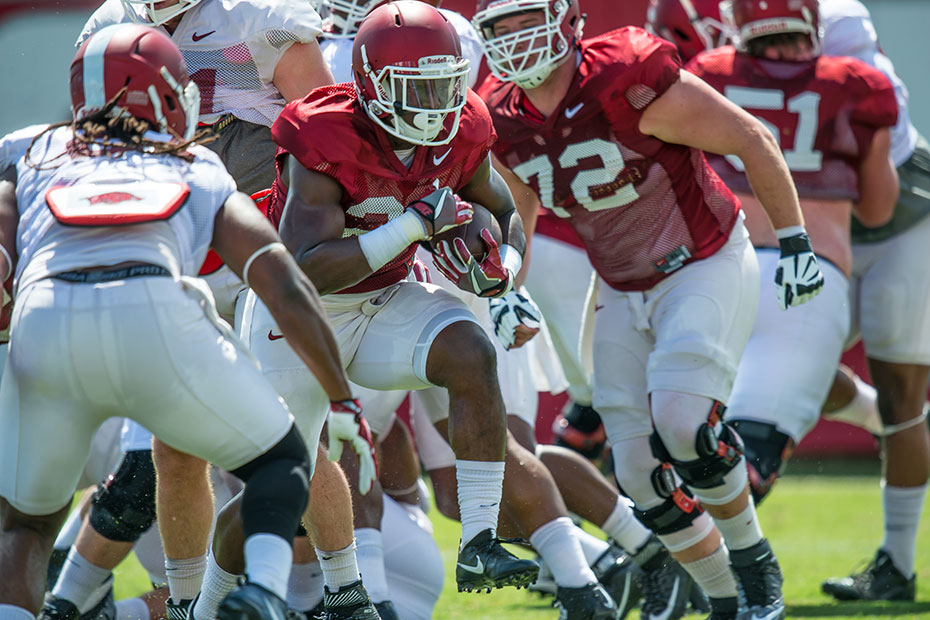 Week 2 Underway At #HogsCamp
FAYETTEVILLE, Ark. – Arkansas football began its second week of preseason camp Monday at the Fred W. Smith Football Center outdoor practice fields. The Razorbacks practiced for 25 periods in a half pack – shoulder pads and helmet – working on down and distance with an emphasis on third down and the running game.
The Razorbacks will practice in full pads Tuesday afternoon for the first time since fall camp began starting at 2:30 p.m. at the Fred W. Smith Football Center.
Practice Quick Hits
• Quarterback Austin Allen connected with wide receiver Jared Cornelius on a nice comeback for a first down.
• Defensive back Kevin Richardson continued to have a good camp as he had another near interception during team work and multiple pass breakups.
• Quarterback Ty Storey found freshman wide receiver Kofi Boateng for nearly 25 yards after the catch. Storey and Boateng hooked up again later in the drill as Storey muscled a pass through tight coverage, finding Boateng right in the numbers.
• Offensive linemen Frank Ragnow and Zach Rogers made two big blocks at the end of a play to help extend a screen pass to Rawleigh Williams for more yards.
K-Rich Talks Razorback Secondary
Richardson is hoping his strong start to fall camp is a carry over from his sophomore season in which he totaled 33 tackles over his last five games, including two double-digit performances against Ole Miss and Mississippi State.