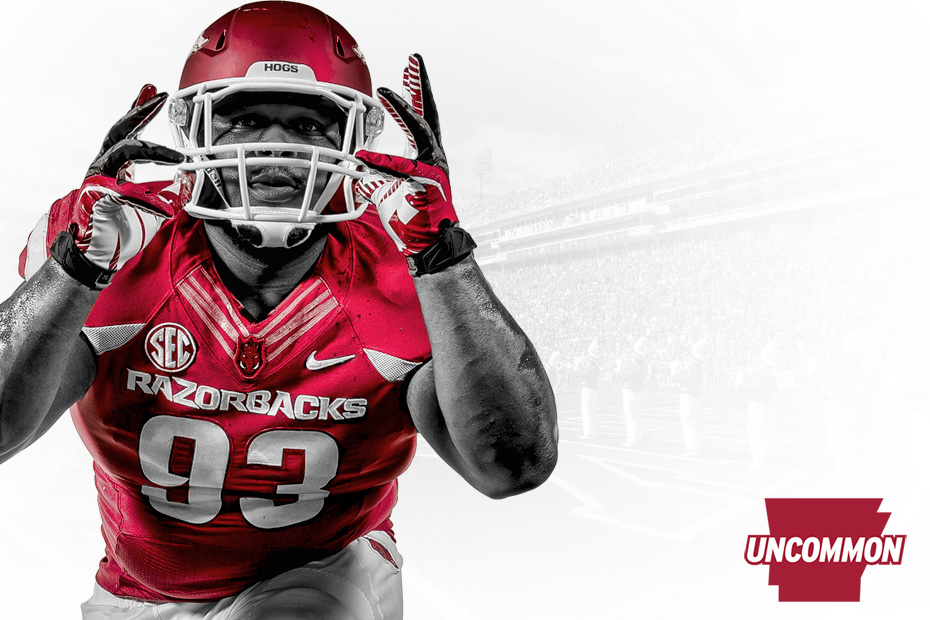 Hodge Makes Big Change
As he remembers his freshman fall camp, a lot has changed in four years for senior defensive lineman DeMarcus Hodge. Playing under four different position coaches and three different head coaches throughout his tenure at Arkansas, he has become a pro at adapting. This year, as he prepared for his final season, DeMarcus faced yet another challenge, perhaps one of the most difficult to date.
Following last season's Texas Bowl victory, the commencement of summer workouts brought anticipation for a stellar senior season for Hodge. It meant the chance for him to earn more playing time and perhaps even land a starter's role. Head coach Bret Bielema expressed that those opportunities could turn into realities, if he was willing to focus on his biggest setback: cutting weight.
With consistency, persistence and the guidance of head strength and conditioning coach Ben Herbert, Hodge reached his goal an entire two weeks prior to fall camp. It noticeably paid off.
"I could tell as I started to lose the weight that I was feeling lighter, moving faster and running longer," Hodge said. "It used to be hard for me to go four plays in a row, especially keeping consistent intensity. Now I run after receivers I know I have no chance of catching, and hustle back to the ball, just to keep my endurance up. Now that I know how it feels to have this weight off, I am set on keeping it off."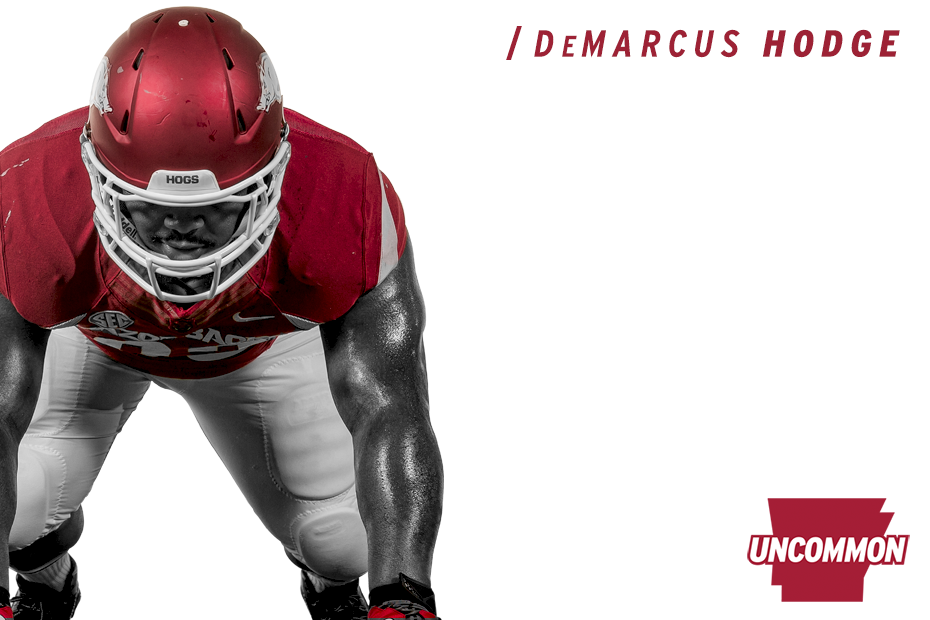 Reaching his goal two weeks before fall camp is not surprising for a hard-nosed workhorse like Hodge. There is nothing you can throw at him he hasn't already heard before, and you can be certain he will not shy away from a challenge. He's been through worse and prevailed. His prior experiences have helped him evolve into a lead-by-example kind of teammate.
"We've had workouts where we think we are done running and Coach Herb says we have 15 more," Hodge said. "I'm like 'lets go. It could be worse.' There is nothing you can throw at me that will make me want to quit. My very first fall camp, I was told to look to my left and right. By the camp was over, half of us would not be there. As a freshman I thought that would be me, but I want to be that guy that approaches everything with a good attitude and ready to do whatever is asked."
With a resilient attitude, Hodge has one final goal for his last go-round: showing his teammates the importance of the little things.
"I want to be known as a good representative of this program," Hodge said. "Someone who was never late to class or meetings and did all the little things right.  I take starting as a leadership role. I want to make sure all of my guys, every teammate is doing the little things right. It could be something as small as picking up your trash around your area when you leave, respecting what you have and this opportunity, and representing not only yourself but this program and what we are about."
As he suits up for his last season in cardinal and white, Hodge is not concerned with any one team more than another. Humility has also molded his maturity. Proven by his experiences early in his career, he knows better than to overlook any opponent, no matter the rank.
"I never put anyone past me. I don't take anyone lightly. I will practice and prepare the same way for the worst team in the history of football as I would the number one team in the country, because I don't want to leave any doubt behind."