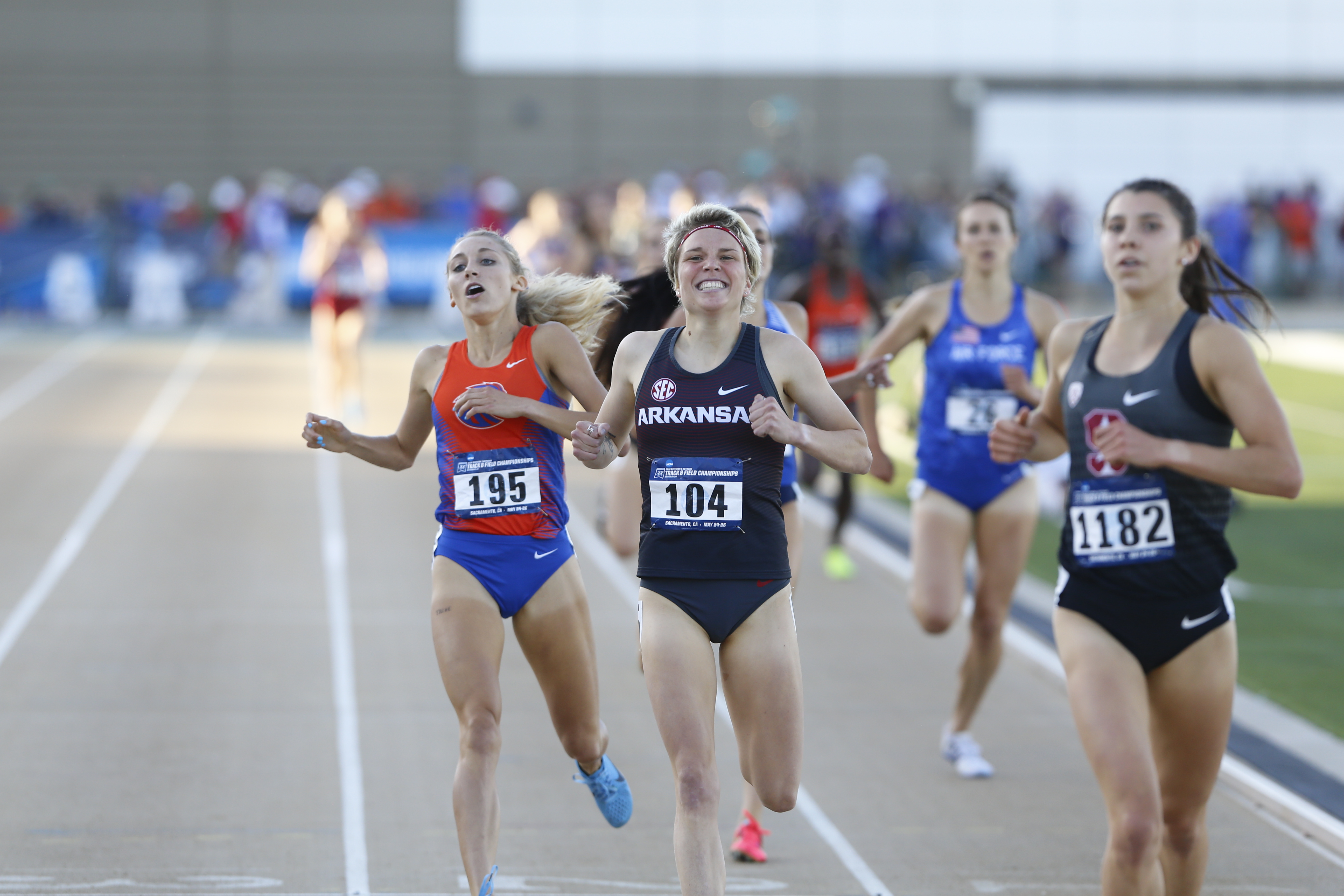 Hogs Add Hiltz, Brown, Both Relays to NCAA's
SACRAMENTO, Calif. – The Razorbacks will head to the NCAA Championships with a solid squad as eight individuals and both relays punched their tickets over the weekend at Hornet Stadium on the campus of Sacramento State.
"We had a great day." said head coach Lance Harter.
"Nikki Hiltz is magical! The way she's been able to overcome a lack of traditional training and be able to run not too far off her lifetime-best is absolutely amazing. She is truly the definition of a racer; she just flat can race. I'm so happy for her being able to go back to Eugene and finish her career where it began is going to be fun. Having the mile relay qualify with the youngsters is remarkable. That's a true credit to [associate head coach] Chris Johnson and his coaching ability because I guarantee you none of those girls were ever recruited by these other major colleges. Their determination and heart are unmatched, its so impressive. Janeek [Brown] in spite of her age, displayed fantastic poise in the heat of competition, she looked fantastic and even noted herself that she has some things she can improve to run even faster. That's just her m.o., she always wants to get better," Harter finished.
The squad of Kiara Parker, Jada Baylark, Janeek Brown and Taliyah Brooks advanced to the NCAA Championships in the 4-x-100-meter relay finishing runner-up in their section behind Texas A&M (43.88) crossing the line in 43.90Q – the fifth-fastest time in the quarterfinal.
In the 1,500-meters it was Nikki Hiltz making headlines for the Razorbacks as the senior will make a return trip to Eugene in the 1,500-meters – an event she finished runner-up in last season. Hiltz ran a strong final 400-meters (1:05.00) to secure her spot in the field at NCAA's posting a season-best time of 4:13.33Q that was fifth-overall in the quarterfinal. Hiltz is looking to close out her senior year with an NCAA title kept that dream alive Saturday night.
True-freshman Janeek Brown, who was an All-American in the 60-meter hurdles earlier this year, will look to earn All-American honors in the 100-meter hurdles as she locked-up an auto-Q spot with her heat-winning time of 12.90Q that was the third-fastest in the quarterfinal.
The Razorbacks closed out the West Preliminary with the 4×400-meter relay. Arkansas grabbed an auto-Q spot to Eugene running 3:35.01Q with Morgan Burks-Magee, Kiara Parker, Sydney Hammit, and Sydney Davis carrying the baton the distance.
All-in-all, Arkansas advanced eight individuals as well as both the sprint and mile relays as well as Taliyah Brooks in the heptathlon to TrackTown for the NCAA Championships.
The NCAA Championships will be held at Hayward Field in Eugene, Ore. June 6-9.
For more information on Arkansas track and field including in-meet updates, follow @RazorbackTF on Twitter.
NCAA West Preliminary
Saturday Results
Women's 4-x-100-Meter Relay
5. Arkansas – 43.90Q – Advanced to NCAA's
Women's 1,500-Meters
5. Nikki Hiltz – 4:13.33Q – Advanced to NCAA's
17. Carina Viljoen – 4:20.28
Women's 100-Meter Hurdles
3. Janeek Brown – 12.90Q – Advanced to NCAA's
Women's 200-Meters
17. Kiara Parker – 23.42
— Jada Baylark – DNF
Women's 4-x-400-Meter Relay
8. Arkansas -3:35.01Q – Advanced to NCAA's