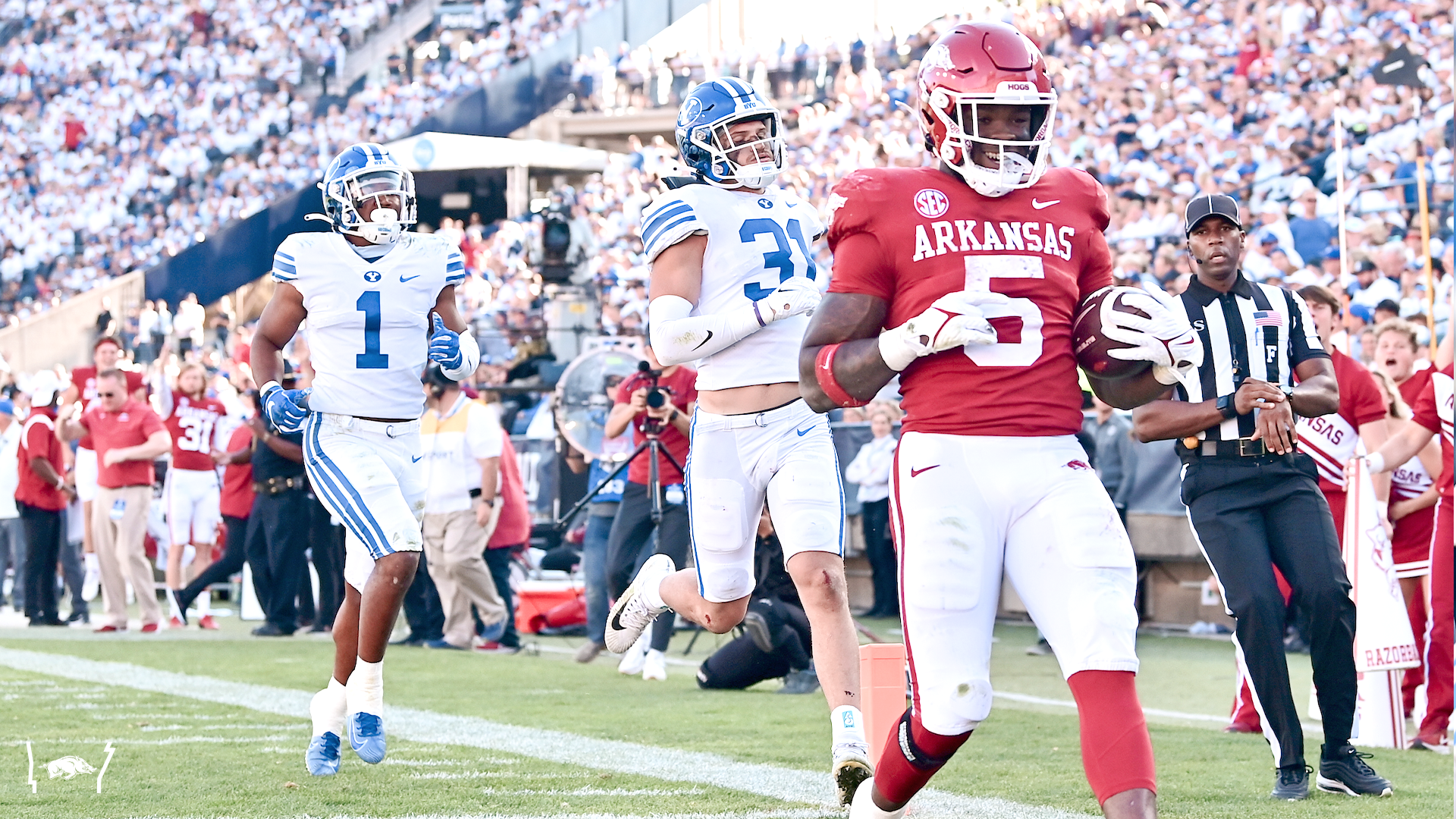 Arkansas Defeats BYU, 52-35, in First Game Versus Cougars
PROVO, Utah — Arkansas took down the BYU Cougars by a score of 52-35 in the first ever meeting between the two teams. Up next, the Hogs will enter the bye week before heading on the road to face Auburn.
1Q, 2:37 – Touchdown Arkansas
Rocket Sanders finds the endzone at the end of his 15 yard run to tie up the game.
2Q, 12:19 – Touchdown Arkansas
KJ Jefferson finds Trey Knox in the endzone for a 6-yard touchdown pass. Little converts the PAT and the Hogs take the lead.
2Q – Little Field Goal
Cam Little converts the 34 yard field goal.
2Q – Fourth Down Stop
The Razorback defense holds on fourth down to force the turnover on downs. Hogs get the ball in BYU territory.
2Q – Big First Yard Catch
Jefferson finds AJ Green for 30 yards to get the Hogs to 1st and goal.
2Q, 3:39 – Touchdown Arkansas
Jefferson finds Matt Landers for his first touchdown as a Razorback and to give the Hogs the lead.
2Q – Defense Forces Interception
Hudson Clark snags the pass to get the interception and the Hogs first forced turnover today.
2Q – Jefferson Insane Play
Somehow KJ Jefferson stays upright and finds Trey Knox for 33 yards.
2Q, :40 – Touchdown Arkansas
Jefferson finds Rashod Dubinion for his first career receiving touchdown to push the lead further just before halftime.
3Q, 9:20 – Touchdown Arkansas
Jefferson to Landers, take two! Jefferson finds Landers for a wide open 39-yard touchdown.
3Q, 1:13 – Touchdown Arkansas
Third times the charm! Jefferson finds Landers AGAIN in the endzone.
4Q, 14:25 – Touchdown Arkansas
Sanders breaks loose! To the endzone with 64 yard rush!