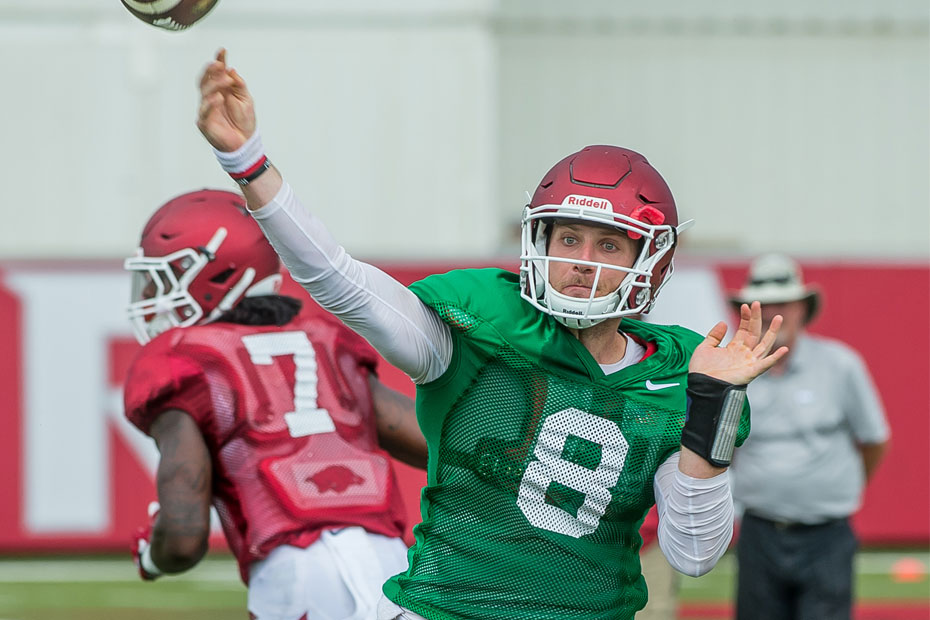 Hogs Continue Grinding In Week Three
FAYETTEVILLE, Ark. – The Razorbacks were back to work Tuesday afternoon with a single practice at the Fred W. Smith Football Center. This week marks the final week of fall camp before classes begin as the Hogs continued to work toward the Sept. 3 opener against Louisiana Tech.
The Razorbacks were able to practice all 24 periods Tuesday outdoors on the practice fields, focusing on 1st, 2nd and 3rd downs, as well as driving the ball from deep in their own territory. Major emphasis was put on the running game early in practice as Devwah Whaley and Damon Mitchell got the majority of the reps from the backfield.
Practice Quick Hits
• In one of the early down and distance drills, quarterback Austin Allen found tight end Austin Cantrell over the middle of the field after a nice roll out of the pocket for a 10-yard gain.
• Running with the first team offensive line throughout practice was Dan Skipper, Hjalte Froholdt, Frank Ragnow, Jalen Merrick and Jake Raulerson. The crew was making its presence known all day at the line of scrimmage providing huge holes for the running backs during short yardage situations.
• Later in 7-on-7, Allen connected with wide receiver Drew Morgan twice for 25 yards or more. Morgan was lethal in one-on-one battles and even beat two defenders in the air for 25-yard gain over the middle.
• Defensive back Ryan Pulley made a good read on a curl route to come up with the interception later in the 7-on-7 period.
• At the end of the practice, Coach Bielema had his offense go against the defense and try and move the ball down the field from deep in their own territory. Starting at the 8-yard line, Allen led the offense on a 12-play drive that nearly got them into the redzone.
• On three separate occasions, Allen hooked up with Morgan, tight end Jeremy Sprinkle and wide receiver Jared Cornelius for 10 or more yards. For Sprinkle, he ran a nice cross route to beat his man before Allen threw a strike, finding Sprinkle in between the numbers.
Allen Updates On Offense