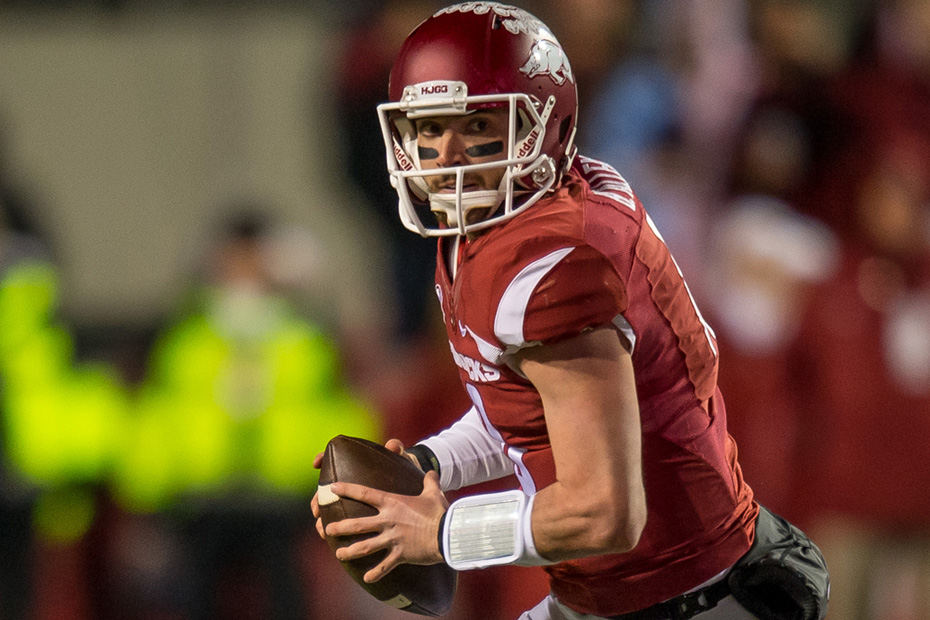 Hogs Drop Heartbreaker to Mississippi State
Box Score | Photos | Press Conference | Watch Brandon Allen's 7 TDs
FAYETTEVILLE, Ark. – In a scoring frenzy that featured several ties and lead changes, Arkansas fell 51-50 to Mississippi State Saturday night at Donald W. Reynolds Razorback Stadium.
Despite the setback, Brandon Allen turned in another incredible performance. The senior signal caller had scoring throws of 20, 5, 9, 3, 39, 10 and 18 yards, and finished 30-of-43 passing for 406 yards, becoming just the second player in SEC history to throw seven touchdowns in a league game.
Jeremy Sprinkle and Hunter Henry, the SEC's leading tight end corps, hauled in five of Allen's seven touchdown passes. Sprinkle paced the Razorbacks with three touchdown receptions while Henry reeled in two touchdowns on a team-high 129 yards receiving.
Defensively, five Razorbacks tallied eight or more tackles. Junior linebacker Brooks Ellis had a career-high 15 stops while sophomore defensive back Kevin Richardson recorded 10 tackles and made his first career interception.
Arkansas will host Missouri for its regular-season finale Friday, Nov. 27 at 1:30 p.m. The game will be broadcast nationally on CBS.