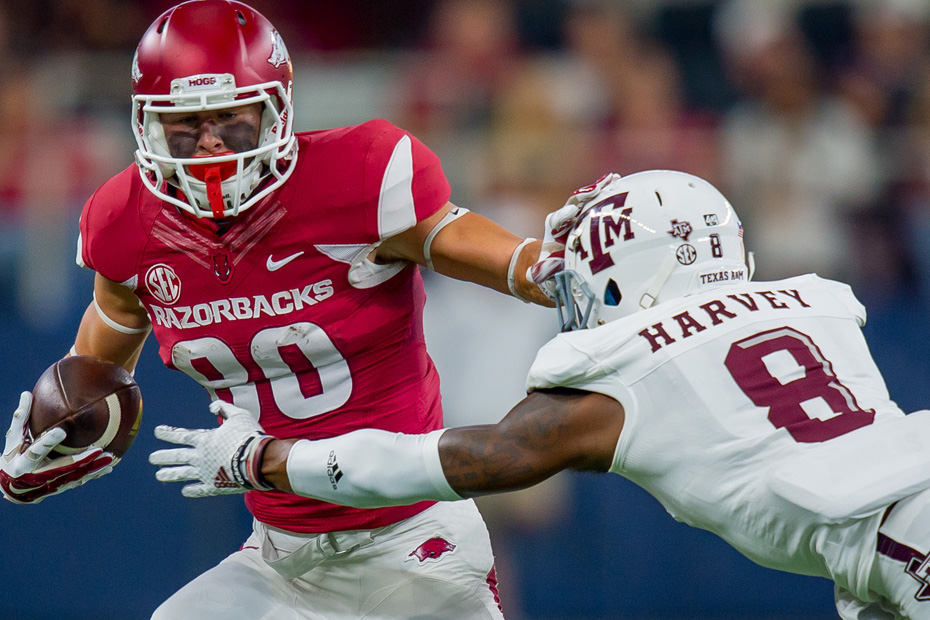 Hogs Fall to Aggies in Southwest Classic
ARLINGTON, Texas – Arkansas fell to No. 14 Texas A&M 28-21 in overtime Saturday.
Arkansas senior quarterback Brandon Allen completed 20-of-25 passes for 225 yards and one touchdown. But the Razorbacks fell just short of keeping up with Texas A&M and its sophomore quarterback Kyle Allen, who was 21-of-28 with 358 yards and two touchdowns.
In the first half, Allen completed 13 of his first 13 attempts for 111 yards and one touchdown and reached the 5,000-yard plateau in career passing yards, but the Aggies led 10-7 at the half.
The Razorbacks came out strong in the second half, holding Texas A&M to a 22-yard field goal on its opening drive and followed that up with a seven minute, 14 play, 65-yard drive that resulted in a 4-yard touchdown run by junior running back Alex Collins. Arkansas went on to score another touchdown – a 3-yard rush by freshman running back Rawleigh Williams.
At the 2:50 mark in the fourth quarter, Texas A&M tied the contest 21-21. The Aggies forced a fumble on Arkansas' next possession. Texas A&M set up for a 38-yard game-winning field goal but missed it wide right.
In overtime, the Aggies took a 28-21 lead on their first possession and held the Razorbacks scoreless on their next and only drive.
Arkansas travels to Tennessee next Saturday. The game will be nationally televised on ESPN2. Kickoff is slated for 6 p.m.