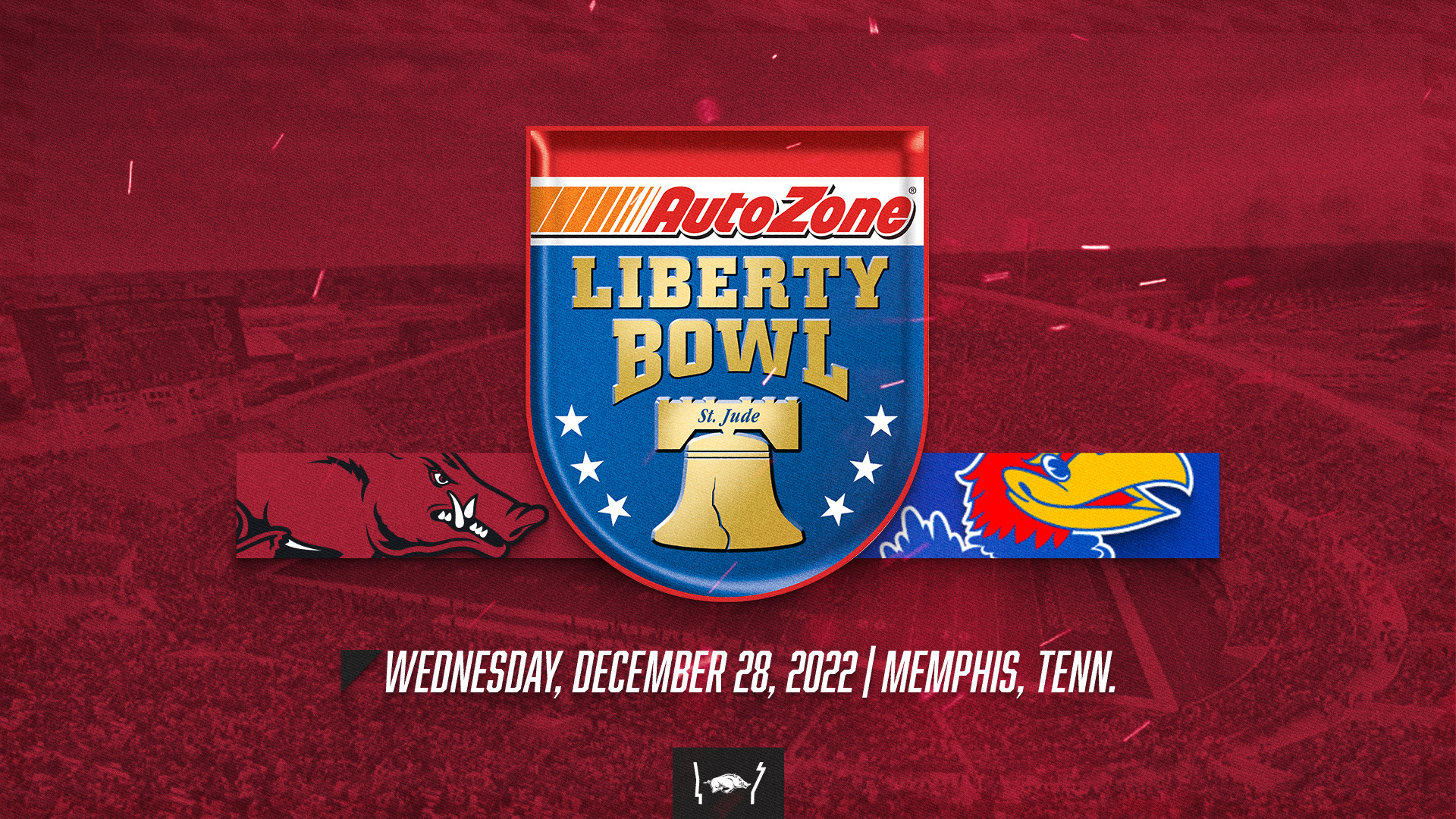 Hogs headed to AutoZone Liberty Bowl to face Kansas
FAYETTEVILLE, Ark. – The Arkansas Razorbacks are headed to Memphis to take on Kansas in the AutoZone Liberty Bowl on Dec. 28 at 4:30 p.m. on ESPN.
For the third straight season under Head Coach Sam Pittman, the Hogs have received an invite to a bowl game making Pittman the fourth Arkansas coach to ever achieve bowl eligibility in each of first three years alongside Houston Nutt, Ken Hatfield and Lou Holtz. This year's trip to the Liberty Bowl will mark Arkansas' sixth appearance in the game dating back to the program's first trip in 1971. The Razorbacks last played in the Liberty Bowl in 2016 – a 45-23 victory over Kansas State.
"We're extremely excited to be headed to Memphis to play a really good Kansas team in the AutoZone Liberty Bowl," Arkansas Head Coach Sam Pittman said. "Coach Leipold and his staff have done a tremendous job with their team, and we look forward to the challenge. For us, the opportunity to play a bowl game in what we consider our backyard is going to be special. We can't wait to see our fans in Memphis in a few weeks."
Arkansas will meet Kansas on the gridiron for just the third time in history with the only two games coming in 1905 and 1906. Arkansas opened the 1905 season with a 6-0 home loss to the Jayhawks and dropped a 37-5 decision at Kansas the following season.
The Liberty Bowl will be Arkansas' 44th bowl appearance after the Razorbacks wrapped up a 6-6 season. QB KJ Jefferson, who announced his plans to return for the 2023 season last week, led the Hogs with 2,361 yards passing and 22 touchdowns to go with 510 yards rushing and seven more TDs despite missing two games. RB Raheim Sanders finished the regular season with 1,426 yards rushing – the second-most in the SEC and 12th nationally – and a team-high 10 touchdowns. The Arkansas defense wrapped up the regular season with 39 sacks – one shy of the school record set in 1998 – to lead the SEC and rank fifth nationally.
Liberty Bowl Tickets
Season ticket holders and Razorback Foundation members who preordered Liberty Bowl tickets will have their order request fulfilled. Those who preordered can expect to receive an email from the Razorback Ticket Center early this week and credit cards will be charged on Tuesday, Dec. 6.
For fans who did not preorder, a limited number of Liberty Bowl tickets are available now on a first-come, first-served basis. The seating locations will be allocated in Razorback Foundation priority point order. A limited number of tickets will be available to the general public on Sunday evening by visiting arkansasrazorbacks.com.
Student Tickets
University of Arkansas students can expect to receive an email with ticket on-sale information Sunday evening for the allotment of tickets specifically reserved for Arkansas students.