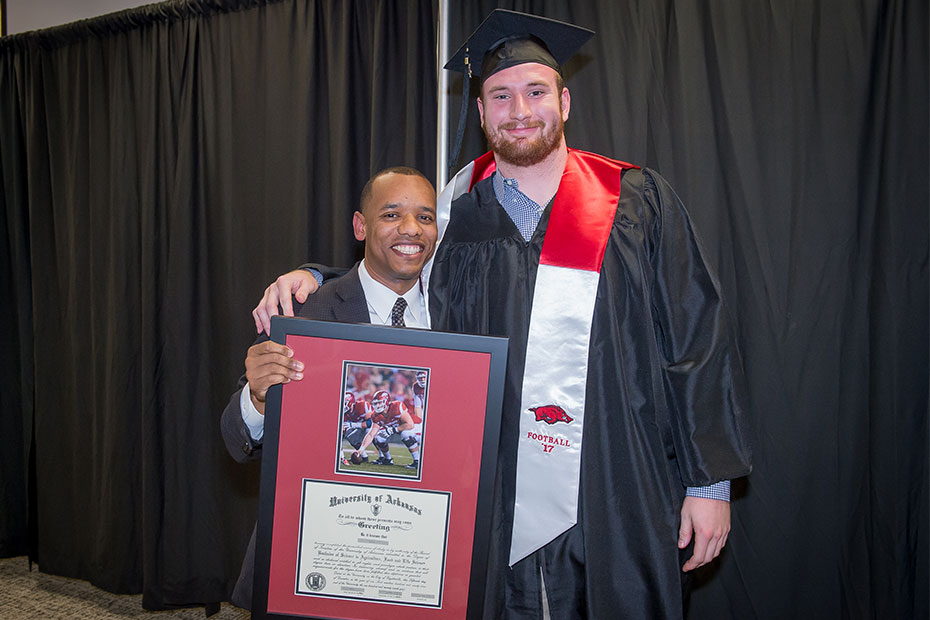 Hogs Headline 2018 NFF Hampshire Honor Society
IRVING, Texas — The National Football Foundation & College Hall of Fame (NFF) announced Wednesday the members of the 2018 NFF Hampshire Honor Society, which is comprised of college football players from all divisions of play who each maintained a cumulative 3.2 GPA or better throughout their college careers.
The University of Arkansas led all Football Bowl Subdivision schools with nine student-athletes named to the society. The Razorback student-athletes honored were Austin Allen, Robert Decker, Jack Kraus, Josh Liddell, Frank Ragnow, Paul Ramirez, Jake Raulerson, Karl Roesler and Zach Rogers.
The announcement comes just two months after it was announced that the Arkansas football program placed 47 student-athletes on the 2017 Fall SEC Academic Honor Roll, tops in the conference for the third straight year.
An all-time high 1,253 players from a record 303 schools qualified for membership in the NFF Hampshire Honor Society's 12th year.
"We are pleased to see another record number of athletes honored by the Hampshire Honor Society this year," said NFF President & CEO Steve Hatchell. "Over the past decade, it has become a powerful vehicle for schools to recognize their college football players who have distinguished themselves both academically and athletically, and we congratulate the schools and each of these young men for their commitment to excellence in all aspects of their lives."
The NFF Hampshire Honor Society capitalizes on the NFF's National Scholar-Athlete program by greatly expanding the number of scholar-athletes the NFF can recognize each year. The program further strengthens the organization's leadership role in encouraging academic performance by the student-athletes at the 777 colleges and universities with football programs nationwide.
The 1,253 players honored in 2018 sets a new high water mark, eclipsing the previous record of 1,103 honorees in 2017. The 303 schools with members breaks the previous mark of 302 set in 2017.
The initiative has now honored 8,996 student-athletes since its inception, and the program has experienced growth every year in either members or school participation since its launch in 2007.