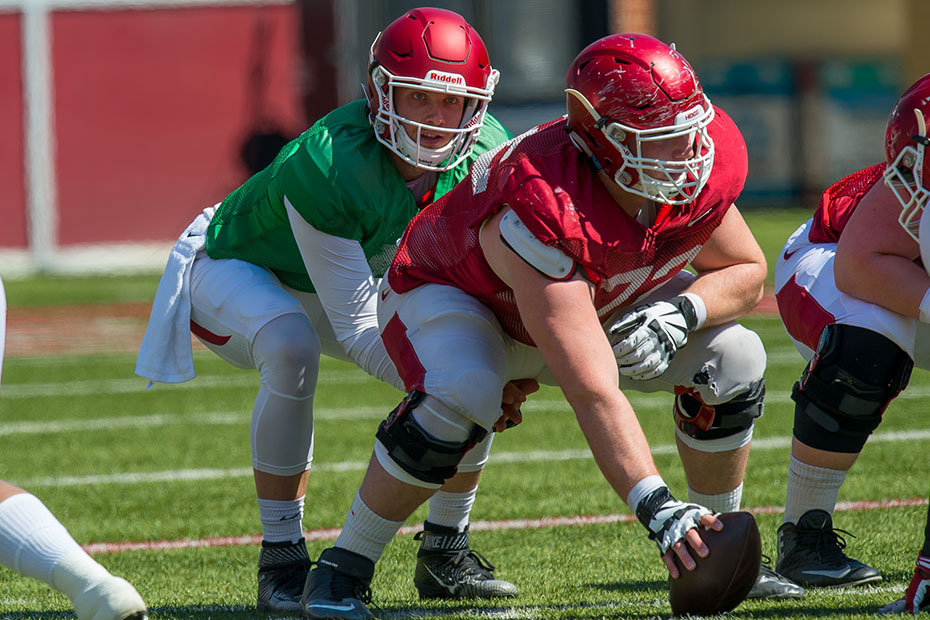 Hogs Hold Second Scrimmage
FAYETTEVILLE, Ark. – The Arkansas football team held its second scrimmage of the spring Saturday inside Donald W. Reynolds Razorback Stadium.
Saturday's practice, which was open to the public, marked the seventh of 15 workouts scheduled during the spring.
The Razorbacks focused primarily on the run game during its first scrimmage, but Saturday saw a more open playbook with approximately 100 reps of action. Officials were present as the team tried to mimic a game-like setting as much as possible. The scrimmage started with first and second down work before moving to red zone situations and ending with full drives down the field.
Junior quarterback Austin Allen had a solid day, completing 15 of 18 passes for 213 yards and three touchdowns. Each of Allen's scoring tosses came during red zone work. Allen first found senior wideout Keon Hatcher for an 18-yard score and on the next play hit senior Dominique Reed for a 12-yard touchdown. His final touchdown throw went to redshirt freshman tight end Will Gragg for a 15-yard score. Reed also reeled in a 16-yard touchdown pass from redshirt freshman Ty Storey later in the day, finishing with three catches for 32 yards and two touchdown receptions. Gragg ended the day with four receptions for 43 yards and one touchdown catch.
During one of the later periods when the ball was moved down the field with new down and distance, Allen put together a 76-yard touchdown drive that ended with a 1-yard touchdown run by senior running back Kody Walker.
Walker paced the running backs with 67 yards on 15 carries. Junior running backs Damon Mitchell and Denzell Evans got double-digit carries. Evans tallied 37 yards and had a 10-yard rushing touchdown, while Mitchell totaled 47 yards.
Several other wide receivers and tight ends made big plays as well: Hatcher totaled three receptions for 52 yards, senior wide receiver Cody Hollister hauled in a 20-yard touchdown pass from sophomore quarterback Rafe Peavey during red zone work and redshirt freshman tight end C.J. O'Grady had three catches for 82 yards.
Peavey finished 5 for 12 for 112 yards and one touchdown.
The defense totaled seven sacks on the day led by senior JaMichael Winston with two. Winston, along with McTelvin Agim, have each recorded a sack in both scrimmages this spring. Sophomore corner Ryan Pulley had a team-best six tackles, while five other players had five stops. Junior De'Andre Coley had a pair of pass breakups.
The Razorbacks will return to the Fred W. Smith Football Center outdoor practice fields Monday.
The next chance for fans to catch the Razorbacks in action is at the annual Red-White Spring Game presented by Contour by Cox on Saturday, April 23. Kickoff is scheduled for noon inside Donald W. Reynolds Razorback Stadium. The event is free and open to the public.
Season tickets are on sale now for the 2016 campaign and can be purchased at the Razorback Ticket Center, by phone at 1-800-982-HOGS (4647) or online.
For more information on Arkansas Football, follow @RazorbackFB on Twitter.