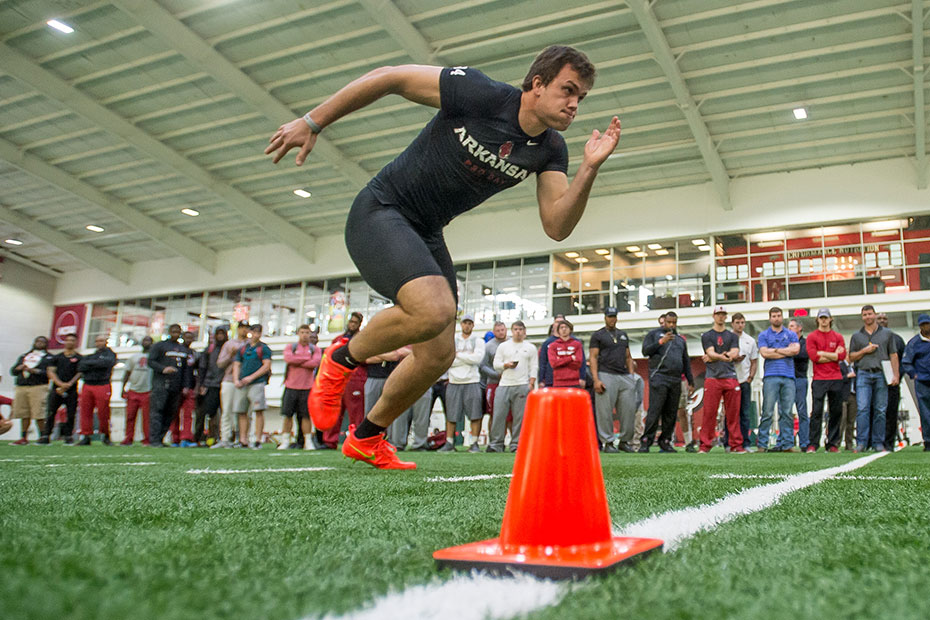 Hogs Impress In Front Of All 32 NFL Teams
FAYETTEVILLE, Ark. – With all 32 NFL teams in attendance, Arkansas football held its annual Pro Day inside Walker Pavilion as 11 former Razorbacks participated in workouts and positional drills. Six of the 11 draft-eligible players also attended the NFL Scouting Combine in Indianapolis just over two weeks ago.
Tabbed to be the first tight end taken in April's NFL Draft and currently a first rounder in many mock drafts, tight end Hunter Henry put on a show with a 40-yard dash time of 4.67 while also bench pressing 225 pounds 21 times. Henry, the 2015 John Mackey Award Winner as the nation's best tight end, mostly participated in field drills during the NFL Combine. His 40-yard time on Wednesday would have ranked second amongst tight ends and his bench press would have finished third at the NFL Combine.
Running back Alex Collins only took part in the vertical jump and positional drills. One of just three players in SEC history to rush for 1,000 yards in each of his first three seasons, Collins improved his vertical at the NFL Combine by four and a half inches with a leap of 32.5 inches.
The other half of Arkansas' 1,000-yard rushing tandem in 2014, Jonathan Williams worked out for the first time in front of NFL Scouts since suffering a season-ending injury during the fall preseason. Williams ran through a few drills at this year's Senior Bowl and also attended the NFL Combine, but was full-go on Wednesday taking part in the 40-yard dash, 20-yard shuttle, 3-cone drill and 40-yard shuttle along with positional drills.
Quarterback Brandon Allen and offensive lineman Sebastian Tretola only participated in positional drills. Both participated in everything at the NFL Combine.
The bench press was the highlight of the day, as defensive lineman DeMarcus Hodge, defensive lineman Mitchell Loewen and offensive lineman Mitch Smothers all did 30 reps of 225 pounds. The reps by each member of the trio would have tied them for fifth place in their respective positions at the NFL Combine.
Defensive back Rohan Gaines put up 225 pounds on the bench press an impressive 22 times, which equals the top mark by a cornerback or safety at this year's NFL Combine. Fellow defensive back Davyon McKinney was Arkansas' top performer on the day in the vertical jump (37.5 feet) and broad jump (10.10 ½). McKinney's broad jump would have been the fourth-best at the NFL Combine amongst DBs while his vertical would have tied for 10th.
The 2016 NFL Draft will run from April 28 until April 30 and will take place at the Auditorium Theatre in Chicago, Ill.
Arkansas Pro Day Participants
Brandon Allen, QB
Alex Collins, RB
Hunter Henry, TE
Rohan Gaines, DB
DeMarcus Hodge, DL
Denver Kirkland, OL
Mitchell Loewen, DL
Davyon McKinney, DB
Mitch Smothers, OL
Sebastian Tretola, OL
Jonathan Williams, RB