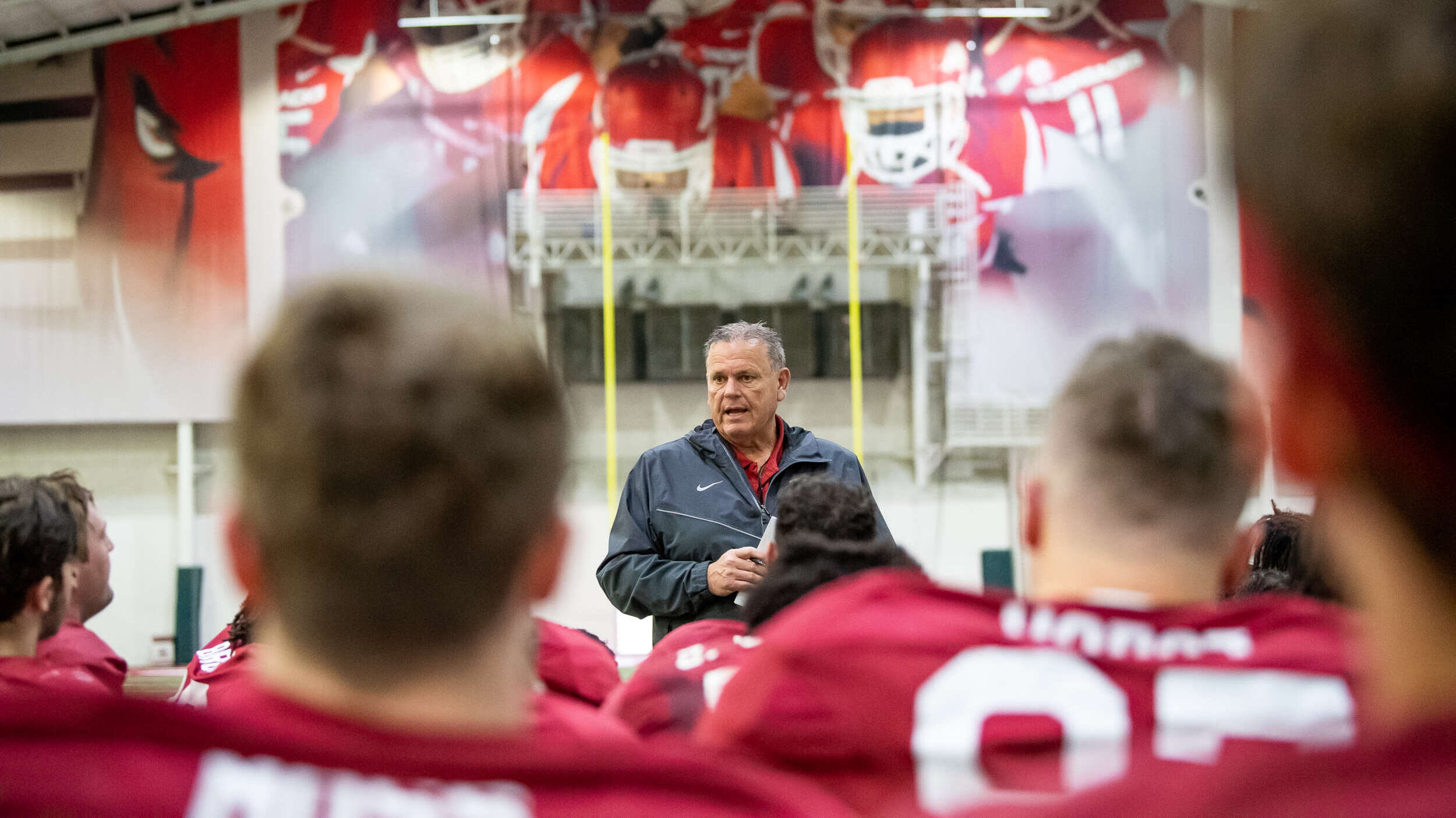 Hogs kick off spring practice
Arkansas kicks off spring practice for the fourth time under Head Coach Sam Pittman. Pittman's first spring practice was canceled the day it was set to begin due what became the Covid-19 pandemic.
The Razorbacks will hold 15 spring practices beginning March 9 with a free, open to the public scrimmage inside Donald W. Reynolds Razorback Stadium set for April 15 at noon. Arkansas is coming off it's second consecutive bowl victory and winning season, a feat not accomplished by the program since 2015-16 when the team won 15 games, including victories in the Texas Bowl and Liberty Bowl. This time, the Razorbacks have 16 wins with bowl victories in the Outback Bowl and Liberty Bowl.
KJ CLIMBING
Quarterback KJ Jefferson is climbing up the all-time lists in the Arkansas record book. The Hogs' signal caller is set to be the full-time starter for a third consecutive season this fall. Brandon Allen was the last Razorback QB to be the full-time starter when he was the man 2013-15. Allen's final season was special when he threw for 3,440 yards and 30 touchdowns on his way to setting the school record for career TD passes. The 2015 Arkansas offense was led by offensive coordinator Dan Enos, who returns to call the plays for Head Coach Sam Pittman. Enos' offenses produced one of Arkansas' three seasons of 6,000+ total yards and two of the team's six seasons with a 3,000+ yard passer (Allen in 2015 and Austin Allen in 2016).
Jefferson will enter the 2023 season with his name already all over the program's all-time records, having already cracked the career Top 10 lists in attempts (666 – 8th), completions (436 – 7th), passing yards (5,816 – 7th), TD passes (48 – 6th), total yards (7,245 – 5th) and TD responsibility (67 – 4th). Jefferson will have the chance to become the school all-time record holder in multiple categories. The Sardis, Miss. native is already among Arkansas' all-time greats but will begin to pass many of the quarterbacks considered as the greatest in school history as he ascends up the charts, including Clint Stoerner, Matt Jones, Ryan Mallett and Tyler Wilson.
HELLO, MY NAME IS…
Practice in Fayetteville this spring may require name tags with the addition of 22 new student-athletes to go along with five new on-field coaches, five new strength and conditioning coaches and numerous new support staff members. Arkansas welcomes 22 new student-athletes, including 12 freshmen and 10 transfers. The offense welcomes 10 newcomers while the defense has 12 new faces to add to the mix. On offense, two new quarterbacks join the room with transfer Jacolby Criswell and freshman Malachi Singleton. An Arkansas native, Criswell spent three seasons at North Carolina before joining the Hogs. Kenny Guiton adds three transfers to the wide receiver group in Andrew Armstrong (Texas A&M-Commerce), Tyrone Broden (Bowling Green State) and Isaac TeSlaa (Hillsdale College). The offensive line adds one transfer in Joshua Braun from Florida with freshmen Luke Brown, Paris Patterson and Joey Su'a. Twin brothers Luke and Dylan Hasz add to both sides of the ball. Luke joins the tight ends with Dylan adding to the defensive backs as one of five newcomers. Baylor transfers Lorando Johnson and Alfahiym Walcott are joined by freshmen Jaylon Braxton, RJ Johnson, TJ Metcalf and Dallas Young. Up front on the defensive line, Deke Adams adds transfers Trajan Jeffcoat from Missouri and John Morgan III from Pitt. Three linebackers join a talented returning group with USF transfer Antonio Grier and freshmen Carson Dean and Brad Spence rounding out the group.
RETURN OF THE ROCKET MAN
Running back Raheim 'Rocket' Sanders joins elite company heading into his junior season at Arkansas. After a solid freshman season that saw him earn Freshman All-SEC honors thanks to 578 rushing yards, Sanders was electric in 2022 running for 1,443 yards – the fourth-most in school history. Sanders will become just the second Razorback to return for another season after rushing for 1,400+ yards, joining the great Darren McFadden. The two-time Doak Walker Award winner produced the two greatest seasons by a running back in school history, doing it in back-to-back seasons in 2006-07. McFadden ran for a then-school record 1,647 yards in 2006 before breaking his own record with 1,830 yards in 2007 as an encore.
Sanders' 2022 season was electric with the Rockledge, Fla. native recording seven 100-yard games. His biggest game came against Ole Miss as the Hogs gained bowl eligibility behind Sanders' career-best 232 yards. He eclipsed 100 yards in each of the first three games of 2022 to become the first Razorback to rush for 100+ yards in the team's first three games of the season since 2013. Sanders ran wild in the win over Missouri State, totaling 167 yards and a score to go with two catches for 75 yards and another touchdown. The performance made him one of only two SEC players (Florida WR Percy Harvin) since 2000 to record 150+ rushing yards with a rushing score and 70+ receiving yards with a receiving score in a game.
WOOO PIG WEEKEND
The Razorbacks will wrap up spring practice on April 15 as part of Wooo Pig Weekend in Fayetteville. The Hogs will scrimmage at noon inside Donald W. Reynolds Razorback Stadium to kick off the day that will also feature the softball team playing UAB at 3 p.m. at Bogle Park before the baseball team meets Tennessee at Baum-Walker Stadium at 6 p.m. Just like on game days in the fall, HogTown – featuring live music, food trucks and more – will be active prior to the football game in Lot 44 near Gate 14 on the north side of the stadium. Admission to the spring football game and HogTown will be free.
WANTED: PASS CATCHERS
Arkansas enters the spring with lots of opportunities for pass catchers, having to replace five of the team's top six pass catchers from last season. Jadon Haselwood led the team with 59 receptions while Matt Landers led the squad in yards (901) and touchdowns (8). In total, the Hogs will need to replace 2,399 yards (78.6%), 167 receptions (72.3%) and 21 touchdowns (80.8%).
RB Raheim Sanders returns as the team's leading receiver with 271 yards on 28 catches with a pair of touchdowns. Redshirt sophomore Bryce Stephens showed flashes last season with 9 catches for 109 yards and a touchdown. Fellow sophomore Jaedon Wilson emerged late in the season, including a pair of catches for 47 yards against Kansas in the AutoZone Liberty Bowl. Tight end Ty Washington's lone reception during his redshirt season came in the bowl game on a 17-yard pass in the first quarter. In addition to the returners, transfers Andrew Armstrong, Tyrone Broden and Isaac TeSlaa will receive reps this spring before freshman Davion Dozier arrives this summer. The trio are the most experienced pass catchers on the roster this spring with a combined 269 catches for 4,632 yards.
MISSING BUMPER
For the first time since 2017, an Arkansas defense will lineup without Bumper Pool as a part of it. The all-time leading tackler in school history wrapped up his eligibility last fall and along with All-American Drew Sanders combined to lead the team with 195 tackles (Sanders 102, Poll 93). The duo's production will be left to a young, talented group led by Chris Paul Jr. As a redshirt freshman last season, he made 62 tackles on his way to earning Freshman All-SEC honors. Jordan Crook and Mani Powell both saw action as true freshmen last season with Crook earning his first start against Kansas in the AutoZone Liberty Bowl. Transfer Antonio Grier brings experience and accolades to the room, having played five seasons at South Florida and twice earning Second-Team All-American Athletic Conference honors, including in 2021 when led the Bulls with 92 tackles.
THE OLD GUYS
Two coaches from Pittman's original staff remain heading into year four with Scott Fountain and Jimmy Smith preparing for their fourth seasons at Arkansas. Smith was promoted to Associate Head Coach during the offseason while Fountain remains the Razorbacks' Assistant Head Coach. Wide receivers coach Kenny Guiton and offensive line coach Cody Kennedy will be in their third season under Pittman with defensive line coach Deke Adams entering his second season after a successful first campaign in 2022.
THE NEW GUYS
Head Coach Sam Pittman brings five new assistant coaches into his third spring practice at Arkansas. Pittman hired Travis Williams as the Razorbacks' new defensive coordinator after Williams led a stout defense at Central Florida. The hire of Marcus Woodson as the co-defensive coordinator should bolster the secondary. Woodson's Florida State secondary helped the Seminoles rank fourth nationally in pass defense in 2022. Deron Wilson was added to coach the secondary after serving as an analyst last season at Florida but brings defensive coordinator experience from McNeese with him to Fayetteville.
On the offensive side of the ball, Dan Enos returns to call the plays. Enos and Pittman worked together at Arkansas in 2015 when Enos was the OC and Pittman was the team's offensive line coach for then Head Coach Brett Bielema. The Hogs' offense that season gained 6,051 yards – third-most in school history. Morgan Turner was named the Hogs' new tight end coach in December. Turner ran a tight end factory at Stanford for a decade, producing numerous NFL tight ends including Dalton Schultz, Austin Hooper, Zach Ertz and most recently Colby Parkinson.
KENNEDY'S CREW
Offensive line coach Cody Kennedy will be looking to replace multiple starters for the first time in his tenure at Arkansas. Last season, the Razorbacks need to replace only LT Myron Cunningham but with the departures of multiple-year starters Ricky Stromberg at center and Dalton Wagner at right tackle. Stromberg started 44 games in his career, including the final 25, and Wagner started games across five seasons to total 40. Fortunately, the Hogs bring back three players that all started games last season in Brady Latham (team-high 36 straight starts), Beaux Limmer (30 career starts) and Ty'Kieast Crawford (5 career starts). Limmer is expected to slide over to center from his right guard position with Latham entrenched at left guard and Crawford plugging one of the two spots on the right side. Kennedy will have plenty of options with the addition of transfer Joshua Braun from Florida and the emergence of a talented trio of young linemen in Andrew Chamblee, E'Marion Harris, Patrick Kutas and Devon Manuel.
RUNNIN' RAZORBACKS BACK
The Arkansas offense ran for 3,077 yards last season – 10th-most in a season in school history – and return 2,849 (92.6%) of those yards for the 2023 season. No rushing attack in the SEC brings back more production from last year than the Hogs and only Michigan returns more rushing yards among all Power 5 teams. Arkansas' top four rushers – Raheim Sanders, KJ Jefferson, AJ Green and Rashod Dubinion – all return for 2023 with Dominique Johnson expected to return to full health this fall.
ARKANSAS PRO DAY
Arkansas will host Pro Day on March 29 with 11 former Razorbacks scheduled to participate. Five former Hogs participated in the NFL Combine – Jadon Haselwood, Matt Landers, Drew Sanders, Ricky Stromberg and Dalton Wagner – with all five expected to be present in Fayetteville for Pro Day along with several others.