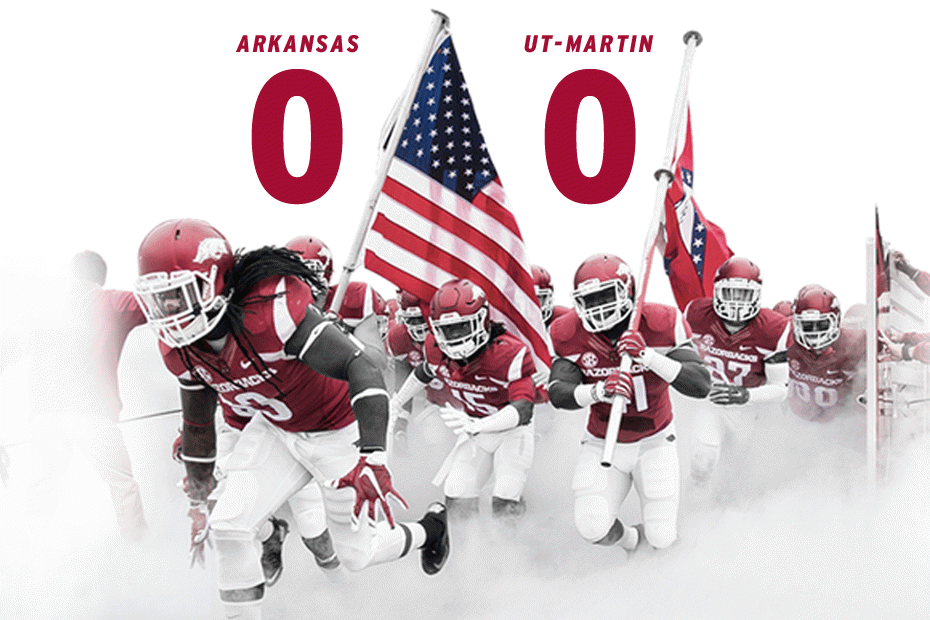 Hogs Power Past UT Martin 63-28
Box Score | Season Stats | Photos
FAYETTEVILLE, Ark. – Behind a career-high five touchdown performance and a 173-yard outing by junior running back Alex Collins, Arkansas took down UT Martin 63-28 in Saturday's homecoming affair at Donald W. Reynolds Razorback Stadium.
The win improved Arkansas' record to 4-4 while UT Martin dropped to 5-3.
With his impressive performance, Collins surpassed Cedric Cobbs (26) for fifth in program history with 28 rushing touchdowns for his career. The Fort Lauderdale, Florida native also moved into fourth place on the school's all-time rushing list with 3,086 yards, surpassing Felix Jones' total of 2,956 set from 2005-07. Additionally, Collins broke the 100-yard rushing barrier for the 13th time in his career, which tied Jones for fourth in the school record books.
Arkansas out-gained UT Martin in the first half. But not by much. The Razorbacks produced 273 yards as opposed to the Skyhawks' 263. However, interceptions by Rohan Gaines and Brooks Ellis proved to be difference makers.
Brandon Allen, who was 11-of-15 for 186 yards and one touchdown in the first half, marched the Razorbacks down the field on their first scoring chance, capping the 10 play, 75-yard drive with a 2-yard touchdown run by Collins. It was the second week in a row that Arkansas scored on its opening drive.
Allen finished the day 14-of-19 with 265 yards and two touchdowns.
The senior signal caller moved past both Casey Dick (5,856) and Matt Jones (5,857) for career passing yards and is now fourth all-time with 6,057.
At the half, the Razorbacks led 35-14.
But Arkansas would eventually add four more touchdowns to its ledger, ending its scoring with a 35-yard touchdown pass from sophomore backup quarterback Austin Allen to Jeremy Sprinkle at the 14:08 mark in the fourth quarter.
Defensively, Dre Greenlaw paced the Razorbacks in tackles for the fourth time in six starts with 10, and the Razorbacks had two interceptions in a game for the third time this season.
The Razorbacks have now won three of their last four contests and return to action next Saturday in a Southeastern Conference showdown at Ole Miss. Kickoff is scheduled for 2:30 p.m. and will be televised by CBS.