Hogs Run Past Alcorn State In Little Rock
Box Score | Infographic  | Photo Gallery
LITTLE ROCK, Ark. –The No. 20 Arkansas Razorbacks got a complete performance on offense and defense Saturday afternoon, putting up 559 yards, 353 on the ground, as well as holding Alcorn State to just 10 points to cruise to a 52-10 victory over the Braves at War Memorial Stadium in Little Rock.
The win improves Arkansas' record to 4-1, marking the first 4-1 start for the Razorbacks since 2011. It was also the 150th win all time for the Razorbacks at War Memorial Stadium.
Sophomore Rawleigh Williams III and freshman Devwah Whaley each totaled over 100 yards rushing in the game with Whaley leading all players with 135 yards and one touchdown. Williams finished just behind Whaley with 126 yards, his third 100+ yard performance in the last four games.
Quarterback Austin Allen was 13-of-18 through the air for 206 yards and tied a career-high three touchdown passes. Six different receivers caught at least one pass in the game and it was the second game in a row that junior Jared Cornelius hauled in 100 or more yards as he led all receivers with 106 yards on four catches and a career-high two touchdowns.
Austin Allen Finds Jared Cornelius For TD#1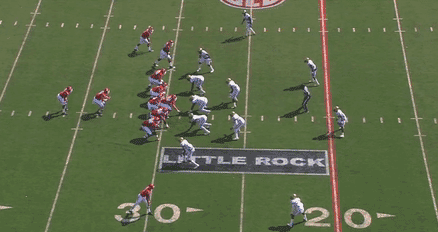 How It Went Down
Arkansas took a quick 10-0 lead in the first six minutes of the game with the help of a 25-yard Cole Hedlund field goal on the first possession and then a 29-yard touchdown pass from Allen to Cornelius. Cornelius added his second touchdown catch just before the end of the first quarter on a 35-yard throw from Allen to cap a 24 point first quarter by the Razorbacks, its highest scoring quarter this season..
Before the end of the first quarter Cornelius had already amassed 64 yards receiving on two catches with two touchdowns.
Freshman Devwah Whaley got in on the action early scoring his first career touchdown on a 75-yard dash up the middle to make it 17-0. It was Arkansas' longest play from scrimmage this season and longest run by a Razorback since Alex Collins broke an 80-yard run against LSU last season.
Whaley was the most efficient back on the field in the game, running only nine times but averaging 15 yards per carry.
Devwah Whaley Rushes 75-yards For First Career TD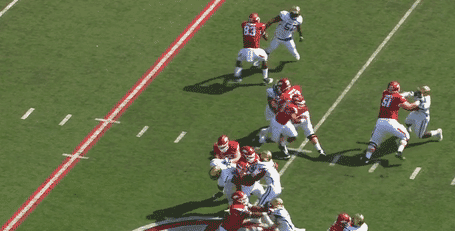 Austin Allen Finds Jared Cornelius For 2nd TD Connection of the Quarter
Of the three caused turnovers in the game, two were brought in as interceptions for the Arkansas defense. Henre' Toliver and Josh Liddell each totaled an interception in the third quarter with Toliver's going all the way for six points to push Arkansas' lead to 31-7.
Toliver was able to take his 70 yards, marking the third time this season that Arkansas has returned an interception for a touchdown and first time Arkansas has returned three for a score since 2006.
Henre' Toliver Pick Six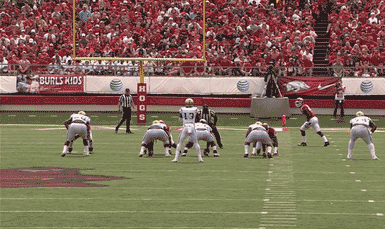 With the game well in hand at the end of the third quarter, Arkansas added three more touchdowns before the end of the game. Senior Cody Hollister scored his first touchdown of the season on a 26-yard end around, capping a five play, 55-yard drive.
Cody Hollister Scores 3rd Quarter TD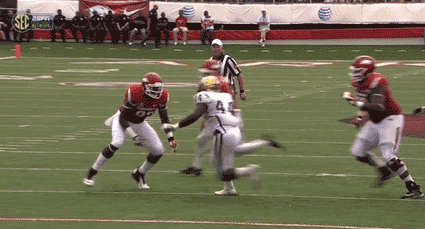 Freshman La'Michael Pettway and T.J. Hammonds scored their first touchdowns of their young careers in the fourth quarter. Pettway caught a 10-yard pass from Allen, his first career reception, while Hammonds finished off a seven play, 95-yard drive with a 5-yard scoring run. For Hammonds, Saturday was the first action of his career at running back as he finished with five carries for 29 yards and a touchdown.
Allen Connects With LaMichael Pettway For Six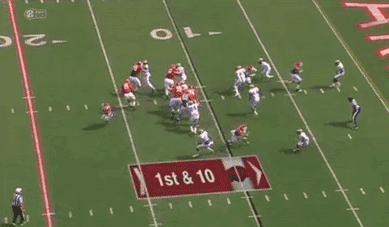 Quick Notes
– With 559 yards of total offense, Arkansas has now totaled 400 or more yards of total offense in each of the last four games.
– Arkansas rushed for 353 yards on 38 carries, eclipsing 250 yards rushing for the first time since the 2015 Liberty Bowl against Kansas State (254 yards).
– Arkansas had two player eclipse 100 yards rushing (Devwah Whaley, 135 yards; Rawleigh Williams, 126 yards) in the same game since doing so against Tennessee last season.
– The three defensive touchdowns this season are the most since 2014 (also three), and the three interceptions returned for a touchdown are the most since 2006 (also three).
– Austin Allen became the first Arkansas quarterback since joining the SEC (1992) to throw multiple TD passes in the first five games of a season.
– Allen is currently one of two quarterbacks in the SEC to throw multiple touchdown passes in every game this year (Chad Kelly, Ole Miss).
– Allen has thrown for 12 touchdown passes through five games this season, the most by an Arkansas quarterback since Ryan Mallett's 13 touchdown passes in 2010.
– Devwah Whaley's 75-yard touchdown run in the first quarter was the longest scoring run by a freshman running back in school history since Felix Jones' 80-yard run against Missouri State on Sept. 3, 2005.
– Whaley's 135 yards rushing is the most by an Arkansas freshman since Alex Collins rushed for 172 yards against Samford in 2013.
– With his full sack today, Deatrich Wise Jr. moves into the top 10 in school history with 16.0 career sacks. He has 3.0 sacks this season.
Up Next
The Razorbacks are back at Donald W. Reynolds Stadium in Fayetteville, Arkansas next week when they host top-ranked Alabama in an SEC Western Division matchup. Kickoff will be either at 2:30 p.m. CT on CBS or at 6 p.m. on ESPN.
For more information on Razorback Football, follow @RazorbackFB on Twitter.