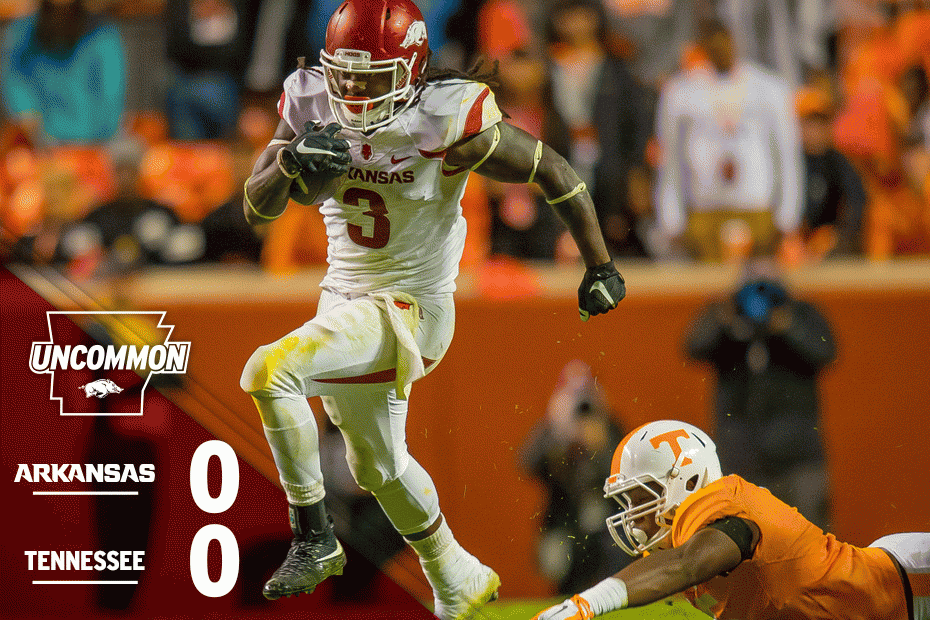 Hogs Run Past Vols in Knoxville
Box Score | Sights & Sounds | Press Conference
KNOXVILLE, Tenn. – Arkansas downed Tennessee 24-20 in front of a raucous crowd of 101,265 at Neyland Stadium Saturday.
Behind the arm of Brandon Allen and on the backs of Alex Collins and Rawleigh Williams III, Arkansas manufactured 494 yards of total offense while holding the Volunteers to just 365 yards.
Allen finished the day 11-of-24 for 219 yards and one touchdown. On the ground, Collins tallied his 11th career 100-yard rushing game and found the end zone twice while Williams III reached the 100-yard rushing mark for the first time in his career. The duo combined for 254 yards rushing.
Junior wide receiver Drew Morgan turned in another solid performance, reeling in five passes for 110 yards.
Tennessee led 14-0 early, but Arkansas finally broke through into the end zone late in the first quarter. The Razorbacks put together a quick, four-play, 75-yard drive that resulted in a 4-yard touchdown run by Collins.
After a missed field goal by Tennessee, Allen connected with junior wide receiver Dominique Reed for a 33-yard touchdown and Arkansas' second four-play scoring drive of the first half.
Both teams exchanged field goals and ended the half tied 17-17.
Arkansas opened the second half with a 10 play, 80-yard scoring drive to take the lead.
That would be all the Razorbacks needed.
With 2:26 left in the contest and a 24-20 lead, Allen and the offense took over and maintained possession until time expired.
Arkansas travels to Alabama next Saturday. Kickoff is slated for 6 p.m., and the game will be nationally televised on ESPN.