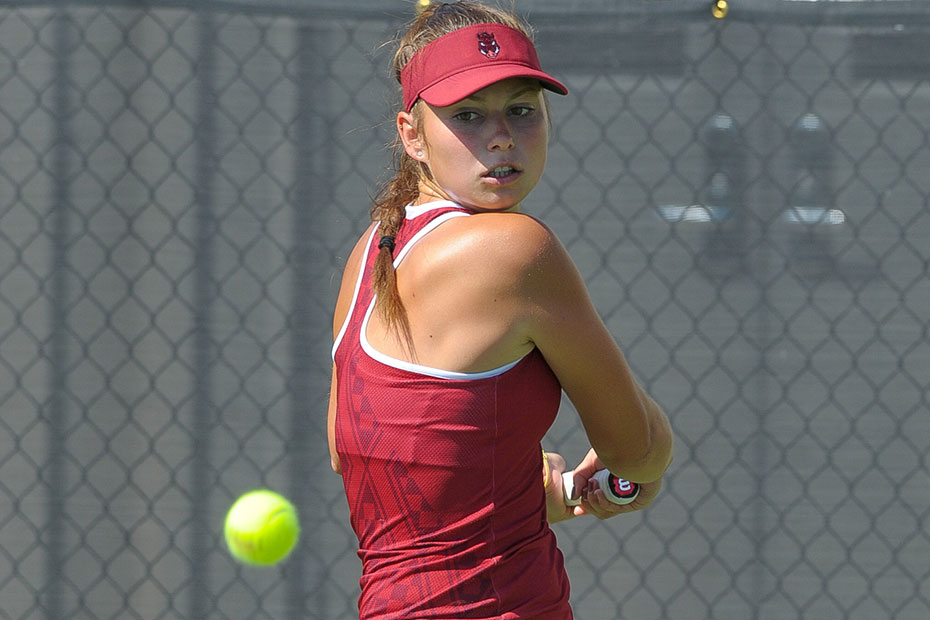 Hogs Sweep Jackson State
JACKSON, Miss.  – The No. 26 Arkansas women's tennis team picked up four team victories against Jackson State Wednesday afternoon at the JSU Tennis Facility.
With the victories, the Razorbacks extended their win streak to eight matches and improved to 14-6 (3-2) overall on the season.
All matches were scored using the four-one format which includes four singles matches and one doubles match with the overall dual match being the best of five points.
"It was good for us to compete hard today as the wind was very tricky," head coach Michael Hegarty said. "We will benefit greatly by getting used to that moving forward.
Arkansas was paced by junior Sasha Shkorupeieva, freshman Ana Oparenovic and sophomore Mia Jurasic who each contributed three victories on the day. The Razorbacks did not lose a set in any of the four dual-match victories.
The Razorbacks return to Southeastern Conference action Friday at 4 p.m. when they travel to Baton Rouge, Louisiana, to face No. 15 LSU.
For more information on Arkansas women's tennis, follow @RazorbackWTEN on Twitter.
MATCH ONE RESULTS – No. 26 Arkansas 5, Jackson State 0
Singles Competition
1. No. 83 Ana Oparenovic (ARK) def. Julie Angermann (JSU) 6-1, 6-2
2. Makenzie Craft (ARK) def. Ana Zviahintseva (JSU) 6-2, 6-0
3. Sasha Shkorupeieva (ARK) def. Akshatha Ananth (JSU) 6-1, 6-0
4. Flavia Araujo (ARK) def. Ariel Dickson (JSU) 6-2, 6-1
Doubles Competition
1. Yuliya Lysa/Agne Cepelyte (ARK) def. Karina Ono/Ariel Dickson (JSU) 6-0
MATCH TWO RESULTS – No. 26 Arkansas 5, Jackson State 0
Singles Competition
1. No. 88 Yuliya Lysa (ARK) def. Daria Butorina (JSU) 6-0, 6-1
2. Agne Cepelyte (ARK) def. Bright Phakamad (JSU) 6-2, 6-3
3. Mia Jurasic (ARK) def. Karina Ono (JSU) 6-2, 6-0
4. Nicole Breaux (ARK) def. Rebekah Adewumi (JSU) 6-2, 6-1
Doubles Competition
1. Flavia Araujo/Makenzie Craft (ARK) def. Julie Angermann/Ana Zviahintse (JSU) 6-2
MATCH THREE RESULTS – No. 26 Arkansas 4, Jackson State 0
Singles Competition
1. No. 88 Yuliya Lysa (ARK) def. Bright Phakamad (JSU) 6-0, 6-2
2. Sasha Shkorupeieva (ARK) def. Ariel Dickson (JSU) 6-0, 6-0
3. Karina Ono (JSU) vs. Nicole Breaux (ARK) 2-6, 1-3, unfinished
4. Flavia Araujo (ARK) def. Akshatha Ananth (JSU) 6-0, 6-0
Doubles Competition
1. Ana Oparenovic/Mia Jurasic (ARK) def. Daria Butorina/Rebekah Adewumi (JSU) 6-0
MATCH FOUR RESULTS – No. 26 Arkansas 3, Jackson State 0
Singles Competition
1. No. 83 Ana Oparenovic (ARK) def. Daria Butorina (JSU) 6-0, 6-0
2. Mia Jurasic (ARK) def. Julie Angermann (JSU) 6-2, 6-0
3. Ana Zviahintse (JSU) vs. Agne Cepelyte (ARK) 3-6, 1-3, unfinished
4. Rebekah Adewumi (JSU) vs. Myrna Olaya (ARK) 4-6, 1-4, unfinished
Doubles Competition
1. Nicole Breaux/Sasha Shkorupeieva (ARK) def. Akshatha Ananth/Ariel Dickson (JSU) 7-5