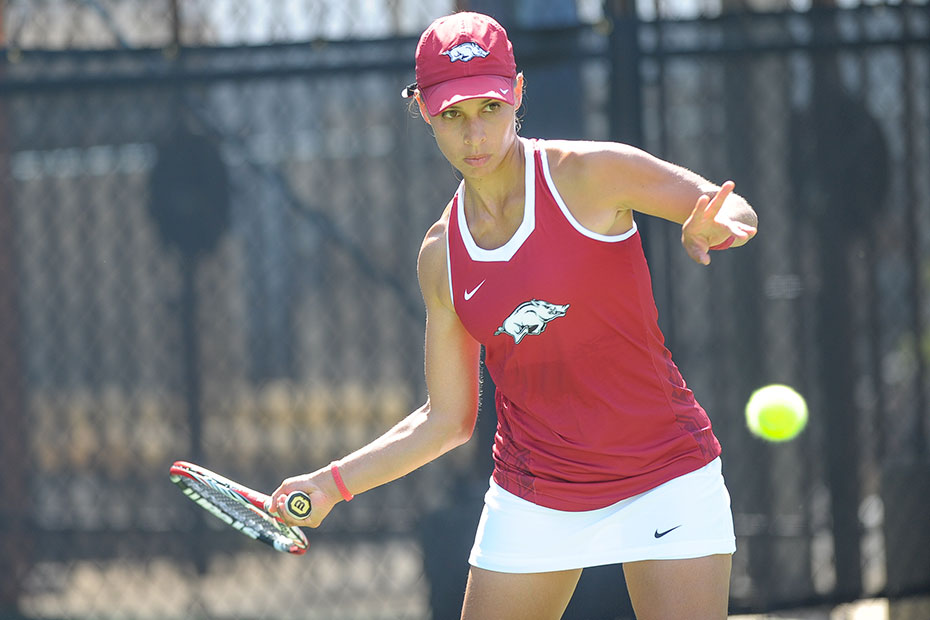 Hogs To Host Pair Of SEC Foes
Live Scoring: Alabama | Auburn
FAYETTEVILLE, Ark. – With a four-match road trip in the rearview mirror, the No. 31 Arkansas women's tennis team returns home to the George M. Billingsley Tennis Center this weekend for a pair of Southeastern Conference matches.
The Razorbacks (8-6, 1-2) will host Alabama (4-8, 0-4) Friday at noon and No. 13 Auburn (15-3, 3-1) Sunday at noon. Both matches will be played outdoors, weather permitting.
"We are looking forward to playing at home this weekend," Arkansas women's tennis head coach Michael Hegarty said. "We have played very well at home versus these two teams traditionally, and we hope to use that to our advantage. We have moved up in the rankings four straight weeks, and we want to build on that momentum."
Promotions
• Admission to each match is free. In addition, pizza, popcorn, Keurig hot chocolate and coffee, and Pepsi products will be provided to all fans in attendance.
• Attendees at Sunday's match will receive a promo code for the Razorback baseball game against Auburn on March 27 at 1:05 p.m.
Razorback Rundown
• Arkansas jumped up two spots on Tuesday's Oracle/ITA Rankings after collecting a pair of road victories this past weekend. The Razorbacks defeated then-No. 60 Missouri 4-1 in Columbia, Missouri and beat UMKC 5-0 in Kansas City, Missouri.
• Against Missouri, the Tigers earned the 1-0 advantage by claiming the doubles point, winning on all three courts. However, the Razorbacks jumped out to a one-set lead in all four singles matches and would ride those leads to victories. In fact, Arkansas captured all eight sets contested en route to the 4-1 overall match win.
• Freshman Ana Oparenovic defeated a ranked opponent for the second-straight match, downing Missouri's No. 98 Bea Machado Santos 6-4, 6-3. Oparenovic upped her individual singles record to a team best 10-4 in dual play, including a 3-1 mark at the No. 1 spot.
#RazorFacts
• The Razorbacks have defeated four teams currently ranked in the top 75 of the Oracle/ITA Rankings, including a feature win over No. 20 Wichita State on Feb. 22. Each of the Razorbacks' losses have been against teams that currently sit in the top 30.
• Oparenovic is one of four SEC freshmen with 10 dual-match singles victories. Nine of her 10 victories have come in straight sets, including each of the last four. She is currently riding a three-match win streak and has won seven of her last 10 matches. In addition, she boasts a team-best 8-4 (1-1) dual-match doubles record with partner Mia Jurasic.
• Friday's match against Alabama will be the Razorbacks' SEC home opener. The Razorbacks are 5-3 at home this season.
The Opponent: Alabama
• Alabama played its first two road matches of the conference slate last weekend, dropping a 6-1 decision to then-No. 3 Georgia before falling 4-2 to then-No. 71 Tennessee.
• The Crimson Tide is paced by No. 31 Andie Daniell (5-4) and No. 85 Erin Routliffe (7-2).
• Daniell and Routliffe also are the Tide's top doubles duo. The No. 32-ranked pair is 4-5 in dual-match play.
The Series: Alabama
• Alabama holds an 18-14 advantage in the all-time series, dating back to 1981.
• The Tide won the last meeting 5-2 in Tuscaloosa, Alabama, on April 10, 2015.
The Opponent: Auburn
• Auburn split a pair of conference matches this past weekend, defeating then-No. 71 Tennessee 4-2 and falling to then-No. 3 Georgia 4-1.
• Auburn will be on the road for the second-straight weekend of SEC play. The Tigers travel to meet No. 61 Missouri Friday in Columbia, Missouri before Sunday's match in Fayetteville.
• The Tigers are led by No. 21 Andie Dikosavljevic (10-4), No. 46 Pleun Burgmans (13-1) and No. 76 Alizee Michaud (12-0).
• Burgmans and Michaud teamed up in doubles action for the first time during the Tigers' SEC opener against Texas A&M. The pair has produced a 4-0 record since then.
The Series: Auburn
• Arkansas leads the all-time series 18-17 against Auburn, dating back to 1983.
• The Razorbacks won the last meeting 4-3 in Auburn on April 12, 2015.
Up Next
• Following the weekend, the Razorbacks will travel to Jackson, Mississippi, on March 23 for a doubleheader against Jackson State. The first match will start at 11 a.m., and the second contest will follow at 3 p.m.