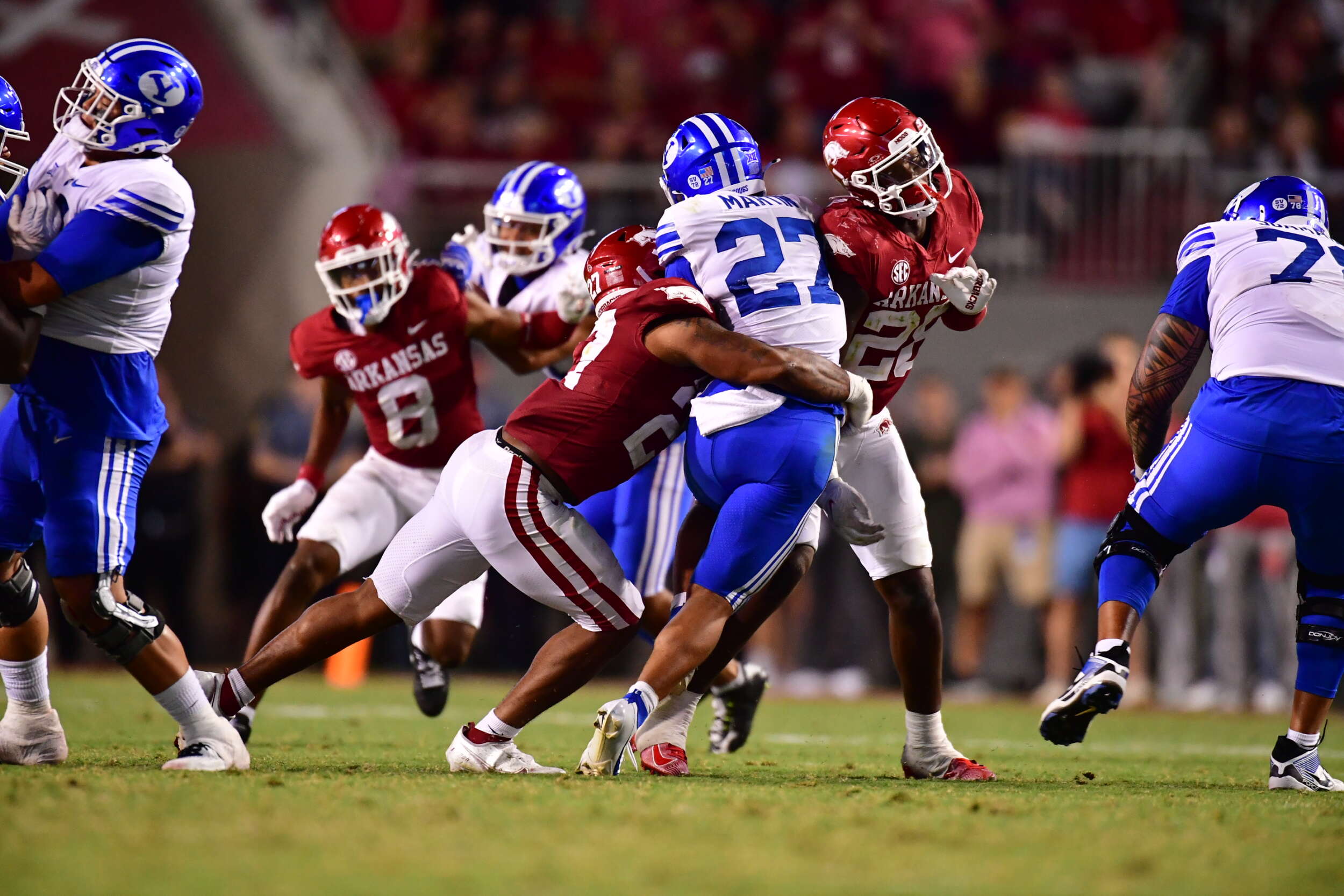 Arkansas Falls to BYU, 38-31
The Arkansas Razorbacks fell 38-31 to BYU at Donald W. Reynolds Razorback Stadium. This was the second meeting all-time between the two programs, evening the record at one win each.
Hogs will receive the kickoff to begin the game
1Q 13:21 Touchdown Arkansas, 7-0
AJ Green breaks off a 55-yard run for the opening touchdown of the game.
1Q 11:29 Touchdown Arkansas, 14-0
Sategna with his first career punt return touchdown! He takes it 88-yards to the endzone.
End first quarter, score 14-14
2Q 7:15 Defensive Stand, 14-21
Morgan III works his way into the backfield and forces a fumble. Defense stands and forces a three and out.
2Q 5:32 Touchdown Arkansas, 21-21
Luke Hasz is wide open in the end zone for his first career touchdown reception.
2Q 1:34 Fumble Recovery, 21-21
McGlothern forces the fumble and Clark recovers. Second forced fumble of the game for the Hogs, first recovery.
2Q 0:00 Field Goal, 24-21
Cam Little converts on his first field goal attempt of the season.
End first half, Arkansas leads 24-21
3Q 11:41 Touchdown Arkansas, 31-21
Green finds the endzone for the second time tonight. Hogs score on their first drive of the second half.
3Q 5:28 Defense Forces Field Goal, 31-24
Thomas gets the sack to keep BYU from finding the endzone and force the field goal.
End third quarter, tied 31-31
4Q 5:13 Defensive Stop, 31-38
Jackson with the sack gets the ball back to the offense.
End game, Hogs fall 38-31