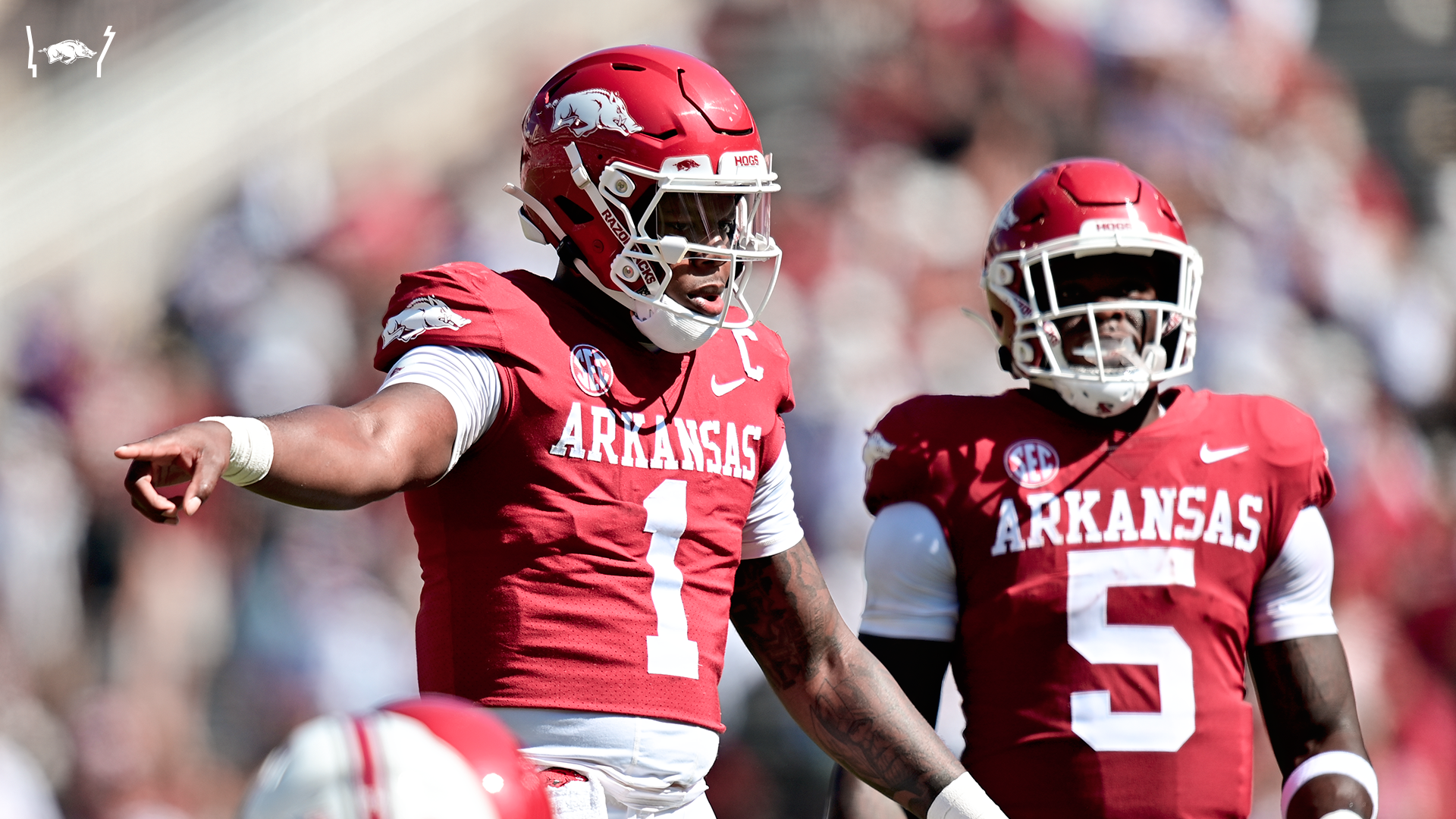 Hogs Defeat South Carolina, 44-30, to Open SEC Play
The Arkansas Razorbacks opened up SEC play with a 44-30 win over the South Carolina Gamecocks. Up next, the Hogs host Missouri State at Donald W. Reynolds Razorback Stadium.
1Q – Jefferson to Sanders
KJ Jefferson finds a wide open Rocket Sanders for 17 yards to get the Hogs into the Red Zone.
1Q, 5:38 – Sanders Touchdown
Rocket Sanders bullies his way into the end zone for his first touchdown of the season to put the Hogs up 7 early.
2Q, 14:28 – Sanders Touchdown (Again)
Make it two touchdowns on the day as Rocket Sanders finds the end zone once again on an 11 yard rush.
2Q – Sanders Sack
Drew Sanders tallies the first sack of the day for the Hogs as he takes down Spencer Rattler for a loss of two yards.
2Q, 8:13 – Dubinion Touchdown
Another rushing touchdown for the Hogs, this one from freshman Rashod DubinionParagraph for his first career touchdown.
3Q – Pool Sack
Bumper Pool gets to Rattler for a 15 yard loss on third down, his sixth tackle of the day.
4Q , 14:55 – Jefferson Touchdown
Jefferson fights two yards into the end zone to put six on the board.
4Q – Hogs Force a Turnover
Latavious Brini forces the fumble, and Hudson Clark recovered for the Hogs first forced turnover of the game.
4Q, 12:09 – Thompson Touchdown
Hogs capitalize off the turnover as Jefferson finds Thompson wide open for a 23 yard touchdown pass.
4Q, 10:57 – McGlothern Interception
McGlothern forces the Hogs second turnover of the day with the interception, his second in two games.
4Q – Pool Recovers Onside Kick
Pool turned into a kick returner on the onside kick, setting the Hogs up on the 9 yard line.
4Q, 6:00 – Green Touchdown
Green notches the fifth rushing touchdown of the day for the Hogs.