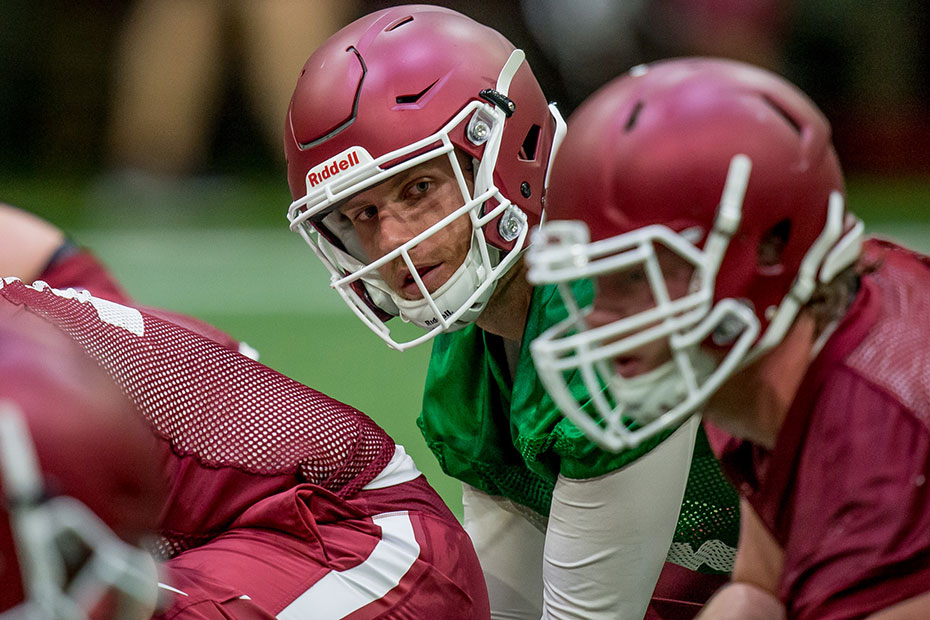 Day 2 Takeaways From #HogsCamp
FAYETTEVILLE, Ark – Arkansas continued its preseason camp Friday with another 6:30 p.m. practice at the Fred W. Smith Football Center. The Hogs were scheduled to practice on the outdoor practice fields, but lightning during the fifth period moved everything indoors into the Walker Indoor Practice Facility.
Practice Quick Hits
• The Razorbacks worked out in helmets and shorts for 24 periods.
• Wide receiver Drew Morgan led off the first 7-on-7 session by hauling in a 40-yard pass from quarterback Austin Allen and picking up significant yards after the catch.
• A couple of plays later, Morgan found space again receiving a strike from quarterback Rafe Peavey to highlight a receiving corps that head coach Bret Bielema has praised for its depth.
• Later in the same 7-on-7 period, defensive back Kevin Richardson picked off a pass that would have gone the distance, the first of two interceptions for the defense on the day. Richardson had a pass breakup later in the session as well.
• Allen returned under center later in the period and showed his precision when he threaded the needle on a pass to wide receiver Cody Hollister.
• The quarterbacks continued to show off the arm strength as Cole Kelley found Austin Cantrell deep down the field along the sideline.
• The defense stepped up in the second session of 7-on-7 as Henre' Toliver, Santos Ramirez and De'Andre Coley all recorded pass breakups.
• Josh Liddell picked up the second interception on the day for the defense when strong coverage provided a tipped pass right into his hands.
Hands Squad
🙌 SQUAD. #HogsCamp #UncommonMentality pic.twitter.com/V1dX7zNjdT

— Razorback Football (@RazorbackFB) August 6, 2016
Arkansas' five receivers that return for the 2016 season have combined for 246 receptions, 3,489 yards and 34 touchdowns during their careers. Morgan, Keon Hatcher and Dominique Reed each have a 100-yard receiving game under their belt, six combined among them.
"They're very eager. The thing about that group is there's no one guy that's like the other. They all kind of have their own different skill set. They have their own different personality. They have their own learning curve. It's a neat room that [wide receivers coach] Michael [Smith] has been able to put together. I give him a lot of credit." – Head coach Bret Bielema on the receiving corps
Up Next
Arkansas is scheduled to be back on the practice field for a 2:30 p.m. workout on Saturday.