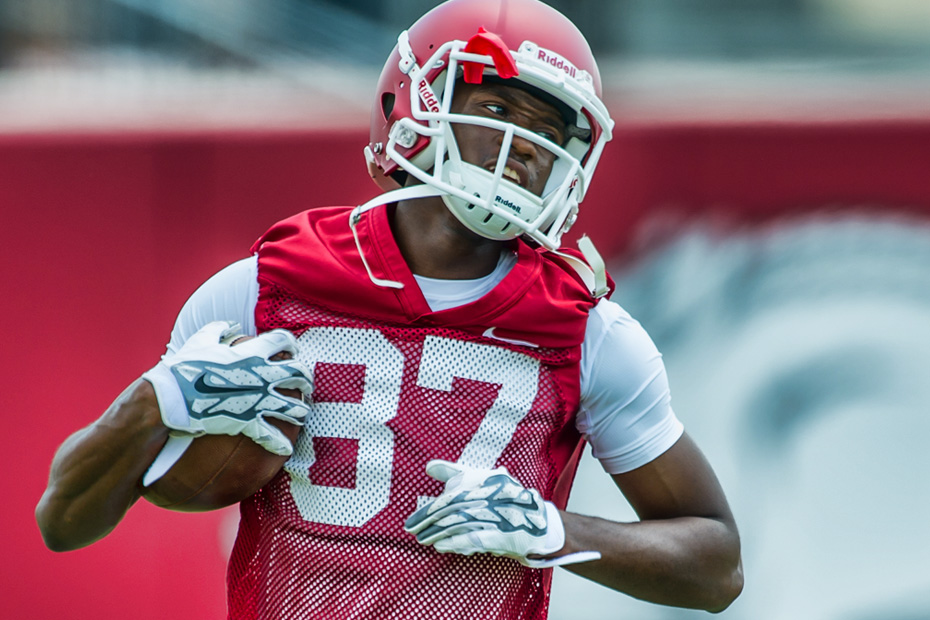 #HogsCamp Day 3: Newcomers Impress

The Razorbacks have finished the first three practices of fall camp and earn a well-needed day off tomorrow after the heat index hovered around 100 for the third consecutive day. Head coach Bret Bielema met with the media following Saturday's practice and was pleased with how the first three days went.
"The caliber of athlete we have has really jumped out. Today we saw that come through with some more of the physical elements," Bielema said after practice.
Arkansas put pads on for the first time today as they donned a half pack (shoulder pads and helmet) in a non-contact practice. The team will have full contact with full pads on Tuesday.
The focus through the first three days has been on the newcomers. While the Razorbacks return 16 starters, several newcomers are expected to pay dividends in 2015 and thus far, Bielema is impressed.
"I think there's going to be a lot of guys that will play early. There are certain guys that you can just see right away that they are instinctively talented players. It's going to be hard to keep them off the field."
One of those players is wide receiver Dominique Reed. A junior college transfer, Reed signed with Arkansas amidst rumors he may not qualify academically. Those rumors have quickly been put to rest as Reed finished the summer session with a 3.5 GPA.
Ryan Pulley, a cornerback from Fort Myers, Fla., has quickly turned heads in camp. Pulley is already playing with the second team and has made several impressive plays thus far.
"Pulley has jumped out from day one. When he got in here in the summer, the guys commented right away that he's got those long arms, is very, very aggressive and has a great feel for the ball. He's a fun kid to be around and I'll be very shocked if he doesn't play a lot of football for us early," said Bielema.
Other young defenders to keep an eye on are Jamario Bell and Derrick Graham. Bell initially entered camp as a defensive end while Graham was playing outside linebacker. But that quickly changed after a few days of practice.
Bielema and his staff made the decision to slide Bell to the Sam (strong side) linebacker position and move Graham to defensive end. Graham continues to add weight and is a natural pass rusher while Bell moves more like a linebacker, so the switch made sense according to the head coach.
Arkansas will take tomorrow off for its annual media day at the Fred W. Smith Center before returning to the practice field on Monday.
#HogsCamp Social Media
Pads go on today 😏🐗🔥🏈

— Razorback FB Recruit (@RazorbackFBRec) August 8, 2015
Day 3️⃣ . Time to get after it. #UncommonMentality pic.twitter.com/9SsUgzDrkT — Arkansas Razorbacks (@ArkRazorbacks) August 8, 2015
Just another day at the office for the #HandsCrew pic.twitter.com/B5UnX6Exnn

— Razorback Football (@RazorbackFB) August 8, 2015
#UncommonMentality pic.twitter.com/DiI0YL9i2S — Razorback Football (@RazorbackFB) August 8, 2015