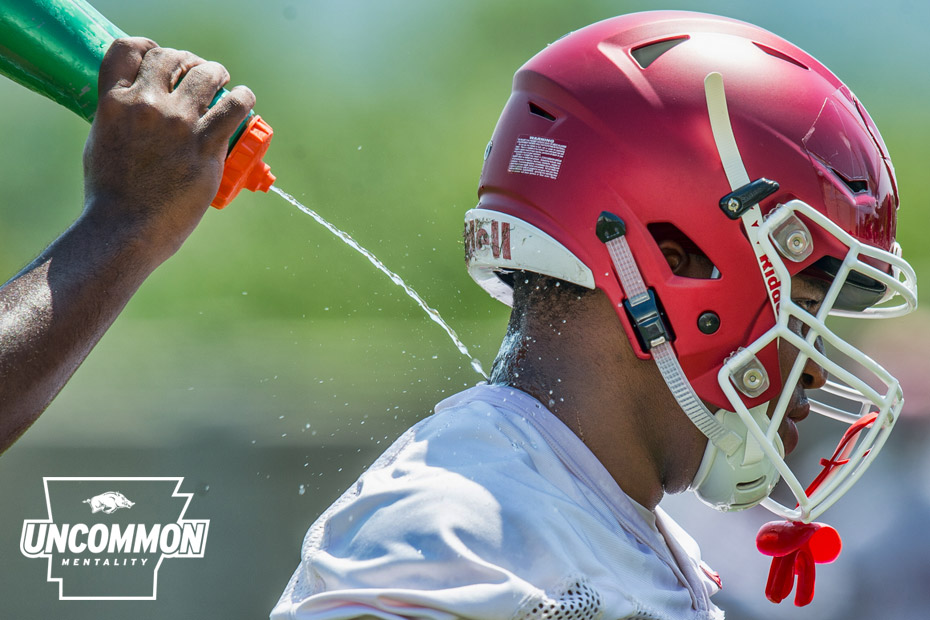 #HogsCamp Day 2: Four Takeaways

Photo Gallery | Tickets | Interviews
The Razorbacks took the practice field for the second practice of fall camp under intense heat with a heat index over 100 degrees for the majority of practice. Several precautions were taken as the team started and finished inside and had multiple breaks to cool down and re-hydrate.
Four Takeaways From Day Two
1. Intense Competition For Specialists
We saw the specialists kick for the first time today and there will be a lot of competition to see who starts at those positions. Cole Hedlund and Lane Saling are both challenging the incumbent, Adam McFain. There doesn't appear to be much separating the three kickers after the first two days of practice.
At the punter spot, junior Toby Baker is battling it out with true freshman Blake Johnson. Baker had some booming punts today and Johnson clearly has a strong leg as well. When Johnson was in high school, his first-ever varsity punt traveled 70 yards!
2. Defensive Backs Stepping Up
We talked about the defensive backs yesterday but they made even bigger strides today. Cornerback Jared Collins was everywhere – breaking up passes one moment and blowing up screens the next. He tied for the SEC lead last season with 13 pass breakups and looks primed to increase his total in 2015.
DJ Dean is also continuing his solid play. He's clearly one of the most athletic defensive backs in the conference and shows his athleticism on a regular basis in 7-on-7 and team drills.
It's a good thing the pads weren't on today because Santos Ramirez may have hurt somebody. He is such a physical player and made a break on a pass today that would have resulted in a lot of pain on the receiver. Fortunately, Ramirez was heady enough to pull off so teammates don't get injured.
3. What Question Marks At Linebacker?
A lot has been made this offseason about the question marks at linebacker and understandably so, with Brooks Ellis moving to a new position and two new starters replacing Martrell Spaight and Braylon Mitchell. But after two days, there doesn't appear to be as many question marks as people think.
Khalia Hackett is the new starter at Mike (middle) linebacker and he has been stellar. He made such a great read shooting the gap on a run play today that his new position coach, Vernon Hargreaves, got on his knees and bowed down in approval. A former high school safety, Hackett is also athletic enough to cover receivers in space and looks like he may be a three-down option for the Razorbacks.
4. #RBU
Running Back U is at it again. We all know what Jonathan Williams is capable of and Alex Collins has slimmed down, replacing that weight with muscle and improving his strength and stamina.
"His endurance is so much better than it was a year ago. Every rep he's in going full speed. That comes from getting his body right and getting himself in shape," Allen told the media yesterday.
And those aren't the only two standout running backs. Kody Walker was recently granted a sixth year of eligibility and had an outstanding spring. He's continued to work hard throughout summer workouts and is a chiseled 6-2, 256 pounds now. Imagine that coming at you after you're worn down in the fourth quarter.
Another guy you can't take your eyes off of is Rawleigh Williams III. A true freshman, Williams rushed for 2,814 yards as a senior at Bishop Lynch HS in Dallas last year. He has very quick feet and a burst through the hole that you rarely see in a freshman.
DB Jared Collins
LB Brooks Ellis
#HogsCamp Social
Starting Practice 2 with some specialist work. Here's Toby Baker crushing one #UncommonMentality pic.twitter.com/ihpDtwO5gn

— Razorback Football (@RazorbackFB) August 7, 2015
Practice number 2 under way. @j_collins29 knows that means 29 days to prepare for game day! #WPS pic.twitter.com/L5qZfZcy5X — Razorback FB Recruit (@RazorbackFBRec) August 7, 2015
Gotta cool off when you're practicing as hard as @officialjred #Uncommon pic.twitter.com/yhY5zpDNUu

— Razorback Football (@RazorbackFB) August 7, 2015