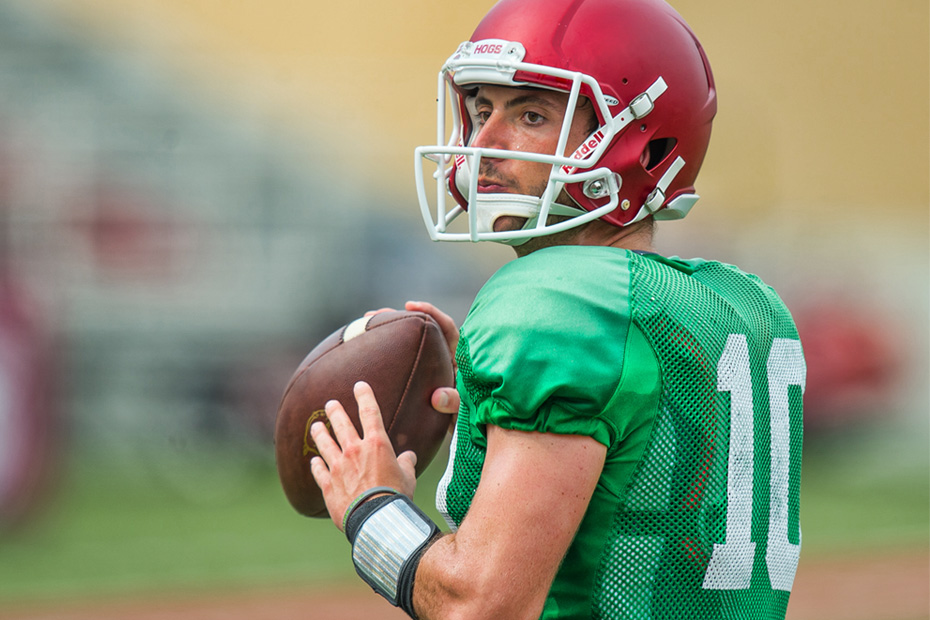 #HogsCamp Practice 14: The Final Scrimmage
Tickets | Photo Gallery | Bielema Press Conference
With exactly two weeks until kickoff, the Razorbacks held their final scrimmage of fall camp this afternoon inside Donald W. Reynolds Razorback Stadium.
The first-team offense was very impressive today despite standout running back Alex Collins not participating for precautionary reasons. Junior Kody Walker and true freshman Rawleigh Williams III saw many carries with the starters and did not disappoint. Walker had 13 carries for 81 yards (6.2 avg.) and one touchdown while Williams rushed eight times for 57 yards (7.2 avg.) and a touchdown.
Starting quarterback Brandon Allen had perhaps his finest day of fall camp, completing 22 of 28 passes (78.6 percent) for 275 yards, four touchdowns and two interceptions. He welcomed the return of No. 1 wide receiver Keon Hatcher who missed last week's scrimmage with a minor injury. Hatcher was very active, catching nine passes for 143 yards (15.9 avg.) and one touchdown.
"I can't say enough good things about Keon," head coach Bret Bielema said. "He really truly has had a great camp. I'm really excited about where he's at."
The defensive line also made several big plays. Junior college transfer Jeremiah Ledbetter intercepted a screen pass and returned it 37 yards for a touchdown. Ledbetter also had a sack this afternoon and saw extended action with the first team defense.
"(Ledbetter) is a very gifted football player," said Bielema. "He can do a standing back flip and is very athletic. Every day in practice you see him do something."
Redshirt freshman Santos Ramirez continues to improve every day and showcase his big play ability. Last week he forced a fumble with a huge hit. Today he made a quick break on a pass and intercepted the ball, returning it nine yards. He also recorded six and a half tackles.
Dre Greenlaw is another freshman that made an impact. He led the team with eight and a half tackles playing primarily at the Will linebacker position behind starter Brooks Ellis. Greenlaw was a safety in high school and has good instincts for a guy who doesn't have much experience at linebacker.
The end of today's scrimmage marks the conclusion of fall camp. University of Arkansas classes begin on Monday and the team will begin UTEP preparation next week ahead of the season opener on Sept. 5.