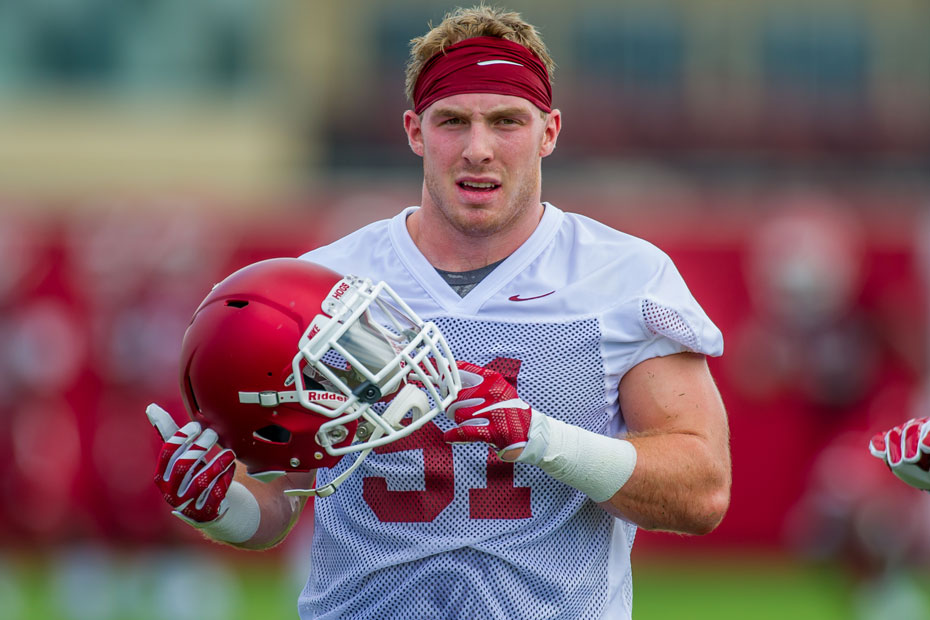 #HogsCamp Practice 4: New Positions Pay Off

The Razorbacks wrapped up a 26-period practice this afternoon, their fourth of fall camp. The practice began outside on grass before moving indoors for the final six periods due to heat. The last two periods were reserved for developmental players.
Three Takeaways
1. New Positions Pay Off
The two most impressive players in today's practice were guys who recently changed positions. Linebacker Brooks Ellis, who slide from Mike (middle linebacker) to Will (weakside linebacker) was all over the field. Ellis was very active in the passing game, blowing up a screen and batting down a pass. He fills the spot vacated by Martrell Spaight – a fifth-round draft pick of the Washington Redskins.
On the offensive side of the ball it was left tackle Denver Kirkland who had an excellent day. He slides out to left tackle this year to protect quarterback Brandon Allen's blindside. Kirkland has started the last 21 consecutive games at right guard. At 6-foot-5 and 340 pounds, Kirkland sealed off several running lanes and did an excellent job in pass protection.
2. Defensive Line Depth
The depth of Arkansas' defensive line continues to show daily as both projected starters at defensive end had solid practices. Junior JaMichael Winston was consistent once again. The defensive leader brought energy after yesterday's day off and routinely maintained his assignment, drawing praise from head coach Bret Bielema.
The defensive line depth improved today when Tevin Beanum returned to practice. Beanum had been sidelined for a couple days with a minor foot injury but was very active upon his return. He got to the quarterback multiple times against the first-team offense.
3. Offensive Freshmen
Running back Rawleigh Williams III continues to impress. Coach Bielema touted the true freshman from Dallas again after today's practice as Williams showed great vision on several runs. Williams had one off tackle run where he saw the hole, cut back and took it into the secondary for a long gain. He has also showcased his hands in the passing game and shows great burst.
Another freshman that had a great practice was Austin Cantrell. He has played a variety of different positions thus far, lining up mostly as a tight end and H-back. His versatility make him very valuable as the Razorback coaching staff can use him in a variety of different ways. He clearly has a chance to earn playing time this fall.
QB Austin Allen
WR Keon Hatcher
OL Frank Ragnow
#HogsCamp Social Media
Practice 4 is under way and @CoachSings wants to turn that heat up! #UncommonMentality pic.twitter.com/HCusRMb4Ng

— Razorback Football (@RazorbackFB) August 10, 2015
@HitManGaines_26 working ball disruption. Countdown continues- 26 days until Game Day #WPS pic.twitter.com/Bw2bspvFGm — Razorback FB Recruit (@RazorbackFBRec) August 10, 2015
All about the angles. #UncommonMentality pic.twitter.com/wSdpllJnP4

— Razorback Football (@RazorbackFB) August 10, 2015
Big time post-practice talk with the offensive line by former NFL lineman Bobbie Williams #TexHogs #ProHogs pic.twitter.com/s5dER06ofu — Razorback Football (@RazorbackFB) August 10, 2015