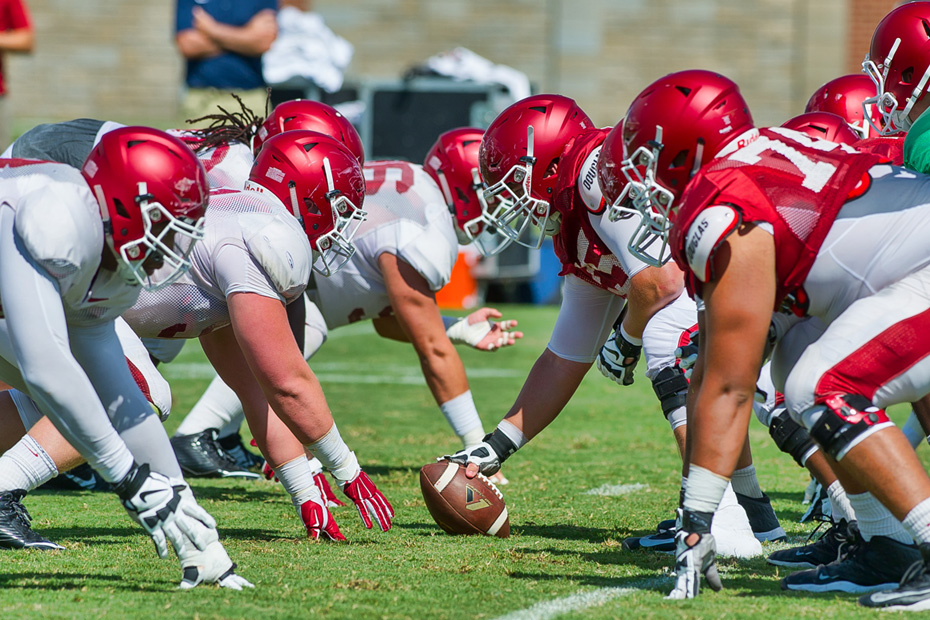 #HogsCamp Practice 5: The Pads Go On

Tickets | Photo Gallery | Interviews
The first fully-padded practice of the season is complete as the Razorbacks worked out for 24 periods this afternoon. There was contact but the defense was not allowed to take players to the ground in an effort to prevent injuries and keep players fresh. With slightly cooler temperatures, the team remained outside for the duration of practice and got some developmental work in the final two periods.
Three Takeaways
1. Momentum Flips Quickly
In the first team period of the first fully-padded practice of the season, the offense got off to a great start in the first three plays. But the defense proved quickly that momentum can change on one play. Defensive back Jared Collins made a great pass breakup and as the ball popped into the air, defensive lineman Tevin Beanum was there to make a diving interception. Just like that, the defense was in business and the practice's intensity increased.
2. Defensive Line Shines
We highlighted the depth of the defensive line yesterday and it continued to show this afternoon with the pads on. Defensive lineman DeMarcus Hodge had a great practice, lining up at the nose guard position and consistently taking on multiple blockers. One of just two seniors on the defensive line, Hodge squatted more than 700 pounds a few weeks ago in this viral video.
Junior JaMichael Winston once again had a solid practice as the defense relished the opportunity to put full pads on for the first time this season.
3. Running Back U
Everyone knows the Razorbacks has outstanding running backs so we haven't talked a whole lot about them throughout the first week of fall camp. However, they too were excited to put full pads on and it showed this afternoon.
Junior Alex Collins looks quicker than ever. Fortunately, he's always had excellent vision and that's difficult to teach. He combined those two skills regularly today as he reeled off a couple of impressive runs, including one incredible cutback that led him to the third level without being touched.
Senior Jonathan Williams is also practicing at a high level. He also has great burst and is healthier than he's been in a long time. It looked like Williams wanted to embrace contact today even though the defense wasn't allowed to bring guys to the ground.
Another player that is constantly making people take notice is true freshman Rawleigh Williams III. No relation to Jonathan, Rawleigh is quick and elusive, two important qualities in a running back.
DL DeMarcus Hodge
DB DJ Dean
LB Josh Harris
#HogsCamp Social Media
#UncommonMentality pic.twitter.com/3Yo2I6u8vn

— Razorback Football (@RazorbackFB) August 11, 2015
This is how you go through @Gatorade as fast as the Razorbacks do > http://t.co/3g4HxzMX7q pic.twitter.com/LgwePrHhZ4

— Razorback Football (@RazorbackFB) August 11, 2015
@D_Evans34 working on ball security. 25 days til Game Day (and despite that handle, yes our man Denzel is #25) #WPS🐗 pic.twitter.com/mfVZ0b2c6R

— Razorback FB Recruit (@RazorbackFBRec) August 11, 2015
Practice 5 is over so it's time to freestyle in the cold tubs pic.twitter.com/sEXxikqAYR

— Razorback Football (@RazorbackFB) August 11, 2015