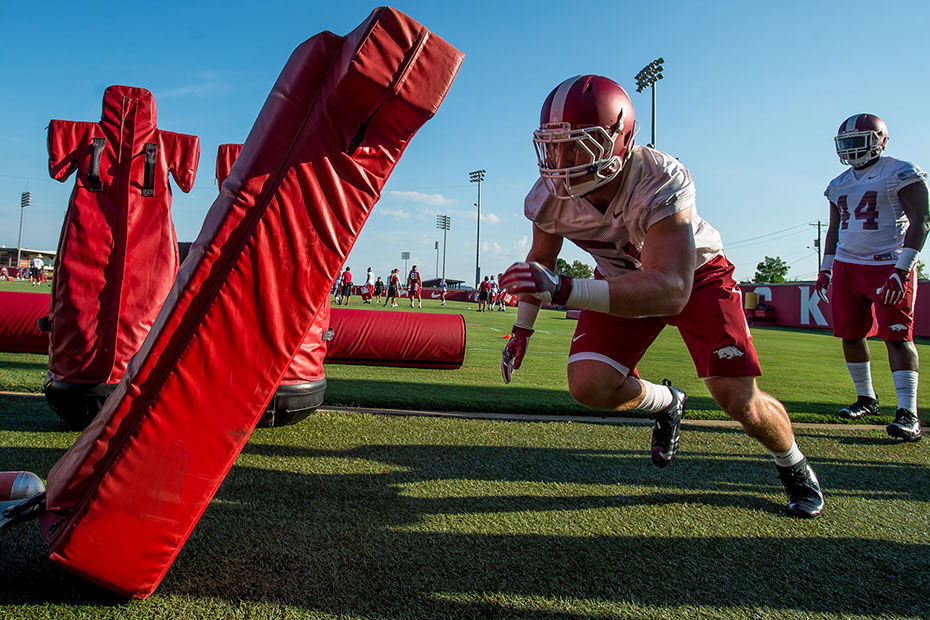 #HogsCamp Returns
FAYETTEVILLE, Ark. – Football returned to The Hill on Thursday as Arkansas opened its 2016 preseason training camp with a 6:30 p.m. practice at the Fred W. Smith Football Center outdoor practice fields.
Practice Quick Hits
• The Razorbacks worked out in helmets and shorts for 24 periods.
• 27 true freshmen took in their first fall practice.
• The defense had the upper hand during the first 7-on-7 period. Linebacker Brooks Ellis had the first of two pass breakups on the day. Ellis nearly had an interception in the second session of 7-on-7 work.
• Defensive back Jared Collins had a pair of pass breakups during the first 7-on-7 session.
• Tight end Jeremy Sprinkle hauled in a big 25-yard yard pass from Austin Allen.
• Allen later connected with wide receiver Cody Hollister on a 50-yard pass down the sideline. Both of Allen's long completions came in the second session of 7-on-7.
• Wide receiver La'Michael Pettway turned in the most impressive catch of the day in 7-on-7 work. Pettway hauled in a 40-yard pass from freshman quarterback Cole Kelley down the sideline, out-jumping a defender for the reception.
Back At It
• Running back Kody Walker was back on the practice field in full-go mode for the first time since suffering a broken right foot during spring workouts in April. Two weeks ago, the slimmed-down sixth-year senior joined an elite group of Razorbacks when he squatted 700-plus pounds during the Razorbacks max squat session under the lights at Donald W. Reynolds Razorback Stadium.
• Coach Bielema told the media prior to practice that quarterback Rafe Peavey, who underwent successful back surgery on July 13, was cleared to participate in preseason camp. Peavey was able to participate the entire practice.
Up Next
Arkansas is scheduled to be back on the practice field for another 6:30 p.m. workout on Friday.