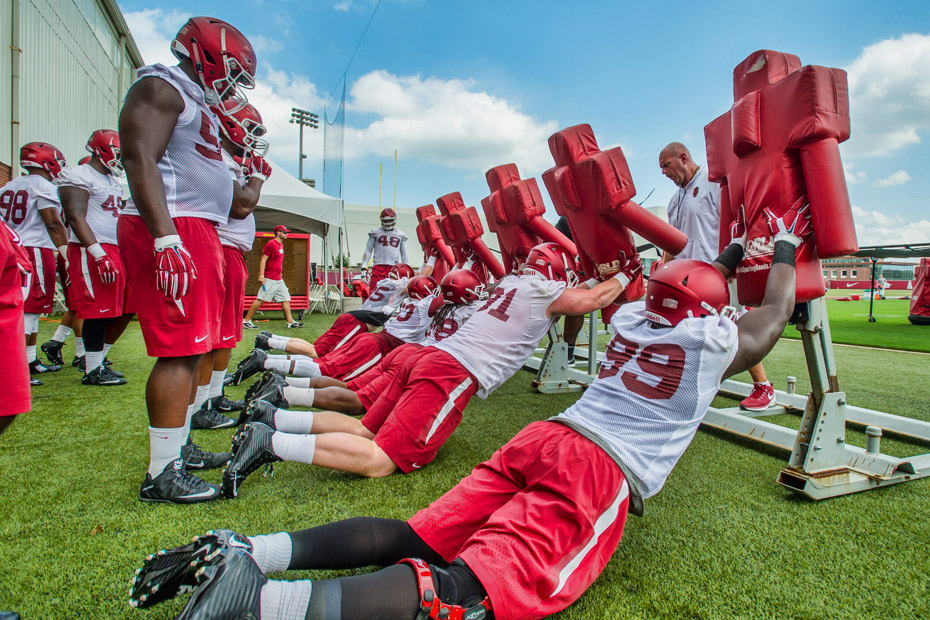 #HogsCamp: Three Things You Need To Know

Photo Gallery | Tickets | Interviews
The Razorback Football team had its first practice of the 2015 season today. The team worked for 26 periods on the grass field as 22 newcomers took in their first practice as Razorbacks.
Three Things You Need To Know
1. Some of these guys are HUGE
In case you didn't know, the Razorbacks have some big boys. There's just something about the huddle breaking and seeing tight ends Hunter Henry and Jeremy Sprinkle lining up as eligible receivers. They are 6-5, 253 pounds and 6-6, 255 pounds respectively. Add in an offensive line which averages over 325 pounds per player and some physical running backs and that is scary.
It's not just the starting offense that is big either. True freshman Derrick Graham looks incredible for a linebacker at 6-4, 247 pounds. Another true freshman, wide receiver La'Michael Pettway, is 6-2, 205 and used his big frame several times to go get balls in traffic during his first practice.
2. The wide receivers
Senior Keon Hatcher is clearly the leader of this group. Hatcher is so consistent and reliable that he didn't drop a single pass this afternoon. Sophomore Jared Cornelius also had a productive day and was consistent from start to finish.
Everybody wants to see Dominique Reed, the junior college transfer with wheels. Not only can Reed run, but he's also very long and super athletic. He juked a defender out of his shoes today to get up field after a reception and also seemed to adjust to the ball nicely in the air.
3. Playmakers in the secondary
Arkansas returns all but one starter from last year's secondary and the experience showed on day one. Junior cornerback DJ Dean made a couple of excellent reads in team drills, breaking off his coverage to make a diving pass breakup on a pass intended for the tight end. Junior Jared Collins and sophomore Henre' Toliver also played well in coverage.
A player to keep an eye on is redshirt freshman Santos Ramirez. Now playing safety, Ramirez made a perfect break on a deep pass over the middle, timing his break in front of the receiver to intercept the pass with a convoy of teammates to block his way down the field.
Big bro moment for @KeonHatcher4 with @Speedkills_03 #HogsCamp pic.twitter.com/Jbjq3FdLjC

— Razorback Football (@RazorbackFB) August 6, 2015
.@CoachSings has his group focused. #UncommonMentality pic.twitter.com/HM5D7XsXs0

— Razorback Football (@RazorbackFB) August 6, 2015
First practice of fall camp means 30 days until game day! @K_Rich30 #WPS pic.twitter.com/xbaoCCmknd — Razorback FB Recruit (@RazorbackFBRec) August 6, 2015
#UncommonMentality begins NOW. pic.twitter.com/MA1wQnariv — Razorback Football (@RazorbackFB) August 6, 2015
Arkansas returns to the practice field on Friday at 2:30 p.m.
For more information on Arkansas Football, follow @RazorbackFB on Twitter.