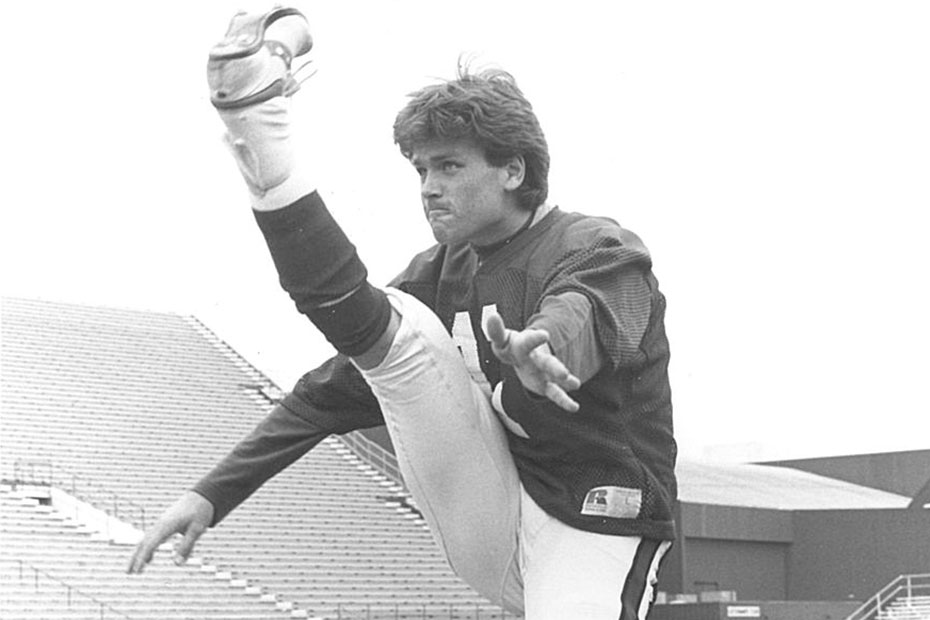 Horne To Serve As Honorary Captain
FAYETTEVILLE, Ark. – The only punter to earn All-American honors at Arkansas, Greg Horne, will serve as the A-Club Honorary Captain in Saturday's home conference tilt against Mississippi State.
A four-year letterwinner from 1983-86, Horne helped the Razorbacks to a 9-3 record and an Orange Bowl berth en route to earning first team All-America honors in 1986. He punted 49 times for 2,313 yards, a school-record average of 47.2 yards per punt.
For his career, Horne amassed 8,000 punting yards which stands as fourth all-time in program history.
In his first three seasons on The Hill, Horne also served as the Razorbacks' place kicker and booted through 19 field goals in that span.
The Russellville, Arkansas native was drafted in the fifth round by the Cincinnati Bengals in 1987 and spent two seasons in the NFL. He is also a member of the 1980-89 Arkansas All-Decade Team.
The A-Club honorary captain is recognized before each home game for their outstanding accomplishments on the field during their Razorback career. Before kickoff, they will be recognized and will accompany the captains to midfield for the coin toss.
The honorary captain program was launched in 2002 and has recognized more than 70 former Razorback football student-athletes.
Riding the program's longest win streak since 2011 at four games, the Razorbacks return home to host Mississippi State Saturday, Nov. 21. Kickoff is slated for 6:05 p.m. and will be televised nationally on ESPN.
Tickets are still available for Saturday's game against Mississippi State and can be purchased on ArkansasRazorbacks.com or by calling 1-800-982-HOGS.
For more information on Arkansas football, follow @RazorbackFB on Twitter.