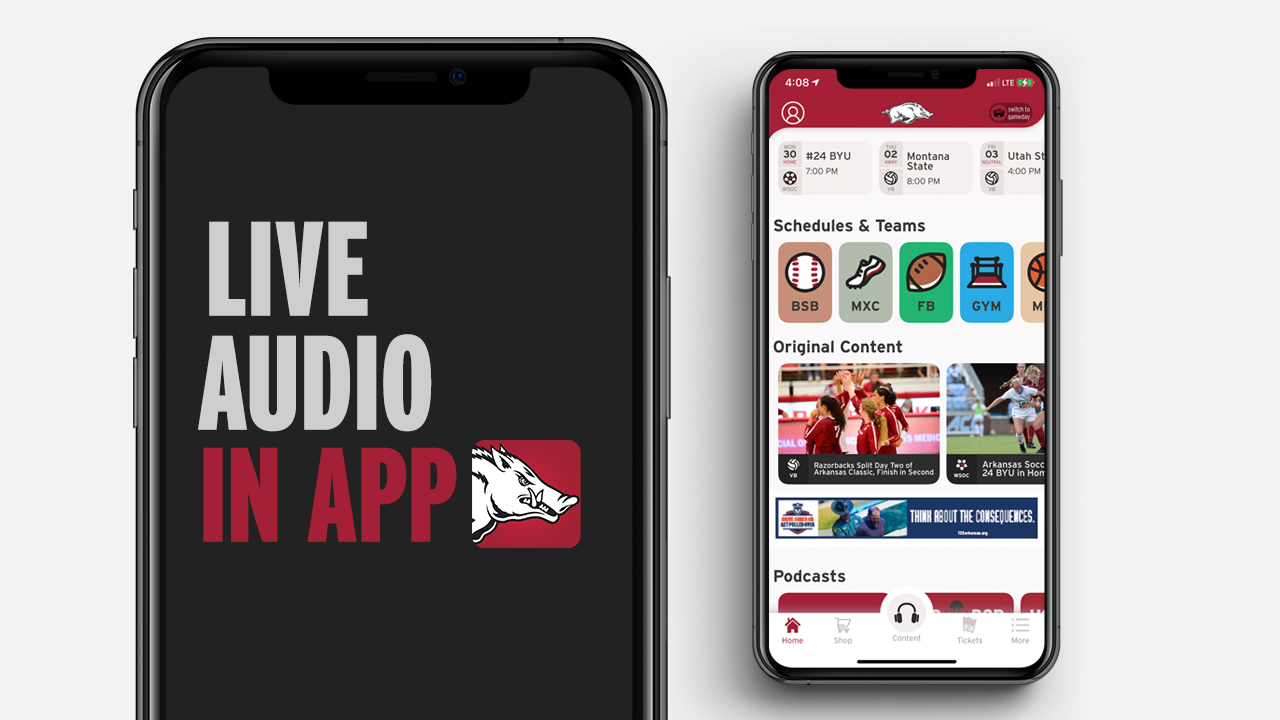 How to Listen to Razorback Baseball
For fans looking to listen to Razorback Baseball on the radio this season, you can listen for free inside the Razorback app or through one of our radio affiliates.
Once you've downloaded and opened the app, follow these steps to find the live audio:
Click the "headphones icon" near the bottom left of the screen.
Click on the "live event" that you want to listen to.
Below is a list of terrestrial radio affiliates.
| City | Station | |
| --- | --- | --- |
| Conway | KASR-FM | 92.7 |
| El Dorado | KELD-FM | 107.1 |
| Fayetteville | KQSM-FM | 92.1 |
| Fayetteville | KYNG-AM | AM 1590 |
| Forrest City | KJXK-FM | 106.5 |
| Forrest City | KJXK-AM | AM 950 |
| Fort Smith | KERX-FM | 95.3 |
| Hot Springs / Mena | KTTG-FM | 96.3 |
| Little Rock | KABZ-FM | 103.7 |
| Marshall | KBCN-FM | 104.3 |
| Mountain Home | KOMT-FM | 93.5 |
| Rogers | KURM-FM | 100.3 |
| Rogers | KURM-AM | AM 790 |
| Russellville | KARV-FM | 101.3 |
| Russellville | KARV-AM | 610 |
| Stuttgart | KWAK-FM | 105.5 |
| Texarkana | KKTK-AM | 1400 |