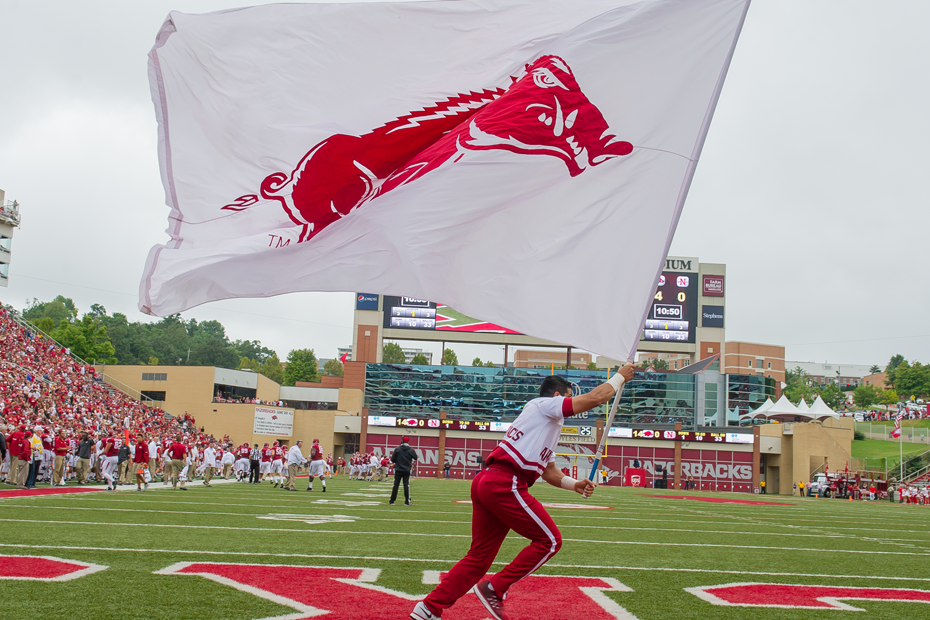 Hudsons to Participate in "A" Walk of Honor
FAYETTEVILLE, Ark. – Pine Bluff natives Gene and Jean Hudson will participate in the "A" Walk of Honor on Saturday prior to Arkansas' football game against LSU at Donald W. Reynolds Razorback Stadium.
The Hudsons are Broyles-Matthews Platinum members of the Razorback Foundation and have been active in supporting a variety of projects for the benefit of Razorback student-athletes. They have been season ticket holders for more than five decades.
Gene was the long-time president and CEO of C.H. Clowers Supply, in Pine Bluff and served on the Razorback Foundation Board for eight years. He has also been active in the leadership of the Pine Bluff Razorback Club and has been instrumental in its success over the years.
"When you start talking about longtime supporters of the Razorback program, the Hudsons certainly come to the forefront very quickly," Vice Chancellor and Director of Athletics Jeff Long said. "Gene and Jean Hudson have not only supported our program financially, but have also been generous in volunteering their time for various leadership roles within the Razorback Foundation and with the Pine Bluff Razorback Club. They are passionate about the Razorbacks and we are pleased to recognize them as part of the 'A' Walk of Honor."
"Running through the A" is one of the Razorbacks' most storied football traditions. While "Running through the A" is a tradition reserved only for members of the Razorback football team, Razorback Athletics created a program in 2010 to honor those individuals or groups who have played a significant role in the support of Razorback Athletics.
Honorees are invited to participate in this unique pre-game experience and are recognized on the video board and over the public address system as they walk through the "A" formed by the Razorback Marching Band. After completing the walk, honorees help complete the "A" before welcoming the Arkansas Razorback football team on the field just prior to kickoff.
Previous honorees have included members of the Donald W. Reynolds Foundation, former Arkansas coach and athletic director Frank Broyles, the Willard and Pat Walker family, Bob and Marilyn Bogle, Tommy May, Boyce Billingsley and Rick Massey.
Tickets for Saturday's game at Donald W. Reynolds Razorback Stadium are still available online at ArkansasRazorbacks.com or by contacting the Razorback Ticket Office at 1-800-982-HOGS (4647). Tickets begin at $65. Kickoff for the game is set for 7 p.m.