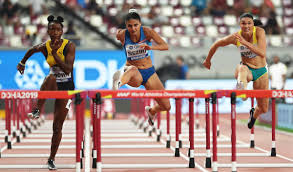 IAAF Day 10 – Brown Finishes Seventh in 100mH Final
DOHA, Qatar – Arkansas' school record holder in the 100-meter hurdles, Janeek Brown, wrapped up her season Sunday night at the IAAF Track & Field World Championships from Khalifa Stadium.
After running since the start of the 2019 calendar year, Janeek Brown has finally completed her 2019 track and field season following a run in the final of the 100-meter hurdles.
The Kingston, Jamacia native, represented her home country in the meet, advancing through the rounds running 12.61 in the prelims followed by a run of 12.62 in the semifinals.
In the finals, Brown posted a time of 12.88 to finish seventh at her first World Championships. Brown's teammate Danielle Williams finished the meet with a bronze medal running 12.47 seconds.
Brown finished 2019 with indoor and outdoor First-Team All-American honors as well as an NCAA Championship in the 100-meter hurdles during the outdoor season. Brown recorded the second-fastest time in the 100-meter hurdles in NCAA History posting a time of 12.40 this past June in Austin, Texas. Following her sophomore season, Brown went pro signing with Puma.
IAAF 100-METER HURDLE FINAL
For more information on Arkansas track and field including in-meet updates, follow @RazorbackTF on Twitter.