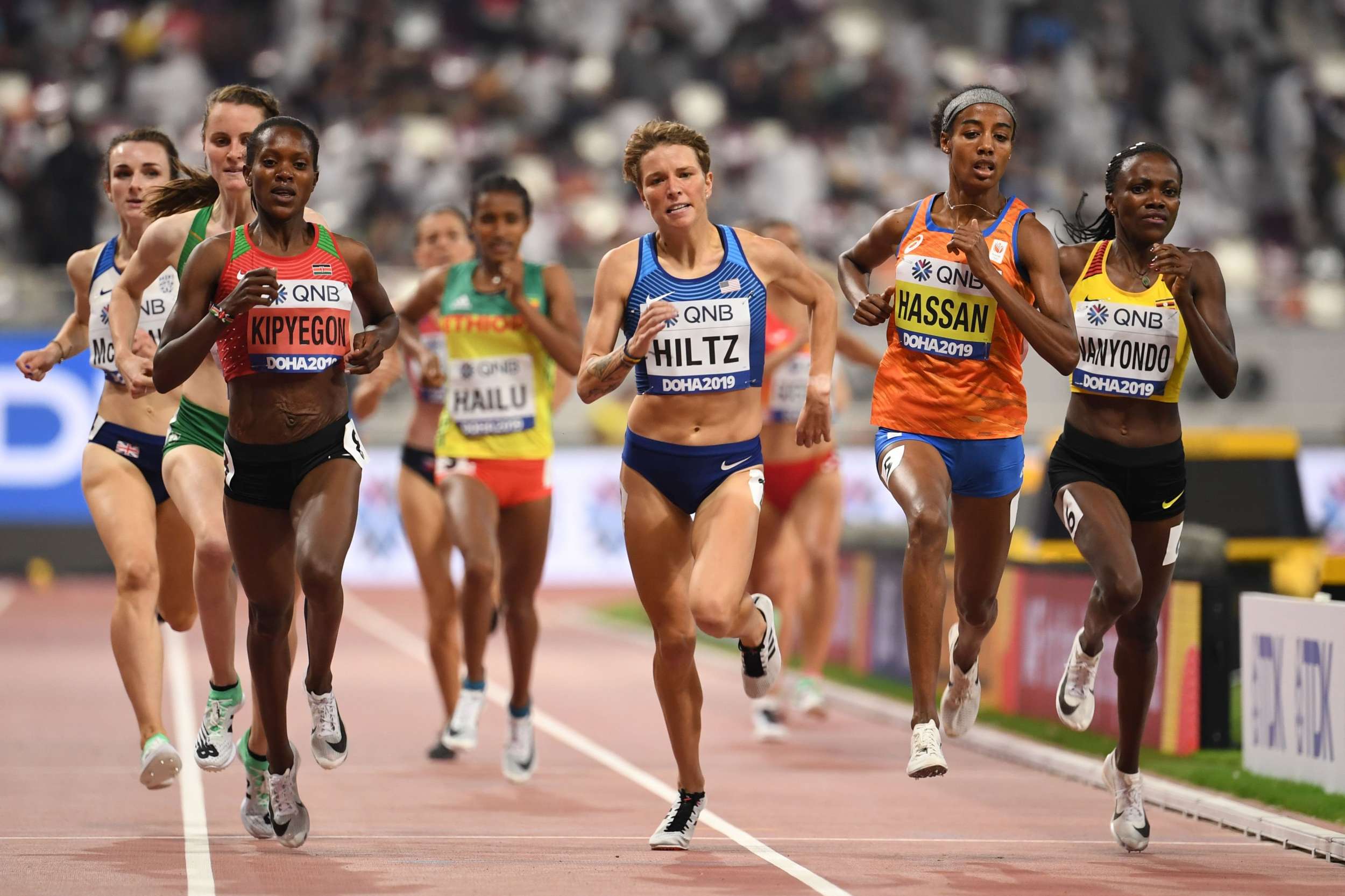 IAAF Day 7 – Hiltz Advances to 1500m Final
DOHA, Qatar – Team USA's Nikki Hiltz grabbed a spot in the IAAF final of the women's 1,500-meters Thursday night at the World Championships from Khalifa Stadium.
Former Razorback Nikki Hiltz ran faster than she ever had in the semifinal of the women's 1,500-meter semifinal. Hiltz, who entered today's race with a PR of 4:03.55 from the USATF Championships back in July, crossed the line in seventh-place stopping the clock in a new lifetime-best of 4:01.52 earning the all-important little "q" to advance to her first World Championship final.
"Yea I knew I had to run whatever I had to to get seventh," said Hiltz" "I thought I was in 4:01 shape and i ran 4:01 so I'm stoked!"
The American will be joined by teammates Jenny Simpson and Shelby Houlihan as Team USA was able to advance all three of its athletes to the final.
Hiltz and crew will return to the track for the 1,500-meter final Saturday, Oct. 5 at 12:55 p.m.
WOMEN'S 1500-METER RESULTS
For more information on Arkansas track and field including in-meet updates, follow @RazorbackTF on Twitter.
Arkansas' IAAF
Championships Schedule
Date
Time (CT)
Athlete (Country)
Event (Round)
Friday, Sept. 27
9:30 a.m.
Sandi Morris (USA)
Tina Sutej (Slovenia)
Women's Pole Vault (Flights)
12:35 p.m.
Kemar Mowatt (Jamaica)
Men's 400-meter hurdles
(Heats)
Saturday, Sept. 28
10:05 a.m.
Kemar Mowatt (Jamaica)
Men's 400-meter hurdles (Semi-Final)
1:10 p.m.
Dominique Scott-Efurd (South Africa)
Women's 10,000-meters (Final)
Sunday, Sept. 29
12:40 p.m.
Sandi Morris (USA)
Tina Sutej (Slovenia)
Women's Pole Vault (Final)
Monday, Sept. 30
12:05 p.m.
Omar McLeod (Jamaica)
Men's 110-meter hurdles (Heats)
2:40 p.m.
Kemar Mowatt (Jamaica)
Men's 400-meter hurdles (Final)
Tuesday, Oct. 1
10:50 a.m.
Stanley Kebenei (USA)
3000-meters Steeplechase (Heats)
Wednesday, Oct. 2
9:35 a.m.
Nikki Hiltz (USA)
Women's 1,500-meters (Heats)
10:25 a.m.
Dominique Scott-Efurd (South Africa)
Women's 5,000-meters (Heats)
12:05 p.m.
Omar McLeod (Jamaica)
Men's 110-meter hurdles (Semi-Final)
3:00 p.m.
Omar McLeod (Jamaica)
Men's 110-meter hurdles (Final)
Thursday, Oct. 3
1:00 p.m.
Nikki Hiltz (USA)
Women's 1,500-meters (Semi-Final)
Friday, Oct. 4
12:40 p.m.
Kiara Parker (USA)
Women's 4-x-100-meter relay (Heats)
1:45 p.m.
Stanley Kebenei (USA)
Men's 3,000-meter steeplechase (Final)
Friday, Oct. 5
9:15 a.m.
Janeek Brown (Jamaica)
Women's 100-meter hurdles (Heats)
12:55 p.m.
Nikki Hiltz (USA)
Women's 1,500-meters (Final)
2:05 p.m.
Kiara Parker (USA)
Women's 4-x-100-meter relay (Final)
Friday, Oct. 5
11:02 a.m.
Janeek Brown (Jamaica)
Women's 100-meter hurdles (Semi-Final)
12:50 p.m.
Janeek Brown (Jamaica)
Women's 100-meter hurdles (Final)