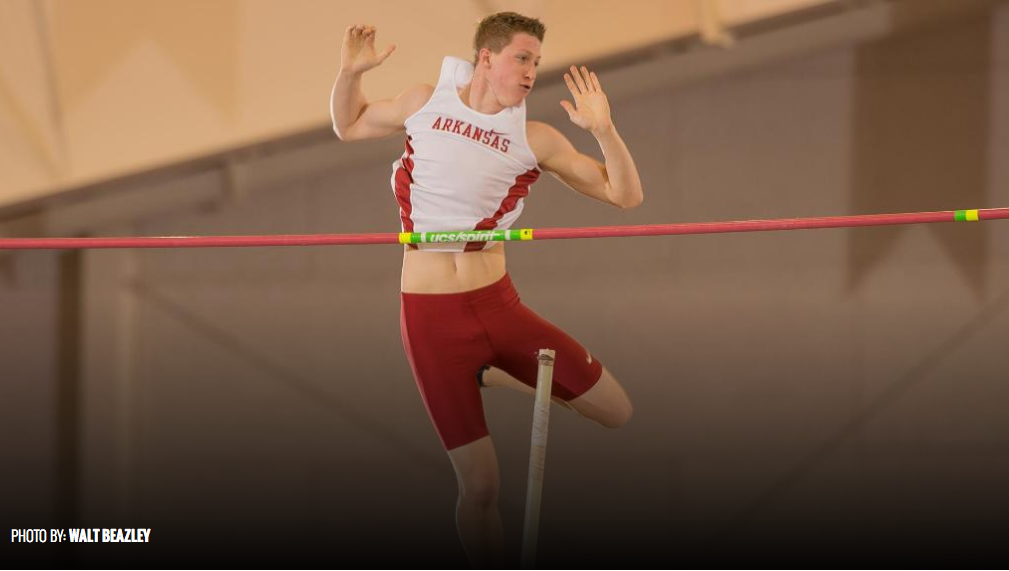 Irwin Earns SEC Field Athlete Of The Week
FAYETTEVILLE, Ark. – Two-time NCAA pole vault champion Andrew Irwin has been named Southeastern Conference Field Athlete of the Week the conference office announced this afternoon. This marks the fifth time in his career that Irwin has earned a SEC weekly honor (2 – indoor; 3- outdoor).
The senior turned in a strong showing in his opening pole vault competition of the 2015 season at the Arkansas Invitational (Friday, Jan. 9). Irwin captured the pole vault event with a winning mark of 18-1, which currently ranks as the second-best men's pole vault mark in the nation this season.
Irwin and the Razorbacks will be back in action Friday, January 16 for the Texas Duals. The highly-anticipated competition between to the two schools is slated to begin at 6 p.m. at the Randal Tyson Track Center.
For the latest information on Arkansas men's track and field, follow @RazorbackTF on Twitter.
Fayetteville, the "Track Capital of the World", will be at the center of the track and field universe on the weekend of March 13-14 as the Razorbacks will host the 2015 NCAA Indoor Track and Field Championships at the Randal Tyson Track Center, the home of the "Fastest Indoor Track in the World". Since the facility's opening in 2000, Arkansas and the Randal Tyson Track Center have hosted the event 11 times, including nine straight seasons and 11 of the last 13 championships.
A two-day, all-session ticket to the NCAA Indoor Championships is $40 for reserved seating and $30 for general admission adult ticket.
Season tickets and NCAA all-session passes are available online at HERE, by contacting the Razorback Athletics Ticket Center via phone at (800) 982-HOGS or in person at the Razorback Athletics Ticket Center, located just east of Baum Stadium at 1295 S. Razorback Rd. in Fayetteville.