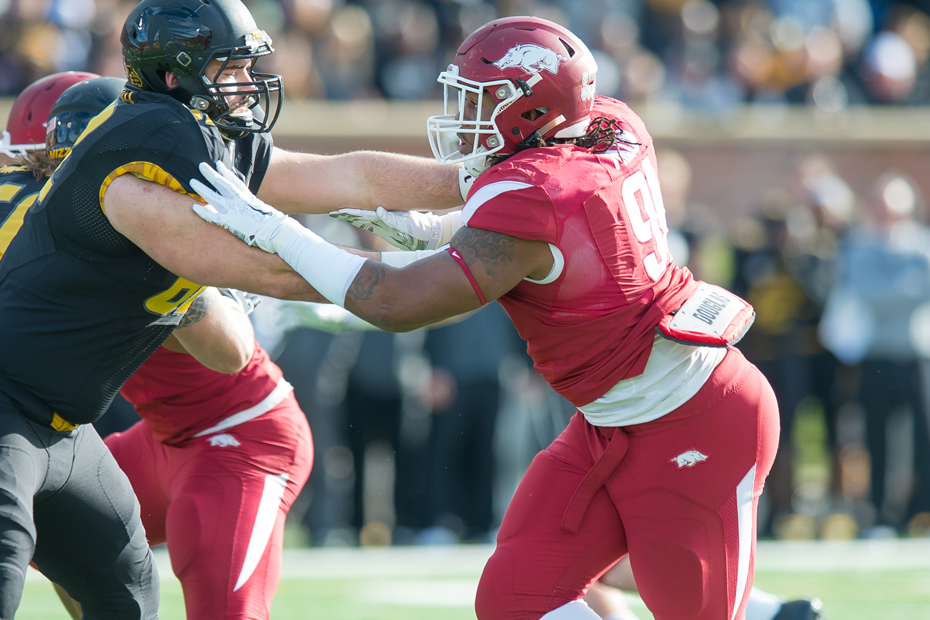 Irwin-Hill & Philon Tabbed SEC Players of the Week
FAYETTEVILLE, Ark. – Following Arkansas' second-straight shutout over a ranked Southeastern Conference foe, senior punter Sam Irwin-Hill and sophomore defensive tackle Darius Philon have been named SEC Players of the Week, as announced by the league Monday. Irwin-Hill picks up the Special Teams Player of the Week honors and Philon was named the Defensive Lineman of the Week.
Irwin-Hill and Philon assisted the Razorbacks in their second-consecutive shutout over an SEC opponent after blanking No. 8 Ole Miss, 30-0. Sparked by a 17-0 rout of No. 20 LSU on Nov. 15, Arkansas's back-to-back shutouts of ranked opponents marks the first time in FBS history that an unranked team has posted consecutive shutouts against ranked opponents.
A native of Bendigo, Australia, Irwin-Hill punted six times for 243 yards (40.5 avg.) on the day and pinned the Rebels inside the 20 three times. Of his six punts, one was returned for -8 yards, two resulted in a fair catch, two were downed and one was kicked out of bounds. In his final home game as a Razorback, the senior boasted a net punting average of 41.8 for the afternoon as Arkansas dominated field position in the 30-0 shutout win over No. 8 Ole Miss.
Against Ole Miss, Philon tallied three solo tackles, a sack, forced fumble and fumble recovery. Philon forced and recovered a fumble on two separate plays as the Razorback defense forced six turnovers in the shutout win. The six turnovers forced by Arkansas' defense ties the most turnovers forced in an SEC game this season (Missouri forced six against Florida). On his fumble return, Philon rumbled seven yards before being whistled down at the one yard line, a yard shy of his second touchdown this season. The Mobile, Alabama native ranks 10th in the SEC and leads the league's defensive tackles with 10.5 tackles for loss.
The accolades mark Philon's first weekly conference honor and the second of Irwin-Hill's career. The duo joins fellow Razorback teammates running back Alex Collins (Sept. 13), defensive end Trey Flowers (Sept. 20) offensive guard Sebastian Tretola (Oct. 27), offensive tackle Dan Skipper (Nov. 17) and linebacker Martrell Spaight (Nov. 17) as Arkansas' SEC football players of the week for the 2014 season.
The Razorbacks will next take on the Missouri Tigers in Colombia, Missouri on Friday, Nov. 28. Kickoff is slated for 1:30 p.m. and will be nationally televised on CBS.
For more information on Arkansas Football, follow @RazorbackFB on Twitter.