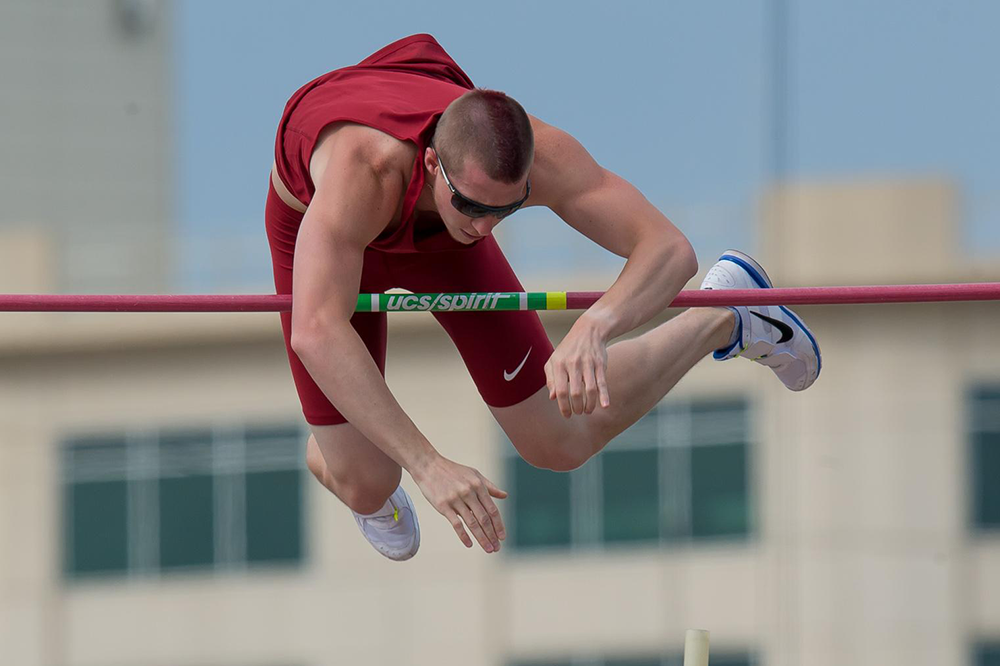 Irwin wins, MTR posts season-best marks
FAYETTEVILLE, Ark. – The No. 7 University of Arkansas men's track and field team capped its weekend at the John McDonnell Invitational with a win, four personal bests and 11 season-best performances Saturday in Fayetteville. In his outdoor-season debut, senior Andrew Irwin tallied a victory with a final clearance of 5.65m/18-6.5 in the pole vault. The Razorback also turned in four runner-up performances on their home track.
In his first competition since the NCAA indoor meet, Irwin registered the No. 3 clearance in the NCAA this season and had shots at a would-be school record of 5.81m/19-0.75. He entered the event with a successful jump at 17-8.5 and went on at first-attempt clearances at the next two heights. With the win in hand, Irwin had the bar raised to surpass his current school record of 5.72m/18-9.25 which he set at the 2012 SEC Outdoor Championships.
The Razorbacks opened competition on the track with a second-place finish in the 4×100-meter relay. The quartet of Ryan Green, Marqueze Washington, Kenzo Cotton and Zach Rily combined for a season-best time of 40.18, improving on the time of 40.33 set two weeks ago at the Arkansas Spring Invitational. Individually, Washington was also second at 100 meters in 10.39 and at 200 meters in 20.95.
Devin Randall turned in Arkansas' fourth runner-up performance with a personal-best effort in the shot put. On his second throw of the competition, he got the implement out to a mark of 17.30m/56-9.25 which was more than a foot farther than any other attempt during his round. Randall surpassed his previous best of 56-8.75 which he established at last year's McDonnell Invitational.
Arkansas was part of a six-team field that also included Kansas, Memphis, Missouri, No. 15 Oklahoma State and Tulsa. For the first time in meet history, the John McDonnell Invitational included high school competition featuring teams from the 7A West conference.
Arkansas' next schedule home event is April 15-16 with the Razorback Combined with members of the middle distance and distance crews hitting the road April 16-18 for the Mt. SAC Relays in Walnut, Calif. The remainder of the home slate also features the Arkansas Twilight on May 1. For tickets to home events, call 800-982-4647, email raztk@uark.edu or visit the Razorback Ticket Center just east of Baum Stadium.
John McDonnell Invitational, Day 2
John McDonnell Field | Fayetteville, Ark.
100 Meters
2. Marqueze Washington 10.39 (+1.8)
5. Ryan Green – 10.61 (+1.8) [PR – previous: 10.68]
6. Zach Riley – 10.79w (+2.7)
9. Trae Carey – 11.11w (+2.7)
200 Meters
2. Marqueze Washington – 20.95w (+2.4)
4. Kenzo Cotton – 20.98w (+2.4)
9. Ryan Green – 21.63w (+2.4)
11. Zach Riley – 21.83w (+2.5)
16. Lane Austell – 25.46 (+2.0)
400 Meters
5. Eric Janise – 47.91
12. Stephen Payne – 50.77 [PR – previous: 51.15]
800 Meters
5. Andrew Pisechko – 1:50.98
9. Tomas Squella – 1:53.52
13. Cale Wallace – 1:54.43
1,500 Meters
16. Aidan Swain – 3:59.49
4x100m Relay
2. Green/Washington/Cotton/Riley – 40.18
4x400m Relay
5. Squella/Janise/Pisechko/Wallace – 3:18.81
Pole Vault
1. Andrew Irwin – 5.65m/18-6.5
11. Brad Culp – 4.65m/15-3
13. Lane Austell – 4.50m/14-9
–. Noah Gilfillan – NH
Triple Jump
3. Clive Pullen – 15.11m/49-7w (+2.4)
5. Brandon Workman – 14.39m/47-2.5 (+1.5)
6. Rubin Owens – 14.25m/46-9w (+2.8)
Shot Put
2. Devin Randall – 17.30m/56-9.25 [PR – previous: 56-8.75]
Javelin
6. Alex Springer – 57.82m/189-8 [PR – previous: 189-7]
7. Andrew Henn – 57.76m/189-6
For more information on Arkansas track and field including in-meet updates, follow @RazorbackTF on Twitter.