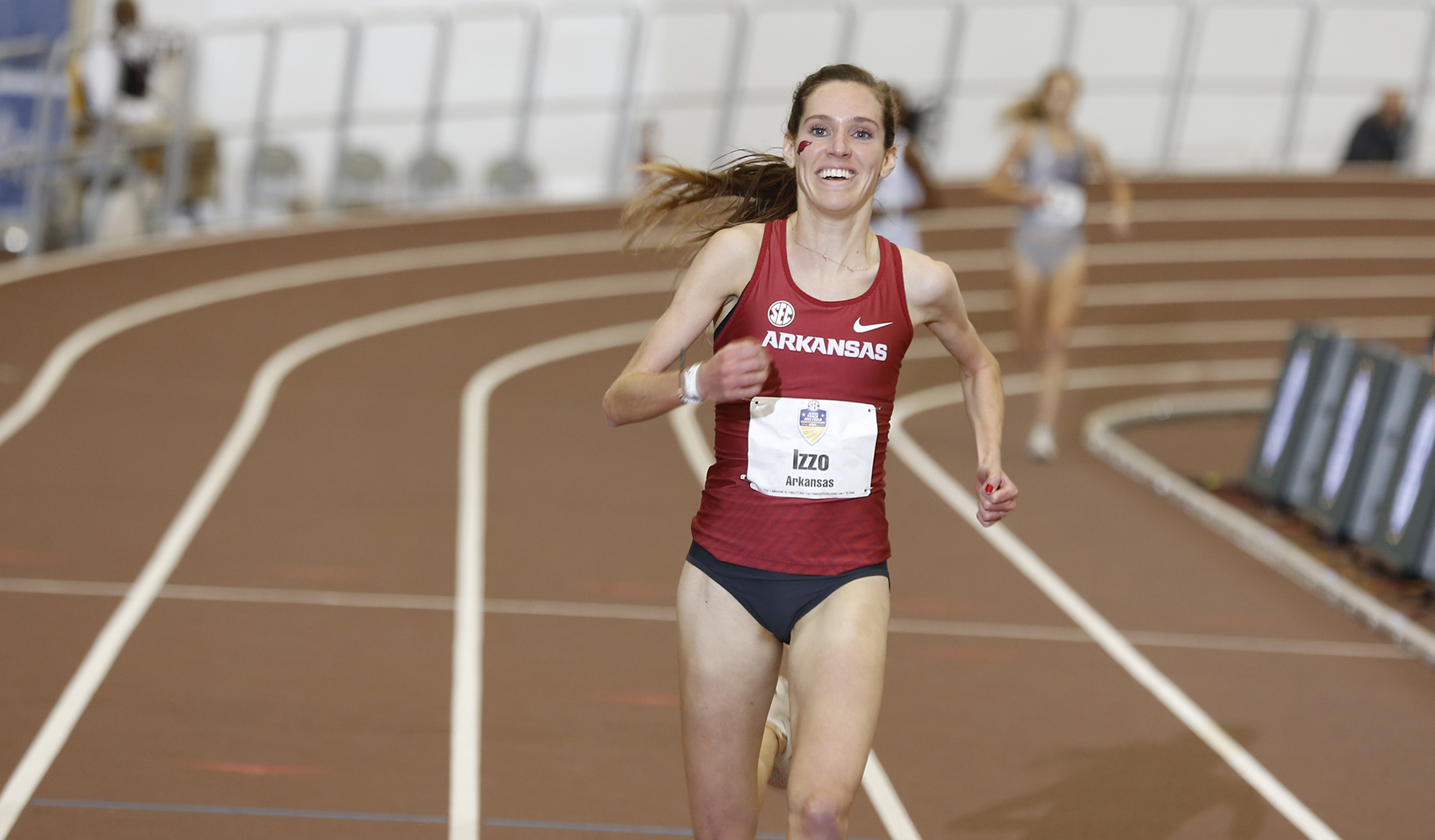 Izzo Earns SEC Indoor Runner of the Year, Harter Claims Coach of the Year
BIRMINGHAM, Ala. – Razorback Katie Izzo earned SEC Indoor Runner of the Year honors while Arkansas head coach Lance Harter was selected as SEC Indoor Coach of the Year through voting by the 15 conference coaches.
In winning a sixth consecutive SEC Indoor team title, Coach Harter's collection of Coach of the Year accolades in the SEC now totals 39 with his 11th indoor honor – cross country (20), indoor (11), outdoor (8).
Arkansas won its 10th SEC Indoor championship under Harter with a total of 102 points to finish ahead of LSU's 87.5. Over the past seven-plus seasons the Razorbacks have claimed 19 of 22 conference titles among the three seasons of cross country, indoor and outdoor.
Izzo, who is a junior athletically, became the seventh Razorback to claim Runner of the Year honors and the fifth Arkansas distance runner to earn the distinction indoors. During the SEC Indoor Championships, Izzo won double gold in the 3,000m and 5,000m.
"Katie just had a superb indoor season," noted Harter. "She's got momentum now to head into the national meet this weekend. Our peers recognized her for her talent as well as her hard work and determination. She's such a team player, the award is well deserved.
"Any time you can stand out as an individual in the SEC it's special. You're talking about people who have been Olympians or competed in the World Championships, the summit level of competition that track and field has to offer. It's really special, in my peer's eyes, that she is deserving of this award."
In the 5,000m, Izzo's winning time of 15:48.34 bettered the SEC meet record of 15:53.34 set in 1990 by Kentucky's Valerie McGovern. In the 3,000m her winning time of 9:09.02 topped the field by six-plus seconds and was the second-fastest winning time in conference history.
Prior to the conference meet, Izzo's talents were on display with career best times of 8:55.67 in the 3,000m and 15:13.09 in the 5,000m.
The time in the 5,000m broke the Arkansas school record of 15:46.89 set by Amy Yoder Begley in 2000 and is the second-fastest mark on the collegiate all-time list. In the 3,000m, Izzo ranks second on the Razorback all-time list, only trailing the school record of 8:52.57 set by Dominique Scott in 2015.
SEC Athlete of the Year (Arkansas Razorbacks)
1995 Sarah Schwald
2000 Amy Yoder Begley
SEC Runner of the Year
2004 Veronica Campbell
2012 Kristen Gillespie
2015 Dominique Scott
2019 Payton Chadwick
2020 Katie Izzo
2020 SEC Indoor Track and Field Awards
Women's Runner of the Year: Katie Izzo, Arkansas
Women's Field Athlete of the Year: Tyra Gittens, Texas A&M
Women's Freshman Runner of the Year: Grace Stark, Florida
Women's Freshman Field Athlete of the Year: Jasmine Moore, Georgia
Women's Co-Scholar-Athlete of the Year: Jessica Drop, Georgia
Women's Co-Scholar-Athlete of the Year: Daija Lampkin, Alabama
Women's Coach of the Year: Lance Harter, Arkansas