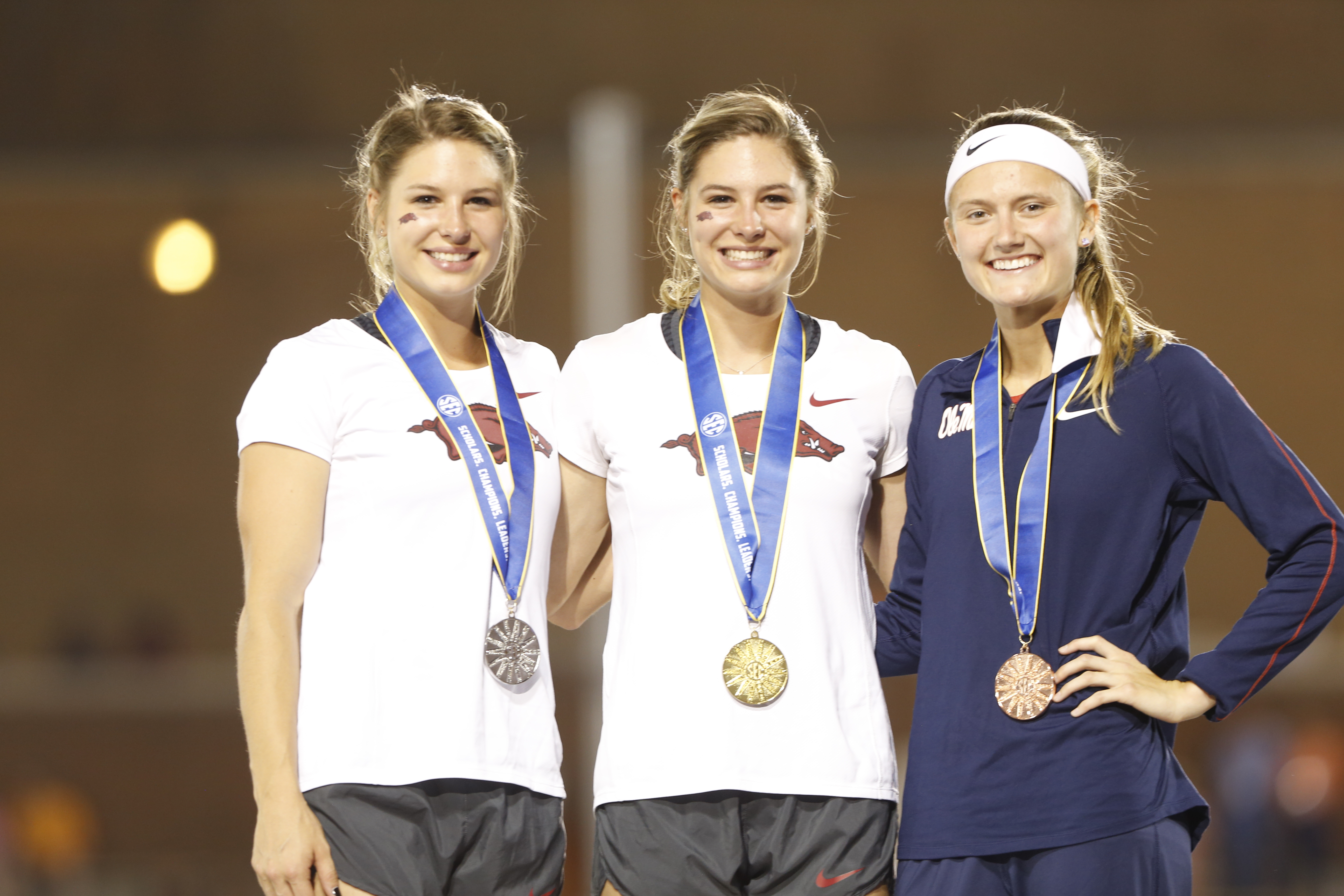 Jacobus Golden Again At SEC Outdoors
KNOXVILLE, Tenn. – The No. 4 Arkansas women's track and field team took sixth-place at the Southeastern Conference Outdoor Championships in Knoxville, Tennessee as junior Lexi Jacobus took the pole vault title once again to lead the Razorbacks on day three.
"We were going in with a limited squad," said head coach Lance Harter. "If we could get into the 70-point range, knowing what we left home, then the people that are here fought a great fight. Now it's a matter of getting everyone healthy, and kicking the motivation to the regional meet to get qualifiers. I think we'll have a higher team finish at nationals than we did here this weekend," Harter finished.
Jacobus, a three-time national pole vault champion, took first once again boosting her total to five SEC crowns as her sister Tori Hoggard took silver to give the Razorbacks 18-points in the event.
The women's 4-x-100-meter relay of Parker, Baylark, Brown, Brooks laid down a breakthrough performance in the final, recording a program record of 43.26 in a third-place finish behind Kentucky (42.30) and the SEC Champion LSU Tigers who set the collegiate record with their time of  42.05.
Nikki Hiltz, in fourth-place (4:22.17), and Carina Viljoen in fifth-place at 4:24.52 contributed points towards the team total in the 1,500-meter final. Hiltz competed outdoor for only the second time this outdoor season finishing the meet with a regional qualifying time.
The final of the women's 100-meter hurdles produced the No. 2 and No. 3 times in program history as true-freshman Janeek Brown earned bronze running 12.84, while senior Taliyah Brooks finished fourth in 12.94. Both times were wind-legal personal-best performances.
As was the trend all day for No. 4 Arkansas, the final of the women's 400-meters saw Morgan Burks-Magee turn in a personal-best of her own finishing sixth in the final with her time of 52.93 that shaved one one-hundredth of a second off her previous best set in last nights prelim.
The women's 100-meter final was no different than any other event on Sunday afternoon, as it too produced a personal-best performance. Kiara Parker, who ran a lifetime-best of 11.22 to qualify last night, lowered her PB, even more, crossing the line in 11.13 seconds to post the No. 3 time in program history behind Veronica Campbell-Brown and Jada Baylark who are tied at 11.10 for the fastest time in program history.
Baylark returned to the track for the final of the women's 200-meters, scoring points with her seventh-place finish running 23.11 seconds.
Devin Clark was the final medalist on the night, picking up a bronze medal in the women's 5,000-meters with her time of 16:20.79.
Team Results
| Place | | Team | Points |
| --- | --- | --- | --- |
| 1. | | Florida | 91 |
| 2. | | LSU | 88.5 |
| 3. | | Texas A&M | 79.5 |
| 4. | | Tennessee | 78 |
| 5. | | Ole Miss | 74 |
| 6. | | Arkansas | 70 |
Women's 4-x-100-meters
3. Parker, Baylark, Brown, Brooks – 43.26
Women's 1,500-meters
4. Nikki Hiltz – 4:22.17
5. Carina Viljoen – 4:24.52
Women's 100-meter hurdles
3. Janeek Brown – 12.84
4. Taliyah Brooks – 12.94
Women's 400-meters
6. Morgan Burks-Magee – 52.93
Women's 100-meters
7. Kiara Parker – 11.13
Women's 200-meters
7. Jada Baylark – 23.11
Women's High Jump
T-10. Carmen Sitz – 1.65m (5′-5″)
Women's Pole Vault
1. Lexi Jacobus – 4.65m (15′-3″)
2. Toir Hoggard – 4.50m (14′-9″)
9. Elizabeth Ramos-Mata – 4.05m (13′-3.50″)
13. Rylee Robinson – 4.05m (13′-3.50″)
17. Morgan Hartsell – 3.80m (12′-5.50″)
Women's 5,000-meters
3. Devin Clark – 16:20.79
9. Rachel Nichwitz – 16:56.74
26. Micah Huckabee – 17:36.91
Women's 4×400-meter Relay
7. Burke-Magee, Parker, Baylark, Davis – 3:31.15
For more information on Arkansas track and field including in-meet updates, follow @RazorbackTF on Twitter.