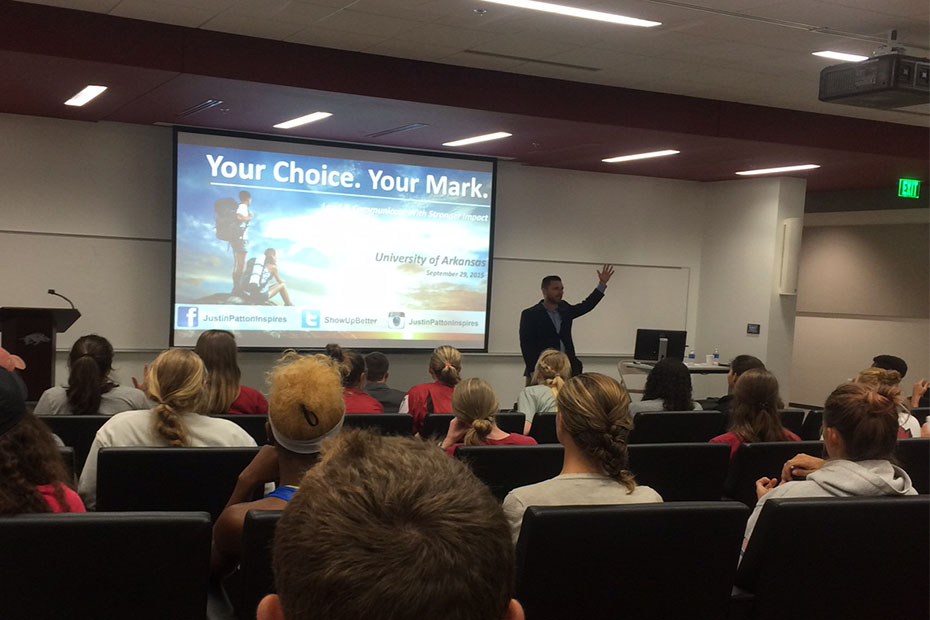 Justin Patton Kicks Off Finishing Touch Series
Guest speaker Justin Patton spoke to 63 student-athletes for the first workshop in the Finishing Touch series on Tuesday night. The Finishing Touch series is a collection of workshops and career fairs in fall and spring semesters.
The Finishing Touch series is designed for junior and senior Razorback student athletes. The workshop includes interviewing skills, networking, utilizing the internet for job searches, dining etiquette, and dress etiquette. Additionally, student-athletes complete three of the Finishing Touch series workshops, they receive gifts. Juniors receive business cards and a Razorback portfolio and seniors receive a gift card to Dillard's for the purchase of professional attire.
Justin Patton designs and delivers interactive programs and challenges leaders to show up and communicate better in both their personal and professional lives. Additionally, Justin coaches high performers and business leaders on how to shift their potential performance so they can play bigger and live the life they want. Justin works with the following companies and organizations:
NCAA
Taco Bell
KFC Northeast Franchise Association
General Electric
Muy! Companies
Humana
Park Community Credit Union
Devine Restaurants
Anthem Blue Cross Blue Shield
Kentucky Chamber of Commerce
Alabama Chamber of Commerce
During the presentation, Justin covered several topics. He talked about the three elements of credibility and impact to their career success, the use of body language to connect with others, the four power zone to display confidence and leadership presence and how to identify watch-out gestures and how to adapt.
"Justin Patton blew my expectations out of the water. I learned a lot about balancing my confidence and empathy. I will definitely take what he presented to us to heart and use it in my future." –Blakelee Duragin (Volleyball)
"Justin's body language workshop was informational, collaborative and fun. I loved how he used the audience and practical situations to enlighten us on the importance of body language and what it conveys." –Chris Saunders (Football)
"I learned to own my own truth and that my truth is not the only truth." –Lane Austell (Men's Track and Field)
For more information on Arkansas Athletics, follow @ArkRazorbacks on Twitter.