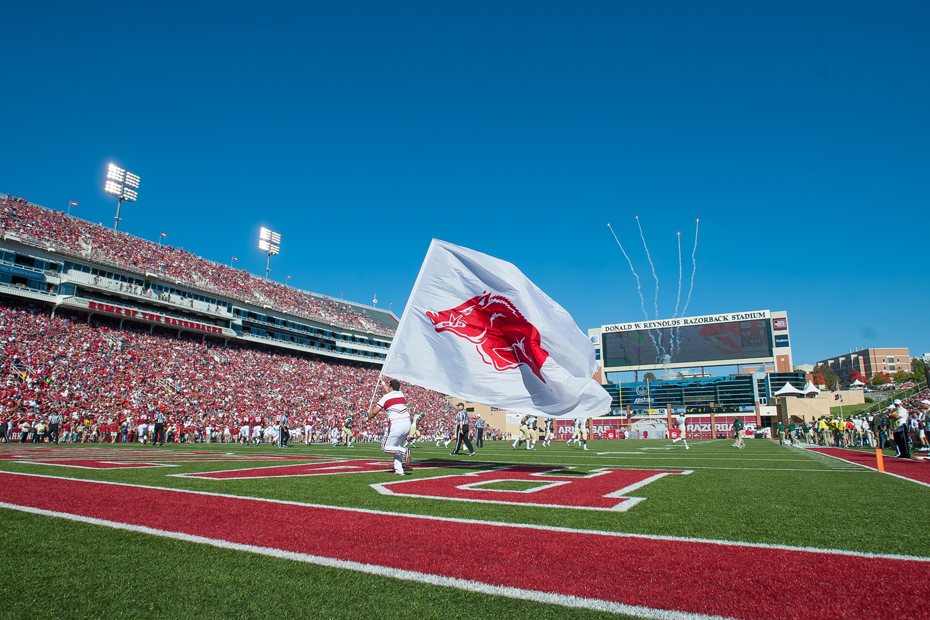 Ken Hatfield Receives Amos Alonzo Award
LOUISVILLE, Ky. – Former University of Arkansas football student-athlete and head coach Ken Hatfield has received the AFCA's 2015 Amos Alonzo Stagg Award. The award, which honors those "whose services have been outstanding in the advancement of the best interests of football," was presented to Hatfield at the AFCA Awards Luncheon during the 2015 AFCA Convention Tuesday.
Hatfield retired from coaching football at Rice in 2005 after making stops at Air Force, Arkansas and Clemson. Hatfield won a total of four conference championships (three Southwest Conference titles, 1988-89, 1994, and one Atlantic Coast Conference, 1991); led his teams to 10 bowl games and posted a career record of 168-140-4. During Hatfield's coaching career, he guided three different schools to 10-win seasons and is one of only a handful of coaches to lead three different teams to Top 20 seasons in FBS.
Hatfield's coaching career has been earmarked by balanced success, both offensively and defensively. The final 18 teams that Hatfield coached all went on to finish in the Top 20 nationally in rushing offense. In 2004, Hatfield and the Owls led the country in rushing yards, averaging, 306.5 rushing yards per game. While at Arkansas, Hatfield coached his teams to lead the nation in turnover margin, including the 1988 Razorbacks that finished first in the nation in this category. Defensively, six of his teams finished in the Top 15 fewest rushing yards allowed per season, and in 1990, his Clemson Tigers finished the season ranked first in the nation in total defense.
Hatfield was the 2004 AFCA president, and also served as the president of the American Football Coaches Foundation. He has won several awards both as a coach and player, including AFCA Coach of the Year, Bobby Dodd Coach of the Year, three-time AFCA Regional Coach of the Year, been inducted into both the Arkansas Sports Hall of Fame and the University of Arkansas Sports Hall of Honor, and named a member of the Arkansas Razorbacks' all-time team, to name a few.
The Amos Alonzo Stagg Award is given to the "individual, group or institution whose services have been outstanding in the advancement of the best interests of football." Its purpose is "to perpetuate the example and influence of Amos Alonzo Stagg."
The award is named in honor of a man who was instrumental in founding the AFCA in the 1920s. He is considered one of the great innovators and motivating forces in the early development of the game of football. The plaque given to each recipient is a replica of the one given to Stagg at the 1939 AFCA Convention in tribute to his 50 years of service to football.
Hatfield will be recognized for his accolade during the Arkansas men's basketball game against the Alabama Crimson Tide on Thursday, Jan. 22 at 6 p.m.
For more information on Arkansas Football, follow @RazorbackFB on Twitter.