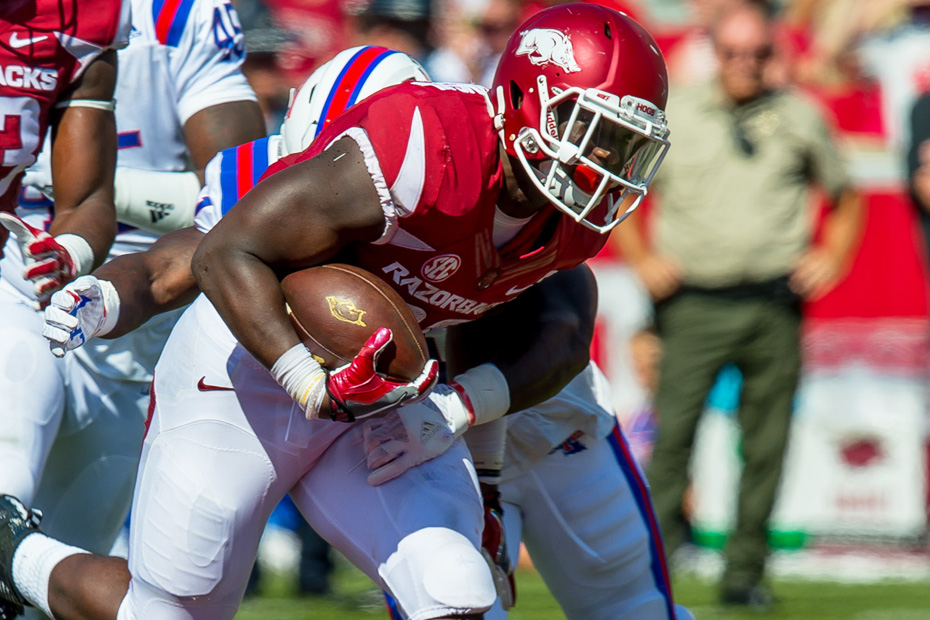 Key Drive Leads Hogs Over Louisiana Tech
FAYETTEVILLE, Ark. – Riding the backs of some key passes by Austin Allen and strong running by Rawleigh Williams in the fourth quarter, the Razorback football team was able to put together a 77-yard game-winning drive to defeat Louisiana Tech, 21-20, Saturday afternoon at Donald W. Reynolds Razorback Stadium.
Down six early in the fourth quarter, the Hogs offense was able to take over at their own 28-yard line after the Bulldogs missed what would have been their third field goal of the second half.
Play after play, Arkansas chipped away at the field position using a steady dose of Williams from the backfield and Keon Hatcher from out wide. On the winning drive alone, Williams carried the ball eight times for 32 yards, while Hatcher made two big catches, each earning the first down, while he was able to break some tackles in the process.
Tight end Jeremy Sprinkle finished off the drive with a 4-yard touchdown catch from Allen on fourth down, his fifth touchdown catch in his last four games dating back to last season.
Williams finished the game with 96 yards on the ground, his second-highest total in a game in his career. His 24 carries was a new career-high and he had one touchdown earlier in the game.
Allen finished the game 20-of-29 passing for 191 yards and two touchdowns. Hatcher led all receivers with 86 yards receiving on six catches. Along with Sprinkle, Jared Cornelius had a touchdown catch, his fifth touchdown catch in his last six games.
Rawleigh Williams III Touchdown
How It Went Down
Louisiana Tech jumped out to an early 7-0 lead in the first quarter after a quarterback sneak by J'Mar Smith from nine yards out, taking advantage of an interception on Arkansas' first drive.
The Razorbacks went 76 yards immediately following the Bulldog score and finished it off with a Williams 6-yard rumble into the end zone, making it 7-7. For Williams, Saturday's game was his first game action since suffering a season-ending neck injury a year ago against Auburn.
LA Tech was able to tie the game just before halftime, capitalizing on its second interception of the first half to make it 14-14 and then converted two field goals to start the second half, taking a six point lead.
The Razorback defense shut the door for the entire fourth quarter, holding Louisiana Tech to just 21 yards of offense, which opened the way for the Razorback offense to drive down the field for the winning score.
Jared Cornelius Touchdown
Quick Notes
-Arkansas has won nine straight home openers and 17 of its last 19 season openers
-Head coach Bret Bielema has never lost a home opener, improving to 11-0 in home openers, and improves to 10-1 in season openers
-Austin Allen threw for 191 yards, the most by an Arkansas QB in his first career start since Tyler Wilson against Missouri State on Sept. 3, 2011.
-Austin Allen became the first Arkansas QB since Tyler Wilson (2011) to throw for multiple touchdown passes in his first career start.
-Jeremy Sprinkle has a touchdown reception in two straight games and has five touchdowns in the last four games.
-Austin Allen completed 2 of 2 passes for 22 yards on fourth down, including a 4-yard TD to Jeremy Sprinkle in the fourth quarter.
-Taiwan Johnson had one sack with a loss of five yards. Johnson has made at least a half-sack in three straight games. Saturday's contest marked his sixth career game with a sack (half sacks included).
-Four players (Santos Ramirez, Dre Greenlaw, Kevin Richardson and Deatrich Wise Jr.) tied for the team lead with 7.0 total tackles. It was the sixth time that Dre Greenlaw has led the team in tackles for his career.
-Dre Greenlaw or Brooks Ellis has led Arkansas in total tackles in 10 of the last 12 games.
–Arkansas has held its opponent to 28 points or less in 20 of 27 games played under defensive coordinator Robb Smith and improves to 14-6 in such games since Smith joined the program prior to the 2014 season.
Jeremy Sprinkle Touchdown
Up Next
Arkansas travels to Fort Worth, Texas to face No. 13 TCU in its first road contest of the 2016 season. The game is scheduled for a 6 p.m. kickoff and will be televised on ESPN/ESPN2.
For more information on Razorback Football, follow @RazorbackFB on Twitter.